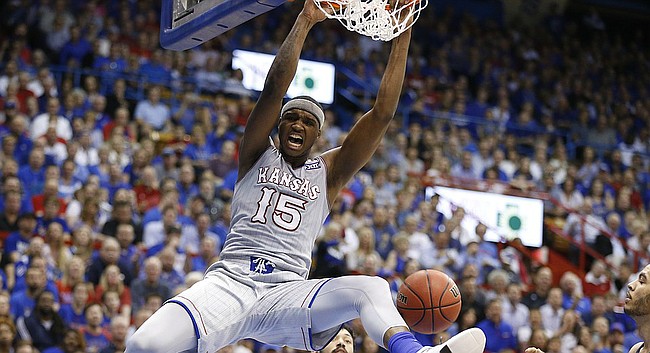 If 6-foot-10 forward Carlton Bragg Jr., a former McDonald's All-American from Cleveland who delivered a mixed bag of results during his first two seasons as a Jayhawk, is going to realize his full potential, it won't be at Kansas.
KU coach Bill Self on Thursday announced in a press release that Bragg plans to transfer during the offseason.
"We appreciate Carlton's efforts the last two years at Kansas," Self said. "We certainly respect his decision to pursue other opportunities. We wish him nothing but the very best and hope he is able to reach his dreams and goals."
A once-promising player with a bright future both at Kansas and in the professional ranks, Bragg struggled mightily — on and off the court — during his sophomore season that never really get on track.
A starter to open the season, Bragg made just five starts in 31 appearances and did not play at all in KU's final game of the season.
Asked after the season-ending loss to Oregon in the Elite Eight what he learned this season, Bragg's answer pointed more toward what he did wrong than right.
"There's gonna be a lot of ups and downs," he told the Journal-World. "But you've just gotta grind through it. I don't know what else to say."
Bragg hinted then about a possible departure, saying, "I don't know what I'm gonna do," when asked about his future. Asked what aspects of his game he hoped to fine-tune in the offseason, Bragg said, "Everything, just staying on the court, learning not to foul, helping my team any way possible."
He finished the year averaging 5.2 points and 4.1 rebounds in 13.8 minutes per game, but often looked frustrated and out of sync on the court.
Despite his rough sophomore season, which featured two suspensions resulting from off-the-court legal issues, Bragg leaves Lawrence optimistic about his future.
"I really enjoyed my time here at Kansas," Bragg said in the release. "Kansas has the best fans and I do love the program. This past year didn't go as well as I thought it would and it's in my best interest to get a fresh start. I want to thank my teammates, coaches and the fans for all their support these past two years. I will always cheer for the Jayhawks."
Bragg's departure opens up another scholarship and Self recently told the Journal-World he would like to add "a quick-twitch 4 man" to back up incoming freshman Billy Preston.
"If he's not a quick-twitch guy, then hopefully a guy that's big enough to play the 5," Self said of his aspirations for adding another big man to the 2017 recruiting class. "But there's some guys out there and there's gonna be a lot of seniors that will look to transfer so hopefully we'll find one."