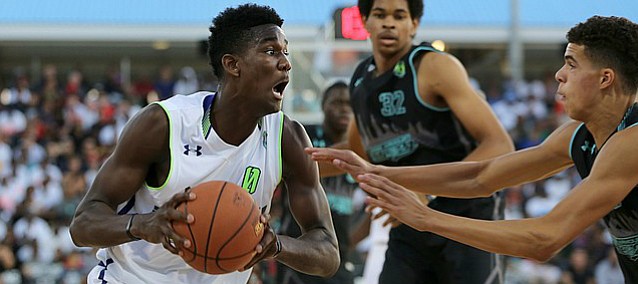 The Kansas basketball program's long pursuit of No. 1 ranked prospect DeAndre Ayton ended Tuesday just after 5:20 p.m., when Ayton announced on ESPN's SportsCenter that he was headed to Arizona.
Ayton becomes the first No. 1 ranked player ever landed by Arizona, which won out over Kansas and Kentucky.
Announcing his decision live on SportsCenter, Ayton was asked where he was headed and, after a long pause, the 7-foot, 245-pound center from Phoenix's Hillcrest Academy said, "I'm going to go to the University of Arizona."
With that, he slapped on a navy blue Arizona hat while teammates and friends cheered in the background behind him.
"I made Arizona home, going to Hillcrest Prep and my family and I can benefit from it by (them) coming to my games," Ayton said on SportsCenter. "We really trust (the Arizona coaches and) their program and I know that they can help me get to the next level."
The No. 1 prospect by Rivals.com and ESPN, as well as the composite No. 1 overall player in the 2017 class, according to 247 Sports, Ayton, who hails from the Bahamas — along with KU junior forward Dwight Coleby — made an unofficial visit to Allen Fieldhouse on Jan. 23, watching the Jayhawks beat Texas, and followed it up by playing in a game at Lawrence Free State High against Wichita's Sunrise Christian Academy, where he had 11 thunderous dunks on his way to 35 points, 21 rebounds and eight blocked shots.
Because of KU's status as the first team in on Ayton and the team that invested the most time recruiting him, many believed that Ayton would have a difficult time saying no to KU coach Bill Self and lead recruiter Kurtis Townsend.
But the familiarity and comfort of staying close to home won out and Ayton seemed relieved that the process was done.
"It's been rough, to be honest," he said after picking the Wildcats. "Phone call after phone call, trying to do homework, staying in the gym. My mom and I just stayed level-headed and (tried to) be down to Earth with things."
Missing out on Ayton certainly qualifies as a blow to KU's recruiting efforts in the 2017 class. Long considered KU's top current target, the Jayhawks now will have to move on to plan B for a big man in the guard-heavy 2017 class.
The Jayhawks are still involved with several of the top forwards and centers in the Rivals Top 50 and will likely schedule visits — both in-home and on campus — with a few of them in the coming days.
As for Ayton's future, in addition to being touted as a likely Top 5 draft pick — if not No. 1 overall — in the 2018 NBA Draft, the 18-year-old big man said on Tuesday that heading overseas to play until he becomes eligible for the NBA was not on his agenda.
"No. Not at all," he said. College is a must."