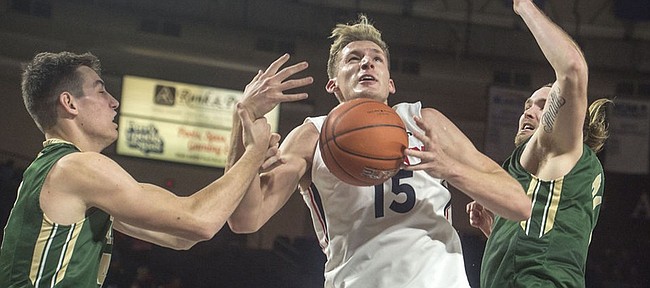 Good college basketball coaches/recruiters have connections in the sport all over the country.
One of those relationships helped Kansas University's basketball program become aware of the availability of former Liberty University forward Evan Maxwell, a 6-foot-10, 235-pound sophomore who committed to KU on May 13 and on Monday officially was introduced as a Jayhawk signee by head coach Bill Self.
"I talked to a friend of mine who coached against him. I said, 'We're looking for a big guy.' He said, 'There's a big guy who played at Liberty. He had a good game against Notre Dame (15 points, eight rebounds). He's good,'" KU assistant coach Norm Roberts said Monday.
"We saw him on Synergy (Sports Technology, which tapes games), watched the shots he made, the shots he missed, how he moved and ran. We saw he had a nice touch, can score from 15, score in close. We made a tape and gave it to coach Self, brought Evan in for a visit. He's a great kid from a great family, and we think will be a great ambassador for Kansas basketball," Roberts added.
Maxwell — he attended Abington Heights High in Clarks Summit, Pa. — was pursued by Virginia Tech, Baylor, Arizona and Cincinnati — after announcing plans to leave Liberty where he averaged 10.0 points and 4.8 points a game his sophomore season.
"What we saw in Evan was a young man that is very skilled," Self said. "He needs strength development that I think will come naturally. I think he will be a guy, barring any unforeseen things happening, that spends a ton of time in the weight room and will be playing against really good players in practice every day. He'll learn how to be a go-to-guy offensively in practice and a guy that can give us a lot of added depth up front when he becomes eligible the next year."
He can practice but not play in games until 2017-18 in accordance with NCAA transfer rules.
This is all a dream come true for Maxwell, who was recruited only by Liberty and Monmouth coming out of high school.
"I committed very early in the process to Liberty before any of the bigger offers even could have come," Maxwell told the Journal-World. "I knew I needed to grow as a person and get my life together. (Coach) Ritchie McKay and the whole staff there were fantastic.
"My time there I did exactly what I needed to do, grew up, got stronger as a player and as a man. I'm mentally prepared for what is next. It's not something, 'Oh man I didn't know if I could play at Kansas.' I knew ever since high school I could play. It's a fantastic opportunity. It couldn't have worked out any better. Obviously I didn't know what to expect going into this transfer thing. I am honored to say I belong to the best program in the country."
Maxwell, who started all but one game last season, led Liberty in scoring eight times, including four 20-point games. He had three double-doubles, including a career-high 24 points, with 12 rebounds on Dec. 3 at Radford. He led the Flames in rebounding 13 times, including a career-best 13 rebounds versus Central Penn on Nov. 21. As a freshman, Maxwell averaged 6.0 minutes, 2.1 points and 1.1 rebounds in 29 games.
"Norm was the point guy in recruiting Evan," Self said. "Evan and his mom and dad, Brian and Andrea, really enjoyed the place and had a great visit. Evan had an opportunity to go to a lot of places and we feel fortunate that he chose Kansas to spend his next three years."
Maxwell joins a recruiting class for KU that includes guard Josh Jackson, center Udoka Azubuike and forward Mitch Lightfoot.
Porter cuts KU: Michael Porter, a 6-8 forward from Tolton Catholic in Columbia, Mo., on Monday cut KU, Kentucky and Duke from his list of schools. Rivals.com's No. 2 rated player in the Class of 2017 has a list of Washington, Missouri, Indiana, Virginia and Oklahoma. Porter played for MoKan Elite on Saturday in the KC Classic in Lawrence. Washington is considered a heavy favorite to land Porter because his dad, Michael, Sr., has accepted a coaching position on the Huskie staff. UW coach Lorenzo Romar is Michael Jr.'s godfather. Porter's brother, Jontay, a junior-to-be forward, has already committed to UW.
Porter wants to attend the same college as Trae Young, 6-1 from Norman, Okla. Young is considering KU, Kentucky, Oklahoma, Oklahoma State, Texas, Texas Tech, Washington and others.
KU to play UK in rematch: CBSsports.com has acquired the pairings for the 2016-17 Big 12/SEC Challenge. The one-day event (no date has been revealed) will include just one rematch from a year ago. KU, as has been reported many times, will travel to Kentucky in a return game. The Jayhawks beat the Wildcats, 90-84. in overtime, on Jan. 31, in Allen Fieldhouse. CBS says the other games are: Texas at Georgia; Baylor at Mississippi; Texas A&M; at West Virginia; Iowa State at Vanderbilt; Kansas State at Tennessee; Florida at Oklahoma; Auburn at TCU; Arkansas at Oklahoma State and LSU at Texas Tech.