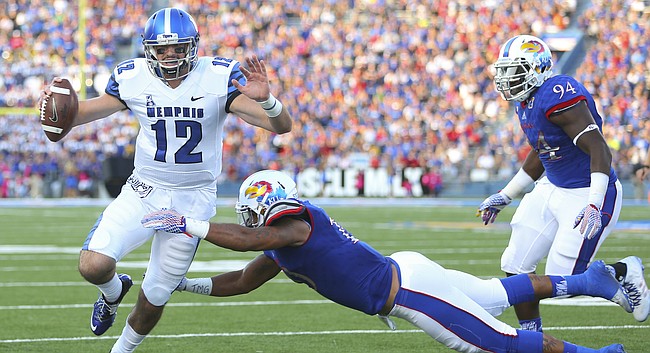 Life in the NFL for an undrafted free agent is all about opportunity — and not just getting one.
It's finding the right opportunity that matters the most, and that's why former Kansas University defensive lineman Ben Goodman elected to sign a free agent contract with the New York Jets following last weekend's NFL Draft, which featured 253 players taken but no Jayhawks.
Goodman, who spent his entire Kansas career playing at various positions on the D-Line will take his stab at the NFL as an outside linebacker.
The 6-foot-3, 256-pound Goodman confirmed the position change to the Journal-World on Sunday. As was the case throughout his time as a Jayhawk, Goodman sounded as optimistic and determined as ever on Sunday.
"I'm very excited and grateful for the opportunity," Goodman told the Journal-World. "I'm ready to go into camp and work my butt off to prove to everyone that I belong in the NFL."
Goodman was one of five former Jayhawks to earn a free agent deal this weekend after going undrafted. Running backs De'Andre Mann (Atlanta) and Taylor Cox (Dallas), offensive lineman Larry Mazyck (Houston) and former KU safety Isaiah Johnson, who finished his college career at South Carolina and will head to camp with Tampa Bay, all agreed to free agent deals in the hours that followed the conclusion of this year's draft.
Jayhawks going the undrafted free agent route certainly is nothing new around here. In recent years, more Kansas players have received NFL opportunities that way than through the draft. And the key for any undrafted free agent is finding the team that gives them the best shot to make an impact.
That's what the representatives for each of these players spent their time on following the draft, and, in most cases, the players wound up signing where they did because of the opportunity and the money. Typically, these signings are worth a few thousand dollars and guarantee the players nothing more than an initial tryout at rookie minicamp.
"They were one of the only teams that has been consistently contacting me over the past couple weeks," said Goodman when asked why he signed with the Jets. "And the roster isn't loaded for the position I'm going in as."
Mann, whose pro day numbers back in March were by far the most impressive of the bunch, played two seasons at KU after transferring from Hartnell College.
He ran for 387 yards and a touchdown on 77 carries in 2015 and tallied 399 yards on 85 carries in 2014. A 5-foot-9, 205-pound bruising back with good speed, Mann will look to make the Falcons roster as a reserve running back and special teams contributor.
While the goal for each of these undrafted free agents is to make a 53-man roster next August, they will have to survive a series of cuts before getting to that point, and the odds of that happening remain long.
However, thanks to the recent NFL success experienced by fellow former undrafted Jayhawks Chris Harris, Tyler Patmon, Steven Johnson and others, this group is moving forward determined to make it and believing there's a chance.
"I'm excited to have the opportunity to play in the NFL," said Cox, who will leave for Dallas next week. "It has been a dream of mine since I was 6 years old."