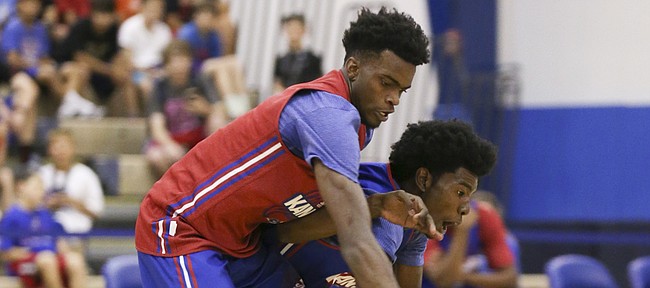 Several Kansas University basketball players past and present paraded through a door connecting the Jayhawks' practice facility to Horejsi Center, home of Bill Self's weekly campers games.
Leading the way onto the court where he quickly located a ball and was the first to start loosening up was sophomore Lagerald Vick. The 6-foot-5, 180-pound guard from Memphis wasted no time hoisting some shots in warmups before a June 15 intrasquad scrimmage in which he scored 23 points off 9-of-17 shooting, including five threes. A week earlier, an eager Vick exploded for 29 points off 10-of-13 shooting, including seven threes.
He agreed with a reporter's assertion that he was "ready to play" on both occasions, itching to show hundreds of youths in the stands — and his teammates — what he could do.
"Definitely. I just take it as a real game. No off days," said Vick, determined to earn significant minutes his second season at KU.
"No off days" to Vick means scrimmaging with his teammates daily as well as on his own.
"Coach T (Kurtis Townsend) told me to get in the gym every day and make 150 shots. I can't shoot over 300 (for minimum of 50 percent makes). I'm shooting every night," Vick said.
He also is a regular in the weight room.
"I came here 150 something. Now I'm 180 something," said Vick, who indeed put on 30 pounds in one year. "I was working on my upper body. Hudy (Andrea, strength coach) put me on shakes and different things. It's a long process. I eat four times a day. I drink four or five (protein shakes)."
Vick's steady progress has not escaped the eyes of coach Bill Self.
"He didn't get a chance to play a lot last year. He is freakishly athletic, looks like a greyhound out on the court," Self said. "He moves gracefully, has improved his stroke. He has a chance to impact our team in a big, big way this year. He's probably as improved as any player on our team."
Vick has heard his coach's words of praise, ones that admittedly have helped boost his confidence.
"Looking back where I came from, I didn't have a big name. I take that as (now) having a big name," said Vick, who arrived at KU out of Memphis Douglass High as Rivals.com's No. 33-rated player nationally.
"I'm way more confident than last year. Last year at practice I'd listen to what the older guys were telling me. I knew my time would come."
He's not backing down from Josh Jackson, KU's 6-8 freshman wing from Detroit who enters college as Rivals.com's No. 1-rated player.
"I'm learning off him. He's learning off me," said Vick, who this summer has roomed with Jackson, Carlton Bragg Jr. and Evan Maxwell. "Practicing against Svi (Mykhailiuk), Devonté (Graham), B.G. (Brannen Greene), sometimes Frank (last season), it helped me develop," Vick noted. "I came here and I knew defense was the key, the thing I had to work on. I'm working on it every day."
Asked if he envisions a bigger role this year, Vick, who averaged 2.1 points per game while logging 4.8 minutes in 19 games, said simply, "Definitely, most definitely."
White shocks Huskers by leaving: Former KU wing Andrew White III will leave Nebraska as a graduate transfer and be immediately eligible at his transfer destination during the 2016-17 season, coach Tim Miles told the Lincoln Journal-Star. The paper said it is believed White "is seeking a bigger stage to play his final season, with a guarantee to play in the NCAA Tournament and impress NBA scouts on a team that uses White in a way he believes will enhance his professional resume."
White, 6-7 from Richmond, Va., averaged 16.6 points and 5.9 rebounds a game his junior season. He hit 41.2 percent of his threes. Nebraska will play KU on Dec. 10 in Allen Fieldhouse. White's brother, Andrien, made the Conference USA all-freshman team last season at Charlotte.
Newman slated to visit: Former Mississippi State guard Malik Newman, who visited Oregon over the weekend, is set to visit KU on Tuesday afternoon, sources told the J-W on Saturday night. Newman has also visited Miami and Western Kentucky and also has North Carolina State on his list. He averaged 11.3 points, 2.2 assists, and 2.8 rebounds per game as a freshman and made 21 starts for his father's alma mater.
More on Ellis, Mavs: Former KU forward Perry Ellis tweeted on Saturday: "Excited to play with the @dallasmavs for summer league! Thanks for the opportunity!"
"You want to get drafted, obviously, but you have to stay positive, stay up," the Wichita native, who was not selected in the NBA Draft, added to the Wichita Eagle. "I felt like the workouts went really well, but when it came to the draft I really had no clue what would happen or that it would turn out the way it did. Now, I'm just excited for the summer league with Dallas. The coach there (Rick Carlisle) really likes me and it puts me in a good position to be successful."