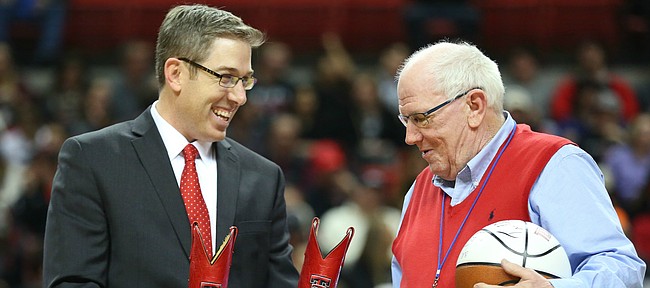 The search for Bob Davis' replacement is over.
KU graduate and Lawrence radio veteran Brian Hanni has been named the play-by-play voice of Kansas Jayhawk football and men's basketball on the Jayhawk/IMG Radio Network, Kansas Athletics and IMG announced Tuesday.
Hanni replaces Davis, who served in that role from 1984 until his retirement this year.
A source with knowledge of the search told the Journal-World that Hanni, Davis' son, Steven, the play-by-play voice of UMKC basketball and Kansas baseball, and Josh Klingler, a 610 sports radio morning co-host and current employee of Jayhawk IMG Radio Network emerged as the finalists.
In addition to his play-by-play duties, Hanni also will host "Hawk Talk," the weekly radio shows of football coach David Beaty and men's basketball coach Bill Self, and perform other duties as assigned by Kansas Athletics.
"Naming a replacement for an institution like Bob Davis was a very difficult proposition," KU athletic director Sheahon Zenger said in a press release. "We view this position as not only a radio voice, but as an ambassador for Kansas Athletics and our university. We received interest from many well-established broadcasters; ultimately we felt that Brian's talent as a broadcaster, his positive outlook and his proven connection with the community separated him from the other outstanding candidates."
Tuesday's announcement ends a wild few months of speculation that reached all areas of Lawrence, KU and even the internet. Hanni, who has never hid his love and passion for KU, even after leaving for Texas Tech, where he served as the voice of Tech men's basketball and baseball from 2012-16, often referred to the opportunity to potentially one day replace Davis as a dream job and many of his closest friends and fans even went as far as to start a Facebook page supporting his campaign dubbed "Bring Brian Hanni Back to KU."
At the time of the KU announcement, the page had 761 likes and Hanni, throughout his 10-year career in Lawrence before leaving for Texas Tech, had developed strong relationships and connections with 10 times that many people.
A Topeka, Kan. native, Hanni graduated from KU in 2002 with a Broadcast Management degree with an emphasis on sports broadcasting and media sales. Hanni created the daily show "Rock Chalk Sports Talk" on KLWN Radio in Lawrence in the summer of 2002 and hosted it until 2012. The Jayhawk Radio Network has aired the show since 2008.
Hanni did radio broadcasts of KU baseball games for more than a decade, and spent eight years on the radio broadcast team for KU women's basketball. He also served occasionally on KU men's basketball and football broadcasts for eight years.
Hanni left Lawrence in 2012 to become the voice of Texas Tech men's basketball and baseball on the Texas Tech Sports Radio Network. He also did a weekday radio show, "The Bottom Line."
Hanni has won more than 25 awards from the Kansas Association of Broadcasters. Last year he was inducted into the Topeka West High School Sports Hall of Fame for his efforts in sportscasting.
Hanni is well-known in the Lawrence community, not only for his broadcasting talent but also for his charity work. In 2009 he founded (and still organizes) an annual celebrity basketball game, "The Rock Chalk Roundball Classic," which raises money for local families fighting cancer. He is an active participant in other youth-related organizations within the community as well.
Here are a few audio clips from Hanni's days at Texas Tech...