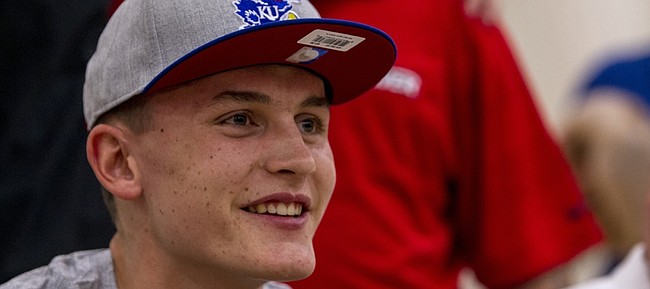 He has spent a lot of time with McCarthy Hall roommate Devonté Graham and also bonded a bit with fellow freshmen Udoka Azubuike and Josh Jackson.
Mitch Lightfoot in his first two weeks on Kansas University's campus also has made the acquaintance of some key athletic-department personnel.
"Me and Hudy are going to become best friends," Lightfoot, KU's 6-foot-8, 210-pound freshman forward from Gilbert, Ariz., said with a smile Sunday after signing autographs for two hours at Bill Self's basketball camp.
He was referring, of course, to Andrea Hudy, KU's highly acclaimed strength coach.
"I'm trying to get stronger, become a better shooter, adjust to the speed and physicality of the game. I always considered myself a stronger guy for high school, a physical guy, but this game is a whole different level. It's a whole different beast. I'm going to put on some weight. I'm going to put on some muscle and see what I can do," Lightfoot added.
Lightfoot, Arizona's 2015-16 Gatorade state boys basketball player of the year, already has some physical attributes that should benefit him at this level, Self said Friday in introducing Lightfoot at his parent/child camp.
"He may be as athletic as any cat we have in our program," Self said. "We're fortunate to get him. I think he will be the surprise of our recruiting class, without question."
Lightfoot, who enters college as ESPN.com's No. 67-rated player, explained where he obtained all that athleticism.
"My dad was a high jumper in college. He went to Baker, right down the road," Mitch said of Matt Lightfoot. "I get some athleticism from him.
"My mom played volleyball and basketball at Rockhurst," he added of Rhonda.
Matt and Rhonda moved the family from Kansas City to Arizona when lifelong KU fan Mitch was 5.
Self in the past also has called Lightfoot "unbelievably competitive" and possessor of a "nasty streak."
He actually showed some of those traits in last week's Self campers game. Lightfoot, who was guarding a big down low, moved toward the goal to intercept freshman guard Jackson, who, driving the lane, had slam dunk on his mind. Lightfoot went straight up to impede Jackson's one-handed dunk try with his right hand, making contact with Jackson's left shoulder.
Jackson went down hard and had the wind knocked out of him but was not injured on the play.
"Nothing, really," Lightfoot said, asked what went through his mind on Jackson's dunk try. "I'm not going to give up any easy dunks. It's just kind of my mentality. I'm going to play hard all the time. Things happen."
In limited workouts this month, he has already learned players have to compete ultra hard every day or get left behind.
"If you are not bringing your best game to practice, someone else will, and that's going to hurt your playing time," Lightfoot said. "They (teammates) tell me it's going to be a task. You are going to have some downs. You are going to have some ups. Stay the course. Devonté told me a couple times already, 'You've got to grind it out. There are going to be some rough spots. It's all going to turn out for the good.'"
Lightfoot — he averaged 22.6 points and 11.9 rebounds a game his senior season at Gilbert Christian — likes the idea of having a head coach who will challenge him daily.
"Going back to my freshman year, I had a coach who was real tough. I really flourished under him. I became the player I am today because of him," Lightfoot said. "I like having a hard coach, somebody that can yell at you but pat you on the back when you are done, give you a hug."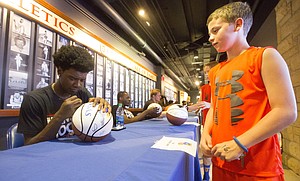 If he needs any emotional support, he can turn to all the family members who live in the Lawrence/KC area.
How many are close by?
"I don't know if I can count that (high)," Lightfoot said. "There's a ton. On my (recruiting) visit, maybe 20 relatives were all here. Family is a big part of my life. They've got me where I am today. I'm just glad to have them around."
He was glad to sign for so many young Jayhawk fans Sunday.
"It's amazing to come back into a place like this. ... where you can go from fan to player is awesome," Lightfoot said. "All these kids we're doing autographs for … you've been in their shoes before. You know how exciting it is, how daunting it is to get an autograph from a player or even talk to them. I try to make that experience easy for them."
If he has his way, he'll be making a trip back to Arizona next April. The Final Four is April 1-3, 2017, in Glendale, Ariz.
"Oh, yeah," he said, asked if he was aware college basketball's main event is slated for the desert. "Don't you think that came into my decision picking KU (over Arizona, Utah, St. John's, Stanford)? I mean, to come back and be in the Final Four would be awesome."
Svi excels: Svi Mykhailiuk, who is playing for Ukraine's Under 20 national team this summer, recorded a triple-double with 12 points, 11 rebounds and 11 assists in an exhibition against the U.S. Select Team at the adidas EuroCamp in Italy. He hit four of 11 threes. The Under 20 World championships are July 16-24 in Finland.
More like this story on KUsports.com