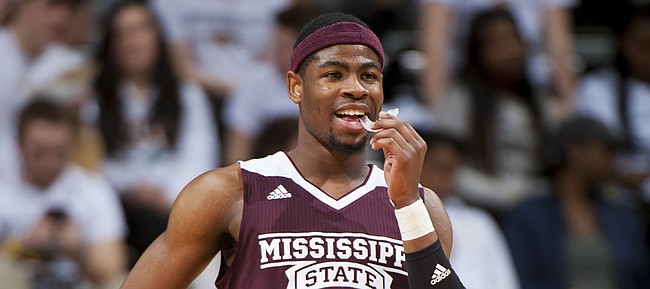 Former Mississippi State basketball combo guard Malik Newman, who has announced plans to transfer from the SEC school after one season, is expected to visit Kansas University and North Carolina State in the near future, Jon Rothstein of CBSsports.com reported Wednesday.
Rothstein said the KU visit would be this week.
In response, Newman's dad, Horatio Webster told Zagsblog.com: "We have not set up one visit. We haven't even gotten our release yet."
Newman, who was ranked No. 8 in the recruiting Class of 2015 by Rivals.com, initially chose his dad's alma mater over KU and Kentucky. Newman, a McDonald's All-American originally from Jackson, Miss., averaged 11.3 points a game off 39.1 percent shooting his freshman season at MSU.
KU still has two scholarships to award in recruiting. The Jayhawks have been pursuing former Duke point guard Derryck Thornton, who has a final list of KU, Washington, Miami and USC, as well as McDonald's All-America forward Jarrett Allen, 6-9 senior from St. Stephens Episcopal in Austin, Texas, who has yet to choose between KU, Texas and Houston.
Newman declared for the NBA Draft, but did not sign with an agent and withdrew at the deadline.
"There was 10-minute burst at NBA Combine where I thought Malik Newman should be elite college scorer. Needs to pick school that needs points," ESPN's Fran Fraschilla Tweeted.
So many transfers: Transferring has become so commonplace it is now taking place at this late date when schools normally have filled up their scholarship allotments. Earlier this week, California standout Jordan Mathews, a career 41 percent three-point shooter, announced plans to leave Berkeley as a graduate transfer. Gonzaga is believed to be his likely destination.
Mathews' departure opens a scholarship at Cal for former Kentucky forward Marcus Lee, who has announced plans to leave Lexington. Lee also is considering Washington and perhaps others.
Meanwhile, former Kentucky guard Charles Matthews is considering Xavier and Michigan, ESPN.com reports.
Latest mock: Draftexpress.com, which released its latest NBA mock draft Wednesday, says Boston will draft former KU forward Cheick Diallo with the No. 23 pick of the first round.
Wayne Selden Jr. is projected to go 17th in the second round to Orlando, while Perry Ellis and Brannen Greene are not listed in either round.
FOE to sign: Former KU forwards Marcus Morris, Markieff Morris and Thomas Robinson will be at The Oread, 1200 Oread Ave, from 2 to 5 p.m. Saturday for the "launch of FOE Snapbacks and Beanies," Robinson reported on Twitter. FOE means "Family Over Everything." The public is invited. Apparently both items will be on sale, with autographs available.
More details will be provided when they are available.
KU makes list: Charles O'Bannon, Jr., a 6-6 shooting guard from Las Vegas Bishop Gorman who is ranked No. 27 in the Class of 2017, tells Zagsblog.com he has a final eight of KU, UCLA, Texas, North Carolina State, Washington, Oregon, UNLV and Arizona. He's the son of former UCLA guard Charles O'Bannon.
"Coach Townsend (Kurtis, KU assistant) talks to me about how I would fit into the program," O'Bannon told Jayhawkslant.com. "He has been talking to me about coming out to Kansas for a visit. I love that Kansas is in a college town. I love that everything that happens at Kansas is all about Kansas (basketball)."
He's at it again on Twitter: Former KU center Joel Embiid of the Philadelphia 76ers, who is known for his tweets, took to Twitter to try to recruit free agent Kevin Durant. "Time to RECRUIT KD to the Sixers," he tweeted with three hands in prayer concluding the text. In 2014, Embiid tweeted to LeBron James: "Hey bro hope you're having a good day … want to join us in philly? Peace."
More like this story on KUsports.com