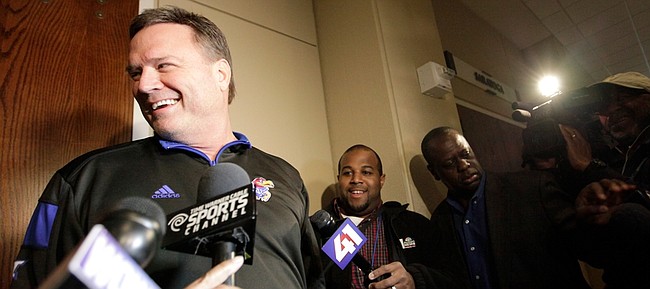 Speaking before the start of Game One of the 2016 NBA Finals, Kansas University basketball coach Bill Self peered into his crystal ball and deemed Cleveland's Cavaliers the winner of what he predicts will be "a great series."
"You have the two best players in the world right now that may not be the best players on their respective teams on a given night," Self told 610 Sports' Bob Fescoe. He was praising the supporting casts of Cleveland's LeBron James and Golden State's Stephen Curry prior to the Warriors' 104-89 Game One victory in the Bay Area.
"Klay Thompson could be that or Draymond (Green) could be that. Kyrie (Irving) or Kevin (Love) could be that. Last year, LeBron got them pretty close (loss in Finals to the same Warriors). He was without Kyrie and Kevin (who were hurt). I feel he's on a mission personally. Obviously they are going to have to win in Oakland to have a chance (since Warriors have home court advantage). I kind of think the Cavs will get it done."
Self is one of those college coaches who does pay close attention to the NBA.
"I actually thought Oklahoma City was the best team in the NBA," Self said of the Thunder, who fell to Golden State in seven games in the Western Conference finals. "I thought it was just an absolute joke how big and athletic they were. They've got two of the best players in the world on the same team night in and night out (Kevin Durant, Russell Westbrook). To see those guys (Curry, Thompson) make those ridiculous shots (threes), which is the only reason Oklahoma City is still not playing ... it wasn't from the actions they (Warriors) ran. They just made ridiculously guarded shots which was just enough to put them over the hump," Self added.
Self does not agree with those who say the Thunder "choked" by not wrapping up the series with a 3-to-2 lead and Game Six in OKC.
"How can you choke when you've got Klay Thompson doing what he did, making shots that nobody's ever made, maybe ever in an NBA series?" Self said. "Off the bounce, guarded, right foot behind left, he did it all. For anybody to even hint that … to me that's what drives coaches nuts. Sometimes other guys play really well and make guarded shots. That's what happened in that series. I thought Oklahoma City played great in Game Seven. (They) just had a bad third quarter.
"If Kevin (Durant) sticks around (and doesn't leave this offseason via free agency), I can't imagine anybody dealing with them moving forward. That Steven Adams cat is going to be unreal. He's terrific. They've got a great roster. If they stay together, they are going to win one for sure I would think."
NBA interest: What does Self think when he hears reports teams are interested in him? Remember, ESPN's Mark Stein a couple weeks ago said Houston's Rockets were "intrigued" by the idea of Self as their next coach.
"I haven't really heard that much. There's been some media reports that obviously don't mean much," Self said. "I've said all along I'm totally content here. I really haven't had any reaction. I heard a little bit about the Rockets. I even had media call me about the Pacers (opening in Indiana). There was no interest I don't think on their behalf at least that I'm aware of and certainly I've got such a good gig here. We've still got a lot of unfinished business here, too. I guess it is nice, but to be honest with you it doesn't do anything for me to be real candid with you, because I know at this point in time there would be no way that I would ever consider doing that."
More on expansion: Talk of the Big 12 expanding to 12 teams has been discussed at this week's conference athletic director meetings.
"I don't think you expand just to expand," Self said. "I wish they could figure out a way to have a football playoff game with 10 if that's what they wanted to do. Even if you did it (had championship game) with 12 there's still a great chance it could be a rematch. With 10 it would guarantee a rematch. Looking down the road the way it's been explained to me there's no immediate reason to feel like you have to do it. It's something we have to be prepared to do because financially 10 years from now it could definitely mean a lot of potential revenue for each of the schools, at least the way it's been explained to us. I love our league. I mean I love our league. I like the Big 12 as it originated but I think this is better (with 10). Going back the way it was I'm sure would be good, without question, but the way it is right now especially for men's basketball it's about as good as we've seen our league. Certainly I don't see that changing."
Recruiting ongoing: KU still has two scholarships to give in recruiting. The Jayhawks are pursuing former Duke guard Derryck Thornton as well as high school senior forward Jarrett Allen. Also, KU reportedly is a possible landing spot for former Mississippi State guard Malik Newman and former Kentucky forward Marcus Lee.
"We're still trying to finish up recruiting. We've still got some openings there. We have 11 on aid right now," Self said. "We still have a chance to get a couple more if that's what we choose to do and we can pull it off. Everything is still status quo.
"It (recruiting) is never finished but there are times you feel you can catch your breath with it. We are not quite at that point yet. I think we have a very nice recruiting class. I love the guys we've got so far (Josh Jackson, Mitch Lightfoot, Udoka Azubuike, Evan Maxwell). I still think there's a couple holes. This next year's recruiting class is so big for us because I really believe we could lose our top six players to the draft next year. We have to be prepared to be able to kind of stay the course whenever those guys do jump if they do, because I think they'll all be capable of doing that."
KU will lose senior starters Frank Mason III and Landen Lucas and one-and-done Josh Jackson. The Jayhawks will most likely lose Carlton Bragg and Svi Mykhailiuk and could also lose Devonté Graham to the NBA.
Camp talk: Spots are open for the second session of Self's basketball camp, June 12-16. Registration closes Sunday. There are also spots available for the parent/child camp June 10-11 (registration closes Sunday). To sign up go to http://www.billselfbasketballcamp.com/
More like this story on KUsports.com