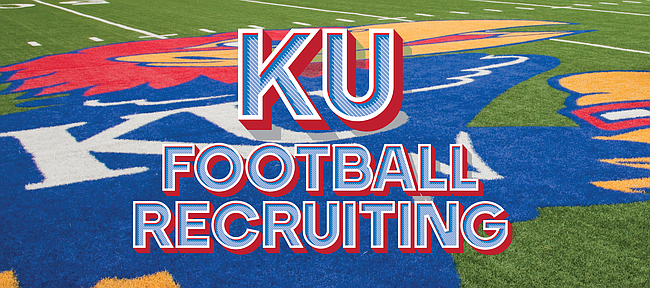 In its final push to fill the 2016 recruiting class, the Kansas University football program wound up getting a head start on the 2017 class.
Sunday afternoon, after another busy weekend of hosting official visitors, the Jayhawks landed a pair of 2017 commitments from Dallas-area offensive linemen and two more from a defensive end and a wide receiver in the 2016 class.
Evan Fairs, a 6-foot-3, 182-pound wideout from Richmond, Texas, orally committed to KU coach David Beaty before leaving town. Fairs, who originally committed to Maryland last year but re-opened his recruitment after the coaching staff at Maryland was let go, narrowed his choices to Kansas and Illinois before making the visit to Lawrence this weekend.
D-Line coach Calvin Thibodeaux was the lead recruiter for Fairs, who was a finalist for the Houston Touchdown Club Offensive Player of the Year award after catching 55 passes for 900 yards and 14 touchdowns.
He earned first-team all-district honors and becomes another play-maker with good size and speed to KU's receiving corps. Fairs met with both returning wide receivers coach Klint Kubiak and newly hired receivers coach Jason Phillips during his visit, which included experiencing the Kansas-Kentucky basketball game at Allen Fieldhouse on Saturday night.
Late Sunday night, defensive end Isaiah Bean posted to Twitter that he had decided to accept a scholarship offer from KU, as well. Bean, a 2-star, 6-foot-4, 210-pound athletic defensive end from Houston.
Bean, who chose KU over Tulsa, Fresno State and interest from a few others, became KU's top option on the D-Line when Lawrence prospect Amani Bledsoe announced he was headed to Oklahoma.
Bean's oral commitment accounted for the last known scholarship available in KU's 2016 class, which is expected to be finalized on national signing day Wednesday.
While Fairs was helping solidify KU's current class, Class of 2017 offensive linemen Jared Hocker (6-5, 290, North Richland Hills, Texas) and Grant Polley (6-5, 275, Denton (Texas) High) pledging their services to the Jayhawks within three hours of each other.
Both players announced their commitments on Twitter and the news inspired KU offensive line coach Zach Yenser, who was a key player in landing the two, to toss out a celebratory — and perfectly legal — Tweet of his own.
"What a great weekend in Lawrence," Yenser wrote. "Big time #ballers in the '16 class were on campus and '17 Bigs in #DFW laying the foundation for the #kuOL."
Beaty, meanwhile, was busy pumping out his #NeatDeal Tweets, which, in the past, has indicated good news for the Jayhawks on the recruiting trail.
This time around, in the case of Hocker and Polley, Beaty had to add the year to the end of the cryptic Tweets.
Hocker and Polley join three-star Dallas running back Dom Williams as the first commitments in the 2017 class.
KU's 2016 class will feature just 17 new faces because of the eight players KU counted forward in order to get them on campus prior to the start of the 2015 season.
Three of those 17 — DT DeeIsaac Davis, DT Isi Holani and DB Stephan Robinson — made their commitments official during the mid-year signing period back in December and two more — OL Cam Durley and DB Shola Ayinde — initially were a part of KU's 2015 class but did not make it to campus last year.
That means Beaty officially will introduce 12 new players on Wednesday, provided the dozen committed athletes send their letters of intent to KU, making the commitments official.