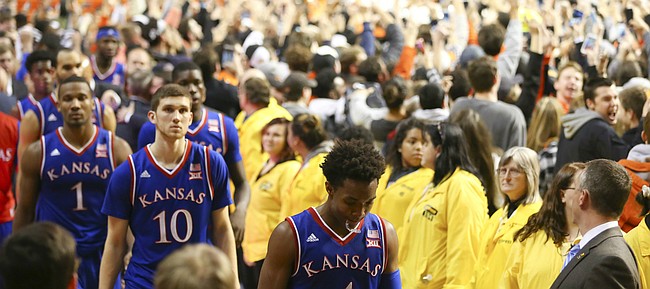 Kansas University's basketball players have done some soul-searching in the wake of Tuesday's 19-point road loss to an Oklahoma State team that entered with a 1-4 league record.
The squad's upperclassmen led a players-only meeting Wednesday in the players' locker room in Allen Fieldhouse.
Podcast episode
Kansas basketball coach Bill Self predicts the next few weeks in the Big 12 are going to be "wild," and discusses the recent lethargic play of his Jayhawks, who have lost their past two road games.
"We talked a lot about stuff, how we should change our attitudes and stuff," KU freshman forward Carlton Bragg said Thursday. "They got really deep," Bragg said of unnamed veteran players.
"They said we are not playing like ourselves. We're just wrong. We need to tighten things up. The leaders on our team said, 'We've got to bring it now.' They said, 'We're in conference play. Our defense has got to get better and we have to be better leaders.'''
After Thursday's practice, Bragg said: "We brought a lot of energy, defensively and offensively, and we're playing as a team now. This is Day One. We've got to move forward getting better and better."
Podcast episode
Kansas freshman Carlton Bragg discusses the tone of conversation amongst the Jayhawks, coming off a poor performance at Oklahoma State. Bragg says the players met in the locker room and talked about a lot of things, including how they should change their attitudes.
KU junior Brannen Greene (knee bruise) practiced on Thursday and though coach Bill Self said he wasn't 100 percent yet, he should be ready by Saturday's 1 p.m. home game against (12-6, 4-2) Texas. KU will enter 15-3, 4-2.
Asked if freshman forward Cheick Diallo would make his second straight start, Self said: "Probably. We'll see how practice goes. He did OK (vs. Oklahoma State). I don't think it was a marquee-type performance but I don't think you could say that about anybody on our team."
On Mason: KU junior Frank Mason III said after Tuesday's loss his leg was sore but aside from that he was fine physically.
"Since the OU game (109-106 3OT victory on Jan. 4) I don't feel like he's played with near the energy that he did in that particular game," Self said. "He totally gave himself up for us that particular night (playing 53 minutes). Since then, it almost seems like he's been worn out a little bit from that. It could be a coincidence. He's got to get it back, but you can't put it on Frank. I think the whole team looks that way. I think we look pretty lethargic right now. Well, I think we did look lethargic."
Team is trying: Self was not fond of one criticism of his team, which has dropped two of its last three games.
"Somebody text me, 'Hey, your guys act like they don't care.' That's the biggest crock of bull ever. They care a lot," Self said. "But I think sometimes stress and things like that probably keep you from probably being the way that you want to be all the time."
Hoverboard chatter: Some KU players such as Bragg and Devonté Graham have been seen riding hoverboards in and outside of the fieldhouse.
"Now while there's snow and stuff, coach said to stay off 'em," Bragg said. "It takes 10 minutes to master (riding one). When you first get on you have to balance it out and go a little slow. Once you get movement in your body and legs, you should be good."
Of hoverboards, Self said: "There's been like 30 schools across the country that have banned them. We do not have rules about them using them here, and maybe that will be something that transpires. We talk about Frank's fatigue: So look, guys, we're helping him out. It's basically strategy to keep our guys more rested," Self added of riding the boards.
Self said he once, "Got on one. I don't know if you call it ride when you're doing that, but I actually did get on one to see what it was like. I was pretty nervous getting off of it. I think getting on it is the easy part. I think getting off it is where you could really mess yourself up."
More like this story on KUsports.com