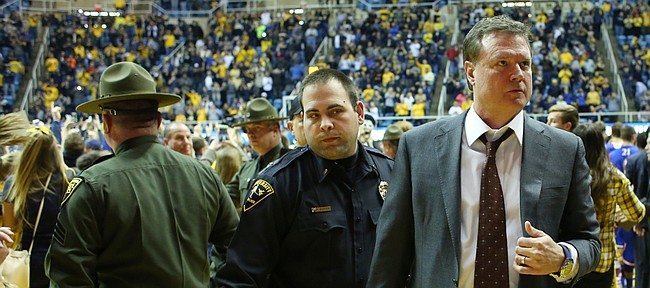 The worst thing about Tuesday's 74-63 loss at West Virginia — according to Kansas University's players and coaches — is the fact the No. 1-ranked Jayhawks didn't appear to exert the extra effort it takes to beat a No. 11-ranked squad on its home floor.
"We were a little disappointed in how we competed and tried against them. I hadn't seen our team do that all year. I think the players agreed the same thing. I think they agreed they didn't try as hard as they need to," KU assistant coach Kurtis Townsend said on Wednesday's weekly "Hawk Talk" radio show, subbing for coach Bill Self, who was out recruiting.
"It was a rough trip. We got home pretty late. We didn't do much today except watch tape," Townsend added. "A couple of the guys said, 'We didn't realize how bad we were until we saw it on tape.' Hopefully we can take from it, learn from it and go from there."
Self said after the game the Jayhawks (14-2, 3-1) may have been "a little full of ourselves" after winning 13 in a row and vaulting to the top of the national polls.
"We feel we have a good enough team if we compete harder than other teams we should win the game," said KU junior forward Landen Lucas, who had six rebounds and a blocked shot in 14 minutes. "We failed on that end for sure.
"I think we unfortunately let them compete more than we did. They got us off our game. It's tough. We talk about it. We watch film. We've seen halves where we play into their rhythm and halves where we play our own. It's night and day. Unfortunately, today they put in a full game. We can't let that happen especially next time we play them (Feb. 9 in Allen Fieldhouse)," Lucas added.
As far as the Jayhawks not being as hungry as West Virginia (15-1, 4-0) ... Lucas says, guilty as charged.
"Unfortunately, it shouldn't take a loss for that to happen," Lucas said of the Jayhawks regaining intensity for each and every game. "But maybe that is the case where we could use this to motivate us and get us hungry again, want to get back on top because we got a little taste of it and were enjoying it. Now it's just about getting back there."
KU senior Perry Ellis said the result is "definitely a wake-up call to everybody that we can't play that way if we want to do what we want to do. It's definitely a wake-up call and will make us better," added Ellis, who had 21 points, seven boards and three assists in 38 minutes.
Weather mayhem: Like KU's players, who arrived at the game at 6 p.m. for a 7 p.m. tipoff because of icy roads that caused multiple accidents on the streets in Morgantown, West Virginia's players had trouble making it to the arena, too.
Stuck in bumper-to-bumper traffic, Mountaineers Jaysean Paige and Tarik Phillip jumped out of their car and ran several blocks to WVU Coliseum.
"We were debating whether to sit in the car or not. Long story short, I saw big Jon (Holton) running up the hill and so I jumped out of the car and started running with him," Paige, who burned KU for 26 points, explained to John Antonik of wvusports.com. "I had my jacket, big old boots and my shoes, so people knew who we were. We were just running trying to get there.
"For a game like this you want to be here," Paige added. "You don't want to miss this. You don't want to be late and might not play, or something might happen, so we just wanted to get here on time."
Phillip's mom took over driving duties and eventually parked in a Coliseum lot.
Turnover talk: West Virginia forced 22 turnovers. KU's previous high in a game this season had been 15 three different times.
"That's the way we play — 'Press Virginia.' They had 22 turnovers tonight. We were all over the floor," WVU's Devin Williams told wvusports.com. "Me and Jon Holton controlled the boards. Tarik and them were aggressive up top, just everything. We laid it out. I'm actually tired, so I can only imagine how they feel."
AD statement: To show how bad the weather was on Tuesday, WVU athletic director Shane Lyons felt compelled to issue a statement after the game:
"Thank you Morgantown and Mountaineer Nation for braving Tuesday's challenging conditions to make it to the Coliseum — or in front of your television sets — to support our basketball team and help it achieve an historic victory.
"We know the weather and road conditions presented obstacles to the community, even without the complicating factor of thousands of folks trying to get to the Coliseum for a nationally televised game against the No. 1 team in the nation. It was not feasible, nor even possible, to cancel or postpone the game as some have wondered or suggested, but this community came together in true Mountaineer determination to make it all work. It's one reason Mountaineers are special."
In all, 12,097 fans made it to the game, though a majority arrived late. WVU Coliseum holds 14,000.
Honorees: KU's Perry Ellis and Wayne Selden Jr. were named to the Wooden Award's midseason Top 25 list on Wednesday.
Recruiting: KU recruiting target Michael Porter and his teammates from Tolton Catholic in Columbia, Missouri, will attend KU's game against TCU at 1 p.m Saturday in Allen. Then at 8:30 p.m., Tolton will meet Blue Valley Northwest at the Best of the Midwest Showcase at Johnson County Community College. Porter is the No. 3-rated player in the Class of 2017 by Rivals.com.