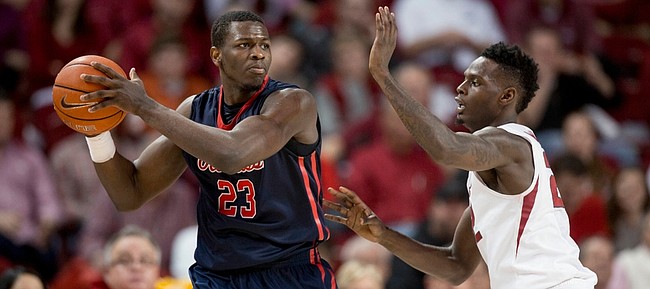 It won't impact the Kansas University basketball team's on-the-court lineup, but coach Bill Self announced Wednesday one of his Jayhawks suffered a season-ending injury.
Forward Dwight Coleby, who transferred to Kansas during the offseason from Ole Miss, tore the anterior cruciate ligament in his left knee and won't be able to practice with the Jayhawks in 2015-16 as planned.
"Dwight tore his ACL last Friday (Sept. 25) during a light team workout," Self said in a press release. "It was a non-contact injury that was unfortunate for him, particularly because he came here this year to practice against our guys and get better. Even though it is a setback for him, through hard work, he'll come back and he'll be stronger than he ever has been by this time next year."
KU's coach revealed Coleby, a 6-foot-9, 240-pound big man, will have surgery on his knee the week of Oct. 11 in order for swelling in the injured area to go down between now and then.
"This is my first knee injury and I will do everything I can to get back to 100 percent," Coleby said in KU's release. "I have had great support from everyone since this happened and look forward to getting back as soon as possible."
A Nassau, Bahamas, native, Coleby started three games this past season at Ole Miss, where he averaged 5.4 points, 4.8 rebounds and 16.5 minutes for the Rebels.