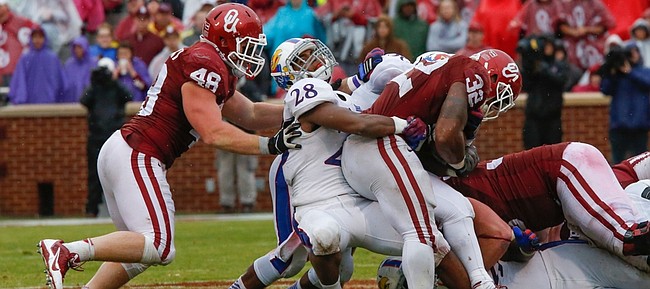 Had it not been for Kansas University safety Fish Smithson hustling from one side of the field to the other on a dreary day in Norman, Oklahoma, last November, OU running back Samaje Perine's NCAA single-game rushing record of 427 yards might be even higher.
See, Smithson, who enters this week's rematch with Perine and the Sooners — 2:30 p.m. Saturday at Memorial Stadium — ranked second in the Big 12 in tackles per game (9.3), was the Jayhawk who finally dragged Perine down on his record-breaking run that covered 42 yards and pushed the OU back past Melvin Gordon, who, one week earlier, had set the record at 408 yards.
Like many of his teammates, Smithson remembers every detail of that play and the pain that lingered after giving up the record.
"Their fans and their coaching staff didn't really know what to do when he broke the record," Smithson recalled. "It was just hard for us to sit there and watch them, in the middle of a game, celebrate his record-breaking game."
With the wounds of that woeful performance so fresh in their minds, the who played or coached in that game a year ago are using it as motivation to slow Perine's roll this time around. Given the fact that the OU back is coming off a 23-carry, 201-yard effort in last week's victory over Texas Tech (both season-highs), the Jayhawks (0-7 overall, 0-4 Big 12) know they have their work cut out for them. With that said, they're not exactly dwelling on last year's historic outing.
"I'm not too sure how many people have the stomach to go back and watch it," Smithson said. "I believe our coaches might. I'm not sure."
Added senior defensive end Ben Goodman: "I lived that game, I'm not going to back to watch it."
Defensive coordinator Clint Bowen, who was KU's interim head coach during Perine's romp, said he watched it but only because he watches the previous match-up with every opponent week after week.
Asked what he remembered most about Perine's performance, Bowen spoke more about the 5-foot-10, 230-pound sophomore's powerful style than his record-breaking day.
"His size alone makes him a little bit special at that position," Bowen said. "He's a very compact, heavy, strong person.... He has vision, has burst, has acceleration and, for a guy who they list at 230 pounds, and looks to be all of 230, that's a pretty special gift."
First-year KU coach David Beaty watched that game on tape last season. Like Bowen, he remembered being impressed by Perine's physical tools. But while the KU coach said his defense could learn a lot from last year's failure, he added that he would not make too much about the 2014 game this week. For starters, both teams have different make-ups, from something as simple as OU having an almost entirely new offensive line to something as complex as the KU defense operating out of a four-man front instead of the odd front. What's more, this team is much more concerned with looking ahead and building for the future than it is residing in the past.
"We go to school on the information we have from that game last year," Beaty said. "And, obviously, there's a lot of things that we can correct. We contributed to that (record) a little bit and hopefully we can make the proper adjustments this week and kind of limit him. But we don't talk a lot about it, we really don't, because we don't feel like one year to the next helps or hinders us. (What) matters is what we do when that ball gets snapped on Saturday."
Bowen agreed, and said fundamentals, not some revenge-fed anger, would determine how successful his defense was against Perine this time.
"That was a tough day," Bowen said. "They big-boyed us and we really couldn't do much about it. They were a lot better than us that day. Flush it and forget about it. It's over. Obviously, you wanted to play better but you didn't, so you move on. You gotta get your hat to the ball and hope that your tackling fundamentals come through."
More like this story on KUsports.com