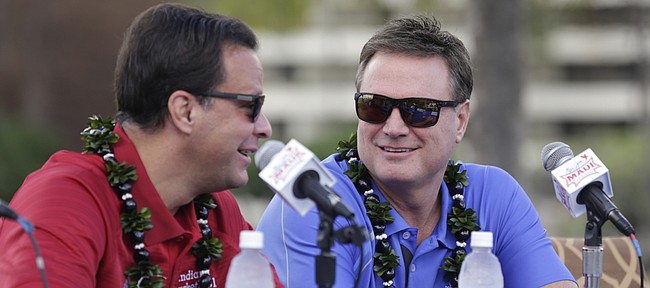 Lahaina, Hawaii — Bill Self's taking the NCAA and its Eligibility Center to task for its snail-like pace in the Cheick Diallo eligibility case has caught the attention of Self's peers.
"I've had other coaches call me. I've had several people text me," Self, Kansas University's 13th-year coach, said Sunday at the Maui Invitational news conference on the grounds of the Sheraton Hotel. "I had a coach in a similar situation phone me this morning. He said, 'Let's review. Our case is similar to yours.'
"It's a bigger picture than just Cheick," Self added of the 6-foot-9 Mali freshman still waiting on word on whether he can play in games this season. "It's a picture on student opportunities. If kids do not do the work leading up to college that the NCAA requires them to do, it's very understandable they should not be eligible. If they have done the work, and an entity says for whatever reason the work is not good enough and the way it's been evaluated is not accurate, then it's inexcusable. It goes from unexplainable to inexcusable, and that's where we think we are right now and feel 100 percent confident about it."
Self on Saturday said KU had hired a pair of groups to study Diallo's transcripts, and the player definitely has enough core courses to be eligible for games. After speaking with local reporters Saturday, he explained the situation to national media types, in effect challenging the NCAA to make a decision ... soon.
"You can imagine a kid for six months hasn't been told why he can't play, then on Sept. 2, it was told to us he had six cores (courses out of 16 needed to be eligible). Three-and-a-half years at a school (Our Savior New American), and you only get six cores? Three of those occurred in his first semester there, so you are looking at three cores in three years the NCAA says was a quality class?"
Self was asked the impact Diallo will have on the team if and when he is declared eligible for competition in games.
Photo Gallery
2015 Maui Invitational coaches press conference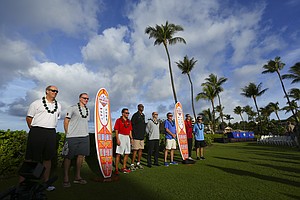 Kansas head coach Bill Self and the rest of the coaches from the 2015 Maui Invitational field meet with media members just off of Kaanapali Beach in Lahaina, Hawaii.
"There's a lot of growing stuff. He could change our team by conference, though, or by February," Self said. "He's raw. Even though it doesn't seem like a big penalty (so far), his opportunity to play in games and through mistakes was two exhibition games (and) our first game of the season. Every time he's held out and here he's not even allowed to practice (by NCAA rules he can't practice on the road), I don't want to say it's a setback … for a guy who needs the reps like he does, it's a bigger deal than what it would be for a veteran guy being held out."
Meanwhile, the cost of KU's work in trying to get Diallo eligible is "approaching six figures on all levels," KU AD Sheahon Zenger wrote in KU's official letter to the NCAA outlining 19 concerns the Jayhawk athletics department has with the NCAA about the matter. The NCAA as of Sunday had not responded. "I wholeheartedly support such exorbitant expenditures because we have uncovered serious and legitimate misrepresentations attributed to NCAA process, unfounded verbal statements and inadequate professional standards. All of this is impacting Cheick unjustly and standing in your way of making him immediately eligible."
As far as possible amateurism problems involving Diallo's legal guardian, Tidiane Drame, Self reminded that Diallo was not a certain college hoops star when he left Mali for the U.S.
"The whole thing about coming to the States and leaving his family 31⁄2 years ago was to go to high school here, have the opportunity to play college ball, have the opportunity if things go well beyond that. People think Cheick was a great prospect when he got here. He played soccer. He wasn't a prospect when he enrolled at Our Savior," Self said.
"It's great to see how he's developed, great to see he has a vision and work ethic. He to this day has no understanding, which we hadn't until Nov. 5 (when NCAA outlined the core course situation to KU) had any understanding why he wasn't going to be able to play."
Self, meanwhile, remains direct in challenging the NCAA to work on Diallo's case and declare him eligible.
"Even though it's a Sunday to me, that's irrelevant whether it's a weekend or not. I mean, when you've had three months to handle this, certainly 12 days now to respond to a list of 19 things given to them (NCAA), I don't think working on a Sunday is really asking too much," Self said.