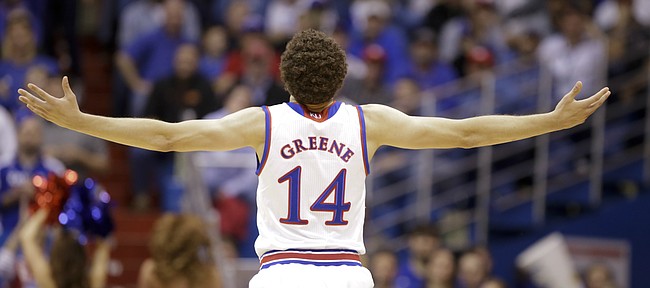 Kansas University's basketball team will be without junior guard Brannen Greene for the upcoming Maui Invitational.
KU coach Bill Self announced Friday that Greene did not make the trip to Hawaii with his teammates and will serve a six-game suspension for "conduct detrimental to the team."
Greene practiced Friday morning with the squad and reportedly had a good practice. However, he remained in Lawrence while the team took a charter flight to Maui. Self said Greene will resume practicing with the squad when the team returns from Hawaii.
Greene's dad, Jeffrey, on Friday night stressed the suspension had nothing to do with any troubles with the law.
The suspension, Jeffrey explained, had to do with his son expressing displeasure after being pulled from Tuesday's KU-Michigan State game shortly after entering the contest in the second half. Greene said something to the coach after leaving the game.
Also, there was a debate after the game between player and coach in the locker room. Jeff said he knows this because he and his wife were called to the locker room and witnessed the postgame discussion. He said he wished he and his spouse hadn't been invited to be a part of the locker-room discussion.
Jeff, Brannen and other family members on Friday were quite upset with speculation on social media that Greene in some way broke the law and thus was suspended.
Jeffrey tweeted to fans that the reason for the suspension was "absolutely nothing unlawful of any kind. So stop (speculating)!"
He also tweeted: "Rumor has it B's suspension centers around playing time debate. All those other rumors are not true! No drugs or violations."
Jeffrey told the Journal-World: "My main focus is my wife and I did not enjoy the number of screen shots we were getting based on drug behavior or domestic violence or DUI, things like that. It was so open and causing my family concern across the country because they follow that stuff. I know it had nothing to do with that.
"The issue came about during the game in the second half and escalated in the locker room and parents were brought in to bear witness to it. The suspension is unfortunate for Brannen. He wants to play ball. On the court he'll fight a lion for the basketball. He wants to get it done, wants to help the team."
Greene has made it clear in his KU career he'd like extended minutes.
"Brannen wants to play. Coach Self is the head coach and decides who gets what minutes. Coach wants him to shut up (ostensibly about playing time). If you get six games, I think the kid will get the message. It's just unfortunate, really unfortunate."
Jeffrey said Brannen at this time was focusing on returning to practice when the team gets back from Hawaii.
"We heard today from one of the coaches he had a great practice. Coach Self had a great talk with him and he's back on track and all that good stuff," Jeffrey said.