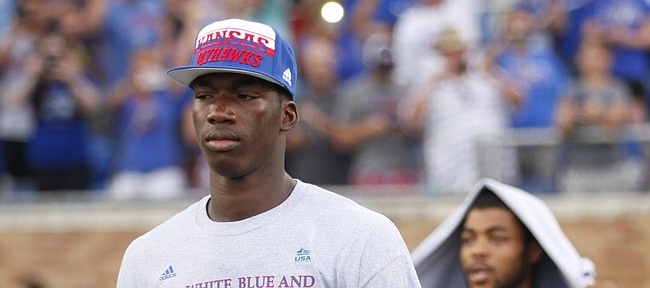 Kansas University freshman forward Cheick Diallo is listed No. 12 and shooting guard Sviatoslav Mykhailiuk No. 17 overall on ESPN analyst Chad Ford's first Big Board for the 2016 NBA Draft. The Big Board is essentially a ranking of the top 30 prospects expected to enter the draft.
"Diallo has the best motor of anyone in this class. He doesn't take a second off on the court. He's tough, athletic and is just a handful on both ends of the floor," Ford writes at ESPN.com. "He's not particularly skilled and he needs to continue to add strength, but few players can keep up with him — if the NCAA ever gets around to clearing him to play at Kansas. He might end up being a better version of Kenneth Faried."
Coach Bill Self told the Journal-World on Friday there has been no change in Diallo's status. His academic transcripts are still being considered by the NCAA Eligibility Center.
Reportedly, the NCAA has not accepted some classes athletes have taken at Diallo's Our Savior New American High School in Centereach, New York.
Recently, Our Savior grad Davon Dillard, an Oklahoma State signee, was cleared by the NCAA, lending some hope to the situation.
Of Mykhailiuk, Ford writes: "Mykhailiuk was the youngest player in college basketball last season — so young that he was ineligible for the 2015 NBA Draft. After getting minutes early in the season, Mykhailiuk became stuck at the end of Kansas' bench. He's got a very high basketball IQ, can shoot it with range and can even play a little point. He should come back stronger and more prepared to handle the rigors of college basketball this season. I expect he could have a breakout sophomore season."
Five freshmen top Ford's Big Board. They are: Ben Simmons, LSU; Skal Labissiere, Kentucky; Jaylen Brown, Cal; Brandon Ingram, Duke and Jamal Murray, Kentucky.
Taylor has good summer on court
Former KU guard Tyshawn Taylor, who made the news Aug. 6 for being arrested for allegedly passing a counterfeit money order worth $1,000 in Hoboken, New Jersey, had a better July competing in events for the Ball Up basketball tour.
According to SBnation.com, Taylor won the tour event's dunk contest in New York, worth $7,500. He also won $2,500 for earning MVP honors of the championship game of the New York Ball Up Million Dollar Challenge Championship. And he won at least $5,000 for playing on the winning team, which received $50,000 to split however it liked.
Taylor's Sean Bell All Stars went on to win the Ball Up Million Dollar Summer Challenge in Los Angeles. The team won $500,000 to split between 10 players.
Happy Birthday Carl Henry
Former KU guard Carl Henry celebrated his 55th birthday Sunday. "Happy Birthday to the big man!!! Beyond blessed to be able to call you my dad and I love you with all my heart!!" Henry's son, former KU guard Xavier Henry, Tweeted. Xavier, 24, is currently a free agent.
More from ESPN
KU is ranked No. 5 in Eamonn Brennan's "Way Too Early" Top 25 poll. Former KU guard Mark Turgeon's Maryland team is No. 1, followed by North Carolina, Kentucky and Virginia.
"Your thoughts on the 2015-16 Kansas Jayhawks are likely to resemble your thoughts on the 2014-15 Kansas Jayhawks, because the roster is Virginia-esque in its year-over-year similarities," Brennan writes. "The noteworthy returners — Perry Ellis, Frank Mason III, Wayne Selden Jr., Devonté Graham, Sviatoslav Mykhailiuk, Jamari Traylor, Brannen Greene, Landen Lucas, even Hunter Mickelson — are a roster unto themselves. The differences are freshman-oriented: 2014-15 newcomers Kelly Oubre and Cliff Alexander fulfilled their respective one-and-done aspirations this spring, to varying degrees of success, and three more ESPN 100 prospects are joining up, including top-five power forwards Cheick Diallo and Carlton Bragg.
"Self's team began the 2014-15 season with a fair amount of rotation uncertainty, and the Jayhawks never quite put it all together. Injuries, alternating individual slumps, Oubre's slow burn, Alexander's late-season NCAA issues — there was always some minor disconnection keeping Kansas from reaching its full potential. The Jayhawks won their 11th straight Big 12 title, anyway. They'll be fine," Brennan writes.
In Joe Lunardi's current 2016 NCAA Tournament "bracketology" KU is No. 1 seed in the West Regional. North Carolina, Kentucky and Maryland are listed the other No. 1 seeds. USA Today has KU the No. 1 seed in the Midwest, with Maryland, UNC and Kentucky also the other No. 1s.