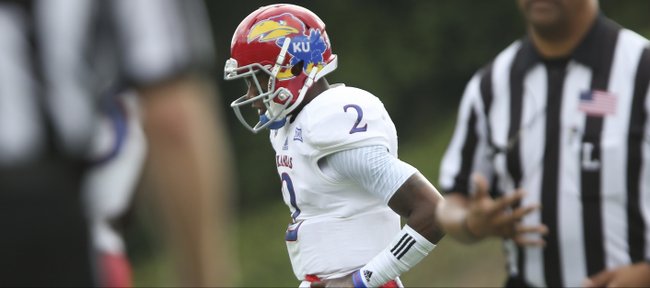 Todd Reesing, Kale Pick, Jordan Webb, Dayne Crist, Jake Heaps and Montell Cozart. Six starting quarterbacks in six season-openers for Kansas University football.
Based on how raw Cozart looked Saturday in a 41-3 loss to Duke, next season's opener against South Dakota State could mean the seventh season in a row with a new starting quarterback.
Cozart locked in on the intended target, leaving Tony Pierson open in space all day long. He missed open receivers and bypassed wide-open running opportunities. It was a rough enough performance to wonder how many more starts he'll make and how far away he is from having ample polish.
If not Cozart next season, then whom? Michael Cummings, T.J. Millweard, current running back Joe Dineen and Bishop Miege senior Ryan Willis all could be considered legitimate candidates, but an as-yet-recruited quarterback remains a possibility.
Since taking over for Turner Gill, Charlie Weis has brought six quarterbacks into the program, excluding Willis.
When the coach landed Crist, Heaps and Turner Baty in the same recruiting class, he speculated he had the best QB haul in the country, but it didn't work out that way. Crist lost his starting job in midseason, as did Heaps, who then transferred to Miami (Fla.), where he is a reserve. Baty transferred back to junior college and now is at UC Davis.
High school recruit Jordan Darling is fourth on the depth chart, with nobody projecting him moving any higher during his career. UCLA transfer Millweard ranks third, behind Cummings, who was recruited by Gill.
It appears as if the best quarterback recruited to Kansas since Mark Mangino signed Reesing was lured by Gill's staff, and his name was not Brock Berglund.
Seth Russell from Garland, Texas, made an oral commitment to KU in 2012, the year of the Crist, Heaps, Baty haul. After KU changed coaches, Russell signed with Baylor.
In his first college start, Russell, a 6-foot-3, 215-pound, third-year sophomore, threw five touchdown passes in the first half of a 70-6 victory against Football Championship Subdivision school Northwestern State, or one more than Crist threw during his Kansas career, three fewer than Heaps threw for KU.
Cozart also riddled an FCS defense, completing 11 of his first 14 passes against Southeast Missouri State. He completed just one of 10 the rest of the way in that game and 11 for 27 against Duke, which means he has completed 12 of 37 after cooling off from his hot start. The KU QB curse lives.
More like this story on KUsports.com