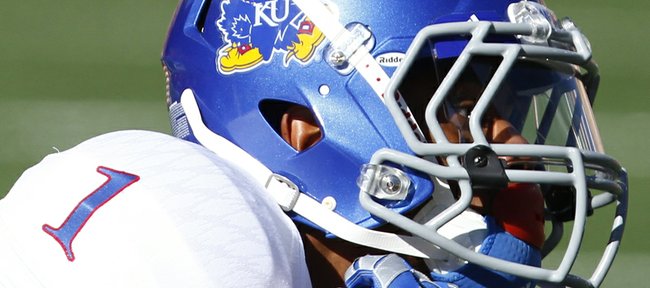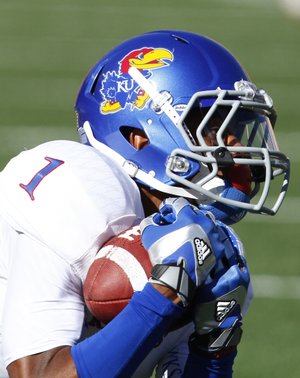 While newcomer Nick Harwell continues to impress both in the passing game and in a leadership role, Kansas University's first six spring football practices have produced another name to watch at wide receiver.
Rodriguez Coleman, a 6-foot-3, 195-pound junior-college transfer who caught eight passes for 208 yards and a touchdown in three starts in 2013, has, according to KU coach Charlie Weis, performed as well as any player on offense so far this spring.
"He's done a really nice job," Weis said earlier this week. "He's a long way from being a polished guy, but he's big, he's fast, and catches most everything that's thrown to him. He gets open."
The reasons for Coleman's fast start to his first spring in Lawrence are many and include the approach of first-year wide receivers coach Eric Kiesau and the impact of KU's new offense.
"Eric is doing a really nice job with fundamentals and techniques and route definition," Weis said. "So that's been improving steadily with these guys."
During the offseason, Coleman, a junior, gained an extra year of eligibility after learning he had been granted a medical red-shirt for his first season at Garden City Community College. Asked if he thought the extra time gave Coleman a lift and was the reason for his strong spring, Weis brought it back to simple football.
"I think the fact that we're throwing to him a lot has given him some extra energy," Weis said. "When you line up, the most attention goes to Harwell first and Tony (Pierson) second. When Coleman is the isolated guy, he's (facing) a lot of one-on-one (coverage). He'll get a lot of one-on-one. If you don't have anyone that's getting open on the single-receiver side, you've got a problem. He's been getting open, so that's a positive."
Depth chart takes shape
Weis did not reveal details of his team's spring depth chart but did say the players have a pretty clear view of where they stand.
"When we say, 'First offense go out there,' guys know who's going out there," he said. "When we call a personnel group, I don't think there'd be a 'Should I go out or should I go out?' They kind of know. For the first (several) days, that bounced around some, but I don't think that's bouncing around so much right now."
Eight is enough?
Weis and offensive-line coach John Reagan said earlier this week they had eight guys on the offensive line about whom they felt pretty good at this point in spring drills.
That's not the end goal, of course, since they would like to have a solid two-deep at all five line spots established before heading into the season. But given that the O-line is one of the questions surrounding this team and that they've only had a handful of practices to work in the new offense, both coaches seemed pleased with the progress up front.
"I'm not discouraged at all," Reagan said. "I'm encouraged by their knowledge and their attention and their work ethic."
More like this story on KUsports.com