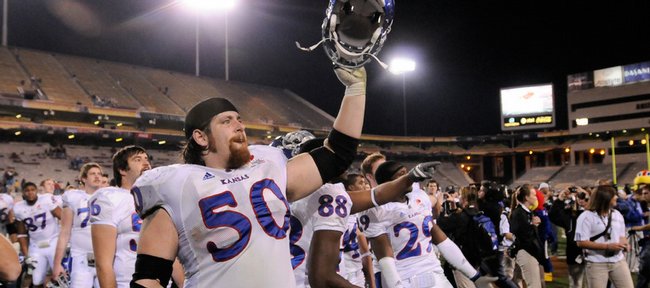 Kansas University football coach Charlie Weis announced a couple of changes to his coaching staff on Monday afternoon.
Former Jayhawk Ryan Cantrell, a center, who played at Kansas from 2005-08, has been hired as the assistant director of football operations and Maurice Crum has moved from that position into a new role as assistant director of high school relations.
A Houston native, Cantrell joins the Kansas staff after spending the previous four seasons on the Rice football staff where he worked under current KU offensive coordinator/offensive line coach John Reagan.
While at Rice, Cantrell spent two seasons (2010-11) in the offensive quality control position, working primarily with the Owl quarterbacks. He then spent two seasons (2012-13) as an offensive graduate assistant where he worked directly with the offensive line.
During his time with the Owls, Cantrell helped lead the program to the 2013 Conference USA title, back-to-back bowl wins and the second-most productive offensive season in school history in 2012.
Prior to his time at Rice, Cantrell was an assistant coach at Clements High School, his alma mater, where he coached the offensive line for one season.
Cantrell played center at KU from 2005-08 and started 33 games, including his final 25, and was elected as a captain of the Jayhawks' 2008 team. As a junior, he anchored an offensive line that led KU to the 2008 Orange Bowl title. He was a member of three winning bowl teams (2005 Fort Worth Bowl, 2008 Orange Bowl, 2008 Insight Bowl) and was named honorable mention all-Big 12 during his final two seasons, as well as to the Rimington Award Watch List prior to his senior campaign.
Cantrell was a two-time member of the KU Athletic Director's Honor Roll and graduated with a degree in economics in December 2008. He was presented the Gale Sayers Award for Courage as a senior.