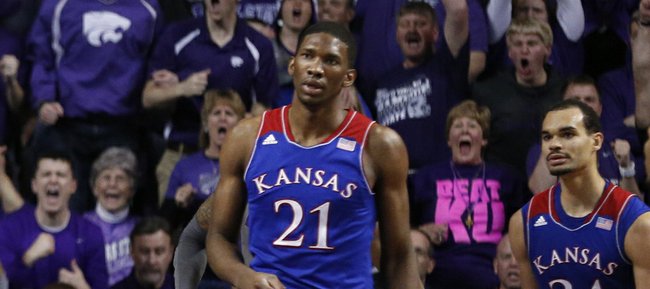 Photo Gallery
Kansas basketball v. West Virginia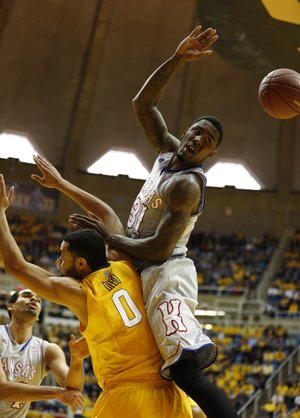 Images from Saturday's game between the Jayhawks and Mountaineers in Morgantown.
Podcast episode
Kansas basketball coach Bill Self, freshman Andrew Wiggins and sophomore Jamari Traylor discuss the Jayhawks' loss at WVU, and what's next for KU.
KEEGAN RATINGS
WEST VIRGINIA 92, KANSAS 86
Morgantown, W.Va. — Kansas University freshman center Joel Embiid was to fly to Los Angeles Sunday and visit a back specialist on Monday morning, coach Bill Self confirmed to the Journal-World after the Jayhawks' 92-86 loss to West Virginia on Saturday at WVU Coliseum.
The 7-foot Embiid, who has been bothered by back issues for several weeks now, did not make the trip to Morgantown for the game.
'We wanted to get a second opinion and wanted to send him to the very best authority," Self said, not identifying the name of the doctor. "He'll leave on Sunday and see him (doctor) Monday morning."
Self said he remained hopeful Embiid, who missed Wednesday's game against Texas Tech, would be available soon. It is believed surgery will not be needed to correct this back problem.
"Hopefully we get real positive news," Self said. "Hopefully he can be on the practice floor very very soon. We will not put him out there just because he feels better but because the doctors says it's time to get back out there. Hopefully it will be real soon, if not we'll sit him a little longer. We still don't think it will affect (his participation in) the NCAA Tournament in any way," Self added.
Embiid's tweets during the game: "Come on." "We got this." "He's the best y'all."
Zip: KU point guard Naadir Tharpe had zero points and zero assists against one turnover in a season-low 16 minutes Saturday.
"I need to make sure I'm ready to play and we all are ready," Tharpe said. "Everyone as a whole. I need to be better to help the guys as well."
He said Self told him "just be a leader. Try to keep my head up when things are going wrong. I felt we tried to give something. At the time we were trying to give it, it wasn't clicking for us," Tharpe stated.
Flat Jayhawks: Self's Jayhawks appeared flat after Senior Day festivities on Wednesday.
"If you have to get up to play a game that's on national TV," Self said, his voice trailing off. "If you are a guard you get a chance to play against the best scoring 2-guard in the league. If you are a point guard, you get to play against the best point guard in the league. To me you should be up automatically about those things."
Point guard Juwan Staten had 24 points and nine assists; shooting guard Eron Harris 28 points and three assists.
"We didn't appear to be as up as we could from an energy standpoint. I don't want to use that as an excuse. Guys have got to get up; that's not a factor," Self said.
Noted forward Jamari Traylor: "We came out flat. You dig a hole like that (25-point deficit) it's hard to come back against a good team like West Virginia. We tried to show our guys, play all out and make it a close game, but came up short."
Wooden list: KU's Andrew Wiggins was named one of 15 finalists for the Wooden Award on Saturday. Others: Kyle Anderson, Cleanthony Early, Tyler Ennis, C.J. Fair, Gary Harris, Nick Johnson, Sean Kilpatrick, Doug McDermott, Shabazz Napier, Jabari Parker, Casey Prather, Julius Randle, Russ Smith and Nik Stauskas.
West Virginia coach Bob Huggins is now 1-7 versus KU. Thanks to a clause in his 2012 contract extension, he receives a $25,000 bonus when the Mountaineers beat KU.
Huggins was asked this week if KU coach Bill Self is overlooked nationally.
"I can't speak for your business. I know in mine he's not overlooked. I think everybody understands the guy has won everywhere he's ever been," Huggins said. "He's done phenomenal things at Kansas. But not just Kansas. Look at what he did at Illinois. Look what he did at Tulsa. Look at what he did at Oral Roberts."
Huggins on Andrew Wiggins: "Generally when you are going to be the first or second pick in the draft you are pretty good. He has great athleticism. He's made plays very few people can make. He missed a layyup against Kansas State, came back and tipped it in. He was out of bounds about when he shot it. He jumped back in quicker than everybody else and tipped it in. You don't see that very often. Those are generally the guys that are the first couple draft picks."l
Awards coming Sunday: The Big 12 today will announce its all-league teams as well as specialty awards, such as coach and player of the year. The announcements will come via the Big 12 twitter feed (@Big12Conference) followed by Big12sports.com. The honors announcement will begin at noon with the awards announced in five-minute increments.
Recruiting: Myles Turner, a 6-11 senior center from Trinity High in Euless, Texas, who is ranked No. 6 nationally by Rivals.com, is visiting Duke this weekend. He attended Wednesday's KU-Texas Tech game. He's also considering Texas, Arizona, SMU, Ohio State, Oklahoma State, Texas A&M; and Kentucky.
"Everything was planned for the seniors, but still, they (staff) made us feel like we were the No. 1 priority there, so it was a great experience for Myles. And now, going to Duke to experience the rivalry, it's just a fantastic weekend," Turner's dad, David, told jayhawkslant.com.
Of the recruiting process, Myles Turner told myfoxdfw.com: "I'm not trying to create a whole bunch of drama with this."
He indicated he did not want to sign in the early period so scouts would continue to come to his games and perhaps offer his teammates scholarships even if they are on the Div. II or III levels.
Kansas will enter the Big 12 championship (Wednesday-Saturday) in Sprint Center in Kansas City, Mo., as the No. 1 seed. The Jayhawks will meet the winner of Wednesday's No. 8-9 game (Oklahoma State vs. Texas Tech) at 2 p.m., Thursday. KU has had a first-round bye in 17 of the 18 Big 12 championships. KU has been the No. 1 seed in the event 11 times, including each of the last six seasons.
This, that: Bill Self is 3-1 vs. West Virginia. ... West Virginia shot 10 free throws before KU went to the line for the first time, which resulted in a three-point play for Perry Ellis at the 9:43 mark in the first half. ... West Virginia had a 25-point lead (64-39) in the second half, KU's biggest deficit of the season – surpassing the 18-point deficit at Florida. ... Andrew Wiggins has 522 points on the year, passing Xavier Henry (483, 2010) and Danny Manning (496, 1985) for the second-place position on the all-time KU freshmen scoring list. He now only trails Ben McLemore (596, 2013) as the school's all-time freshmen scoring leader. Naadir Tharpe is one point shy of his 500th career point. Jamari Traylor is 33-for-43 for a team-best 76.7 field goal percentage in conference games.
— Tom Keegan of the Journal-World contributed to this report