Photo Gallery
Kansas basketball v. Texas Tech (senior night)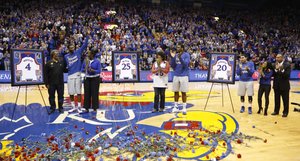 Images from Wednesday's game between the Jayhawks and Red Raiders at Allen Fieldhouse.
Podcast episode
Bill Self on celebrating KU's seniors and the Big 12 title
Podcast episode
Kansas basketball players Tarik Black, Andrew Wiggins and Naadir Tharpe discuss their home finale, and where the Jayhawks go from here, after defeating Texas Tech, 82-57, on Senior Night, which doubled as the final home game for one-and-done freshman Wiggins.
KEEGAN RATINGS
KANSAS 82, TEXAS TECH 57
Three weeks ago in Lubbock, Texas, Tubby Smith's Texas Tech basketball team came within a couple of seconds of knocking off Kansas.
With that gut-wrenching, one-point home loss still fresh in their minds, the Red Raiders took the floor at Allen Fieldhouse on Wednesday night hoping to unleash another inspired effort against the No. 8-ranked team in the nation.
It never happened. Instead of playing with the Jayhawks (23-7 overall, 14-3 Big 12) wire to wire, the Red Raiders found themselves getting run out of the gym early in an 82-57 loss on KU's Senior Night.
That certainly was not the plan, but thanks to a combination of mental errors by Texas Tech and superior play by Kansas, the Red Raiders (13-17, 5-12) dropped their sixth game in a row and fell for the ninth time in the past 12 outings.
"We pretty much tried to do the same thing," Smith said after the loss. "We changed a couple things but not much. And the things we did try to do, they did a good job of denying and making us go to the second or third option, making us put it on the floor."
Texas Tech forward Jaye Crockett (nine points, six rebounds) said his team entered Wednesday with serious confidence from that 64-63 home loss to Kansas on Feb. 18. But 10 minutes into the game, that confidence was all but gone and the Red Raiders were merely trying to survive.
Both Crockett and Smith credited KU's defensive intensity for making life hard, but also admitted that the visitors, for whatever reason, were unable to execute their game plan the way they would have liked.
"We just didn't follow our principles like coach was telling us," Crockett said. "He was getting on us for not following the rules and playing like he tells us to play. When we don't listen, we get punished out there on the court and it ends up bad."
Added Smith: "Certainly we were not much competition for Kansas tonight. We really made a lot of mistakes in the first half.... and then it just went downhill fast."
Kansas forced Texas Tech into nine first-half turnovers and built a 39-19 halftime lead despite just leading 18-12 with 9:13 to play in the half. KU senior Tarik Black — one of three KU seniors playing his final game in Allen Fieldhouse — was a big part of KU's knockout blow, which featured a 17-3 run and five points from Black, who finished with a game-high 19 points on 9-of-9 shooting.
"Their inside people were just outstanding," said Smith of KU's big men, who combined for 39 points and dominated the paint despite the absence of starting center Joel Embiid, who sat out because of a back injury. "We had no real answer for them inside all night long."
The way Smith saw it, KU's mindset and focus played as much of a role in Wednesday's outcome as the depth and size that allowed the Jayhawks to outscore the Red Raiders 34-20 in the paint.
"It's mental and intelligence, or lack of," Smith said. "If we don't really focus in and do the things we're supposed to do, it's tough for a coach to do much about that. Tonight exposed a lot of our weaknesses in that regard.... (We did not have) the toughness to stick with it and execute, and when you get intimidated like that, this is the result."