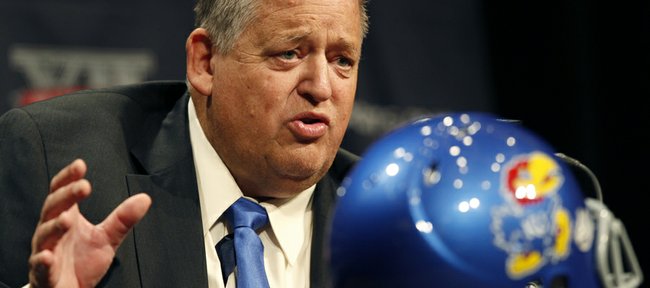 Kansas University football coach Charlie Weis is headed to Hawaii this weekend to attend the Maximum Exposure camp put on by the Pacific Islands Athletic Alliance.
Weis will be joined by KU tight-ends coach Jeff Blasko and will be one of a handful of head coaches to speak at the event designed to get some of the top talent in Hawaii recognized by coaches and programs from the mainland.
The three-day camp will take place at Mililani High (on the island of Oahu) Friday through Sunday and will feature 250 athletes participating in a full-contact camp that will include several high school teams and a handful of individuals. The camp is open to athletes in grades 8-12 and is designed to get local football players in touch with coaches from all levels of the college ranks.
Weis, who will head to Hawaii early this morning and leave late Saturday night, long has been a fan of recruiting Hawaii. Weis landed a handful of Hawaiian-born players while at Notre Dame — most notably, 2012 Heisman Trophy finalist Manti Te'o — and has continued the trend at Kansas.
His first full recruiting class at KU (2013) included two native Hawaiians — linebackers Samson Faifili and Colton Goeas — and several targets in both previous classes and the current recruiting class call the islands home.
Family members of several of Weis' past and current Hawaiian-born players have said that KU's third-year head coach has a fantastic reputation in Hawaii.
"He's great across the table, man," Leo Goeas, the father of KU's red-shirt freshman linebacker, told the Journal-World last summer. "Make no bones about it. He's not a hard salesman, he's just very straight-forward, and I think that goes a long way, especially with the parents. Charlie puts the parents at such ease, and he kind of assumes that authoritative role, so it's an easy baton to pass. He's an older guy. He's much more of a father-figure type than some young coach. And I think that really plays well in the culture. I think the way he communicates that really works in his favor."
According to the Rivals.com database, KU is listed as one of the top choices for at least two upper-level prospects in Hawaii.