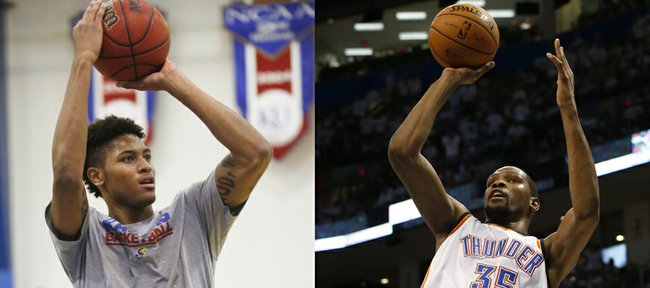 Most incoming Kansas University basketball players spend the summer before their freshman seasons fine-tuning their games in high school gyms or in Lawrence.
KU freshman Kelly Oubre recently spent part of his summer matching up against one of the best players in the world.
Oubre returned to Lawrence earlier this week after a three-day stint at the Kevin Durant Skills Academy in Washington, D.C. It marked back-to-back invitations to the clinic for Oubre, a 6-foot-7, 200-pound wing who was Rivals.com's No. 6-ranked player in the Class of 2014 and a McDonald's All-American. A counselor this year, Oubre said the only difference from his experience as a prep was the intensity of the workouts.
"We worked out five times in the span of three days, and our workouts were pretty intense because there were NBA scouts there watching us," Oubre said Wednesday. "We just went hard and pushed each other. Everybody wants to prove that they're the best."
In fact, several people told Oubre his performance was one of the best at this year's event. Perhaps that was because he had the unique opportunity to guard and be guarded by Durant himself, a challenge Oubre said was equal parts exciting and intense.
"I did well," Oubre said of his matchups with the reigning NBA MVP. "I don't like to take no for an answer or let people get off. We went at it. Pretty much my drive matched his drive and it was a lot of fun."
Oubre said he went to the camp hoping to show off his improved jump shot and enhance his point guard skills — something he hopes will make him the best all-around player he can be — and left with an even higher appreciation for Durant's greatness.
"I really admire his humble attitude," Oubre said. "He loves to be in the gym continuing to get better, and that's definitely something I could take from him. You always have to be hungry. Even though he's the MVP, he's in the gym working out with us and then the next morning he's in there again before we even get there.
"He said he was impressed by my game. And I learned a lot from him. His words and encouragement definitely pushed me to get better."
By now, attending high-profile summer camps has become fairly routine for Oubre, who also attended the LeBron James Skills Academy last summer and has been invited to make a repeat appearance there July 8-12 in Las Vegas.
But spending time around some of the game's greats hasn't caused Oubre to become complacent.
"It feels normal to me now," he said. "But it's still Kevin Durant. He plays against the LeBrons and the Kobes and I'm not there yet. I always have to remember that he's somewhere I want to be someday."
Although he wore signature KD gear at the clinic instead of crimson and blue, Oubre said it was a thrill to attend as a Jayhawk.

"Everybody else was representing their schools and, for the first time, I got to represent something that was bigger than me," he said. "I'm happy to be a Jayhawk and I'm gonna be a Jayhawk for life. Being able to represent Kansas out there was just a great feeling."
Withey's summer plans
The New Orleans Pelicans announced Wednesday that former KU center Jeff Withey will be a part of the team's summer league roster.
Withey, who played in 58 games and made four starts as a rookie with the Pelicans last season, averaged 3.3 points and 2.6 rebounds in 12 minutes per game.
New Orleans will open summer league action July 11 in Las Vegas.
Other confirmed Jayhawks for NBA summer leagues are: Tarik Black (Houston), Thomas Robinson (Portland), Ben McLemore (Sacramento) and Mario Little (Oklahoma City).
Mykhailiuk update
JayhawkSlant.com's Shay Wildeboor recently caught up with incoming KU freshman Sviatoslav Mykhailiuk, who tried to clarify a couple of things during the brief interview.
First, Mykhailiuk said he did not know for sure when he would report to campus but expected it would be sometime in mid-to-late August and definitely by the beginning of September. Mykhailiuk, who turned 17 on June 10, will spend the summer playing for the Ukrainian national team before coming to KU.
Second, the up-and-coming five-star wing player gave Wildeboor a clear picture of his actual frame, which has been debated since he signed with Kansas.
"I can definitely tell you that I'm 6-foot-8 in shoes and 6-foot-7 without shoes," Mykhailiuk said.
More like this story on KUsports.com