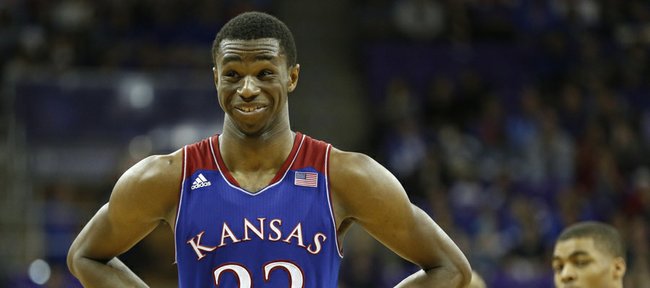 Kansas University basketball coach Bill Self presented an amazing statistic to staff members after examining the box score following Saturday's 91-69 victory over TCU at Daniel-Meyer Coliseum in Fort Worth, Texas.
"The oldest kid we had score was a sophomore. We had seven freshmen score 75 out of 91 points, and two sophomores scored 16, and nobody else scored because 'Naa' (Naadir Tharpe) didn't take a shot and Tarik (Black) was hurt," Self said Sunday.
"I do not ever remember one of our teams being that young on the court. It goes to show how young we are," added Self, who at one point in the first half had five freshmen on the court at the same time.
Here's the breakdown of points for the No. 8-ranked Jayhawks, who improved to 6-0 in the Big 12 and 15-4 overall: Freshman Andrew Wiggins scored a career-high 27 points, followed by fellow freshmen Joel Embiid (14), Wayne Selden (12), Landen Lucas (7), Frank Mason (6), Brannen Greene (6) and Conner Frankamp (3). Sophomores Jamari Traylor and Perry Ellis had eight apiece.
"We're so young it's crazy," said red-shirt freshman center Lucas, who hit three of four shots and one of three free throws for his career high in points. He tied a career-high with five rebounds.
"We could easily play five freshmen and a very young team and be successful. That's good news for the future even with the guys we are bringing in (Cliff Alexander and Kelly Oubre so far in recruiting), how we can all kind of mesh together and have a very good team," Lucas added.
Lucas on Saturday played in a Big 12 game for the first time.
"It was great. I know what I'm capable of. Coach called my number. I was ready to go," said Lucas, a 6-foot-10, 240-pounder out of Portland, Ore. "I'm ready whenever he needs me, whatever circumstance it is. Even though I haven't played at all in the Big 12, I'm still ready whenever he needs me."
Self was impressed.
"Landen played well. He made the most of his opportunity," Self said. "Tarik is nicked up right now. Landen has played well in practice the whole time. He deserves to play more. It's just hard to play five big guys. He gives us more depth, and this certainly gives him confidence."
Lucas showed off an effective baby hook shot Saturday.
"It's something I work on a lot. Coach is always talking about going straight to the side. I felt I did it that time. It went in. I'm happy about it," Lucas said.
Noted Self: "It's one of his moves. We work on jump hooks every day. That's something, to be honest, all of our players have in their arsenal. It's one of his better moves."
Ankle healing: Senior center Black, who sprained his right ankle in last Monday's game against Baylor, worked Sunday's Special Olympics Clinic in Allen Fieldhouse.
"He's better today," Self said Sunday. "He got treatment and ran in the pool today. I think there's a good chance he'll be able to go Wednesday (vs. Iowa State, 8 p.m., Allen Fieldhouse)."
The distributor: Junior guard Tharpe had no shot attempts, no free throw attempts, four assists, one steal, no turnovers and three fouls in 20 minutes at TCU.
"I think Naadir has been great," Self said. "He won national player of the week 10 days ago. Tonight he wasn't a factor, but Naadir has played very well."
More like this story on KUsports.com