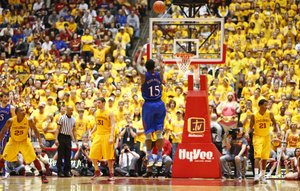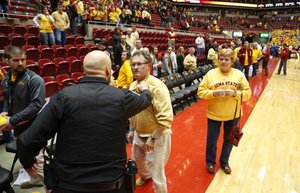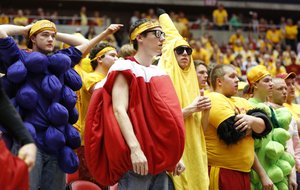 Kansas University basketball coach Bill Self fondly remembers the day a slump-ridden Elijah Johnson exploded for 39 points in an 108-96 overtime victory at Iowa State.
"It obviously ranks up there with some of the very best individual performances we've had since I've been at Kansas," 11th-year KU coach Self said of the senior guard's effort on Feb. 25, 2013.
The 39 points, in fact, were most by a KU player in the Self era, most by any KU player in a Big 12 game and most overall by a Jayhawk since Terry Brown dropped 42 against North Carolina State on Jan. 5, 1991.
"I don't think we've ever had a guy get 30 in a half. Not only did he get 30 in a half, but 20 in a four- to five-minute stretch. We'd have had no chance to win that game unless he was unbelievable," Self added of the Las Vegas native, who scored 25 of KU's last 36 points.
Johnson, who now plays professionally in Poland, hit 13 of 22 shots, including six of 10 threes and seven of seven free throws, and was good for 30 points the second half and overtime.
Self, whose Jayhawks (11-4, 2-0) return to Hilton tonight for an 8 p.m. clash against ISU (14-1, 2-1), was asked if unexpected performances like Johnson's make him "love college coaching."
"I love coaching because I love trying to get five guys to act as one," Self said, not buying the premise. "Certainly, Elijah was the guy that probably caught the most heat from everybody last year, fans and all, because he's point guard at Kansas. It was great to see him play well in a situation like that."
Johnson angered Iowa State's fans by dunking the ball on a meaningless final possession. That play, which led to objects being thrown on the court — combined with KU's two other victories over ISU last year — should have the building in a frenzy again tonight.
KU, which forced overtime on a banked-in Ben McLemore three, beat ISU, 98-89 in OT, on Jan. 9, 2013, in Allen Fieldhouse. McLemore exploded for 33 in that contest. KU also stopped the Cyclones, 88-73, in a Big 12 tournament semifinal on March 15, 2013, in Sprint Center. Perry Ellis had 23 in that rout.
"The fans have been waiting for this game, so I can't wait for tomorrow. It's going to be great," ISU sophomore forward Georges Niang said on Sunday.
"We should take the cameras over and ask the people who are camping outside of Hilton now," Niang added of asking fans what they think of the Big Monday matchup.
"They are all waiting to get electric, just like the Iowa game (85-82 ISU home win), the Michigan game (77-70 ISU win), the Baylor game (87-72 ISU win). It's about to be insane, especially the first day back on campus for all the students. It's going to be great. Everybody's going to love it," Niang added.
There's a good chance security will be tight tonight after last year's game in Ames in which a fan, later identified in the media as ISU booster Melvin Weatherwax, confronted Self on Self's way to the locker room. A police officer was close by to tell the fan to stop yelling at Self.
"Is that the guy I became buddies with after the game last year? We never really talked. It was more of a one-sided conversation if I recall, but I never had a chance to respond. He was talking the whole time. I couldn't get a word in," Self said, smiling, when asked about Weatherwax by a media member.
"This will probably be as good an environment as we play in all year long. Last year we beat them three times. Two of them we actually basically lost the game and somehow won it on the scoreboard, on freaky, fluky plays. They'll be hungry for us. They lost a tough one today to Oklahoma (87-82 on Saturday). They know how important this game is to them just like it is to us. I'd think it will be the most emotional game we played in so far this year."
ISU senior point guard DeAndre Kane (16.5 ppg, 7.3 rpg, 6.1 apg) suffered a severe ankle sprain late in Saturday's OU game and is listed as a game-time decision tonight.
Senior forward Melvin Ejim averages a team-leading 18.0 ppg and 7.2 boards. Niang contributes 15.3 ppg, 4.1 rpg, while junior forward Dustin Hogue averages 12.3 ppg and 9.3 boards.
"They are terrific," Self said. "Kane's great. Niang is probably as tough a matchup as there is in our league. Ejim could be first-team all-leaguer. Fred (Hoiberg, coach) does an unbelievable job of exposing mismatches, a lot of NBA-type thinking and stuff. They are good, and they are better defensively. They are very deserving of where they are in the rankings (No. 9)."
Hoiberg returned the compliments No. 18-rated KU's way.
"They were impressive against Kansas State (86-60 victory on Saturday). They just absolutely ran away with it," Hoiberg said. "Physical, hitting shots … they are playing with a ton of confidence. It makes them a very dangerous team when facing anybody. They are playing as well as any team in the country right now. We'll have to be at our very best to have a chance to win."
Niang on KU's Andrew Wiggins: "He can jump out the atmosphere. He's a great player. Everybody kind of knows about him with all the publicity he gets. He had a real good game, 22 points (against KSU). We kind of all are doing our personal homework on him. He has an all-around game, very aggressive, very athletic. We have to keep him off the glass, just doing what we've been doing."
KU's Tarik Black on the matchup: "I watched the Baylor game and they looked really good. They have a lot of talent. They are going to be putting up shots. We are going to have to get out and defend the three-point line. If we can keep our field goal percentage defense down we'll have a good game."
Naadir Tharpe on the atmosphere tonight: "I hope not as hostile as last year. It got a little too out of control. Going out there and playing and competing will be fun. It will be us against them and the fans. We've got to make sure we have a tight huddle. It's going to be a fun game."
Stats, facts: KU leads the all-time series, 173-59, dating to 1908. KU has won 16 of the past 17 meetings. ISU's last win was 72-64 on Jan. 28, 2012, in Hilton. ... KU is 23-19 in Hilton. ... Self is 19-3 all-time versus ISU, 18-3 while at KU. Hoiberg is 1-5 all-time against KU.... Hoiberg averaged 17.4 points and 6.1 rebounds in nine games vs. KU in his Cyclone career (1992-95), going 4-5 overall. ... Hoiberg scored 32 points (17 straight in the second half) in a 69-65 win over KU on Jan. 14, 1995, in Ames. Hoiberg hit six of 12 threes that day. ... KU is 49-16 all-time on ESPN's Big Monday (27-1 at home, 22-15 on the road), including 30-8 under Self.