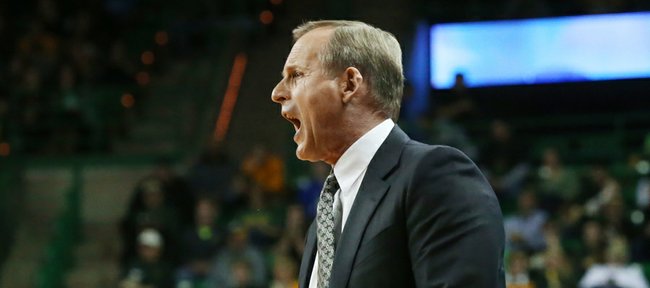 Austin, Texas — Texas, which had some stellar basketball teams during Rick Barnes' first 15 years at the Lone Star State school, was expected to be in all-out rebuilding mode for the 2013-14 season.
Instead, the young Longhorns, who went 0-2 to open Big 12 play, have rattled off five straight victories and take a 16-4 record and No. 25 national ranking into today's 3 p.m. battle against sixth-ranked Kansas University (16-4, 7-0) in Erwin Center.
"Rick has had them playing with a lot of confidence, and they are playing with nothing to lose," KU coach Bill Self said of a team that starts three sophomores, one freshman and a junior, with three freshmen and two sophs coming off the bench.
"When you think about it, if they are able to knock us off, they are just one game out in the league race, so this will be a huge opportunity for us to put some distance between us and a couple of other teams. Hopefully we will go down there and give a great effort," added Self, who is 12-5 versus Texas through his first 10 years at KU.
Barnes is 6-16 vs. the Jayhawks, with KU having defeated the Longhorns four times against no losses in Big 12 postseason tourney championship games. KU won, 80-68, in 2006 in Dallas; 88-84, in overtime in 2007 in Oklahoma City; 84-74, in 2008 in Kansas City, Mo.; and 85-73 in 2011 in Kansas City.
"He's having a terrific year," Self said of Barnes, who was rumored to be on the coaching hot seat following last year's 16-18 season, which included a 7-11 mark in the Big 12. That followed a 20-14, 9-9 campaign in which the Longhorns lost in the first round of the NCAAs.
"Last year, anything that could go wrong seems it did go wrong with his team. He (Barnes) has a core group of guys he obviously likes working with. They like playing for him You can tell the energy is different," Self said.
"Rick is a great coach. Last year was the exception and not the rule. Every coach, every program goes through one of those now and then. They are on an uptick."
Texas has won three consecutive games against AP Top-25 teams, beating Iowa State and Kansas State at home and Baylor on the road. KU earlier this season won four straight against Top-25 teams (K-State, Oklahoma State and Baylor at home and at Iowa State). The Jayhawks became the first team since 1996-97 North Carolina to win four straight against AP Top-25 teams.
"That hadn't happened since 1997. Now in our league we get a chance to have it happen twice in two weeks. I told our guys our goal is not to let that happen," Self said. "We need to go down there with a great mind-set. They'll play with a free mind and play hungry."
"We set a record this year for beating ranked opponents," noted KU forward Jamari Traylor. "If they beat us, they tie the record this year. We obviously don't want to let that happen. They've beaten good teams."
Jonathan Holmes, a 6-foot-8 junior forward, averages 12.9 points and 7.4 rebounds. Javan Felix, a 5-11 sophomore guard, averages 12.2 ppg, while 6-1 freshman point guard Isaiah Taylor contributes 11.7 ppg.
Cameron Ridley, a 6-9 sophomore center, averages 11.2 points and 7.8 rebounds.
"This will be a great test for our front line," Self said. "Holmes can step away from the basket. I'm excited to see how Joel (Embiid, 7-foot freshman center) reacts. I'm sure they'll be excited to play against Joel, as well."
Embiid has been hobbled by an sprained knee, while senior center Tarik Black has missed two games because of an ankle sprain.
"He should be full-go tomorrow," Self said of Embiid. "I think (Black) will be valuable to us. We might have been able to play him a little bit (in Wednesday's win over Iowa State). It would have been a bad matchup (against Georges Niang) with a bad wheel guarding on the perimeter against Iowa State. We do think he'll be able to go."
Freshman guard Conner Frankamp is likely out because of a bruised knee.
"Conner is doubtful," Self said Friday. "He felt a little better today. He's doubtful going into the game."
Texas coach Barnes is looking forward to the matchup.
"Bill always does a terrific job with his group," Barnes said. "He had a lot of young guys he was putting together (in nonconference season). I'm not surprised by anything. The league is a great league. Like everybody, they've gotten off to a great start because I think he's continuing to put his guys together. I'm sure from his standpoint he'd like to see some more out of certain guys, too, like we all do. I'm impressed, but I'm not surprised. I said at the beginning of the year they could be one of best teams in the country. I'm not surprised really at anything that they are doing."
"They've definitely got some big guys, athletic. We definitely have the same thing here," Traylor said. "As long as we go out and play hard, sound, we definitely can make it happen."
Recruiting: Myles Turner, a 6-11 senior from Trinity High in Euless, Texas, has a final list of KU, Arizona, Duke, Kentucky, Ohio State, Oklahoma State and Texas. He was asked in a USA Today chat if he'd still consider KU if Embiid stays a second season.
"Coach Self told me himself that if Embiid stays it's not worth my time," said Turner, who is expected to be a one-and-done. He's ranked No. 6 nationally by Rivals.com.