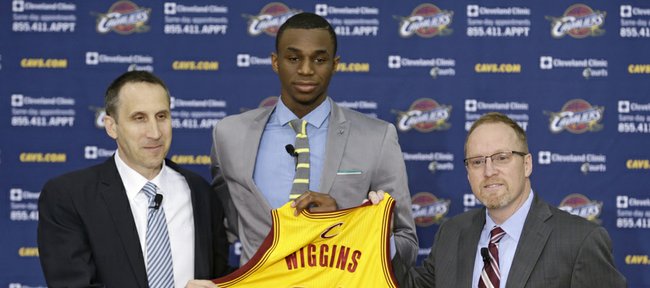 A report that Andrew Wiggins' Cleveland Cavaliers jerseys were "discontinued" by the NBA because of a likely trade to Minnesota is false, a league official told NBCsports.com.
The NBA's online store over the weekend showed Wiggins' Cavs' jerseys as being unavailable for purchase. However, an unnamed league official said the jerseys are merely sold out. The official said sold-out items often are referred to as being "discontinued."
NBC Sports reports there are two ways to purchase a Wiggins/Cavs jersey — "have one custom-made, or purchase the fashion black replica jersey that became available on Sunday. The league says that all regular home, road, and alternate Wiggins jerseys are scheduled to arrive on Oct. 1, in time for the start of the upcoming season."
Brian Windhorst, an NBA writer for ESPN.com, says Wiggins will wind up in Minnesota.
"The deal is done but not done. The teams have agreed, but they can't say they have agreed, and they can't agree, because we're in this weird moratorium period because you can't trade Andrew Wiggins until the 23rd of this month," Windhorst said on ESPN radio.
"So, between now and then — which is, what, 19 days? — could some of that happen? Could a team come in with a trade that maybe Minnesota doesn't see? Yes, it could happen. So, therefore, it is not done. But essentially, before the papers have been signed, there is this handshake agreement that Kevin Love to the Cavs, Andrew Wiggins to the Timberwolves, and, I believe, Thaddeus Young will end up in Minnesota either as part of a separate deal or as part of a three-way deal. Possibly, Anthony Bennett, who's on the Cavs right now, could get re-routed to Philadelphia in part of a deal for Thaddeus Young. There will be draft picks involved.
"But essentially what you need to know if you're an NBA fan, Kevin Love is going to be on the Cavs barring anything unforeseen, and Andrew Wiggins, No. 1 overall pick, is going to be on Minnesota," Windhorst stated, as reported by NBC Sports.
KU-Kentucky late game: KU will play the second game of a one-day Champions Classic doubleheader on Nov. 18 in Indianapolis, ESPN announced Monday. KU will meet Kentucky at approximately 8:30 p.m., following a 6 p.m. battle between Duke and Michigan State.
Mock draft: ESPN's Chad Ford has put out his first 2015 mock NBA Draft. KU's Cliff Alexander is projected to go third overall, Kelly Oubre 10th and Wayne Selden 15th.
Jeter picks Duke: The first highly regarded big man in the recruiting Class of 2015 is off the board. Chase Jeter, a 6-11 senior from Bishop Gorman High in Las Vegas, on Monday orally committed to Duke.
Rivals.com's No. 8-rated player chose the Blue Devils over Arizona, UCLA and UNLV. Kansas University and Oregon were on his final list of six.
So far, two big men have said they'll be attending the Oct. 10 Late Night in the Phog. They are: No. 7 Stephen Zimmerman, 7-foot, Bishop Gorman High, Las Vegas; and No. 9 Carlton Bragg, 6-9, Villa Angela St. Joseph High, Cleveland.
KU also is in the running for No. 4 Ivan Rabb, 6-9, Bishop O'Dowd High, Oakland, California; No. 5 Cheick Diallo, 6-9, Our Savior New American High, Centereach, New York; No. 6 Diamond Stone, 6-10, Dominican High, Milwaukee; No. 34 Thomas Bryant, 6-10, Huntington (West Virginia) Prep; and No. 35 Tyler Davis, 6-9, Plano (Texas) West.
Bryant, by the way, recently told Jeff Borzello of CBSSports.com that he would take official visits to KU, Syracuse, Ohio State and Missouri.
More on Ingram: No. 25-ranked Brandon Ingram, a 6-8, 180-pound forward from Kinston (North Carolina) High, tells zagsblog.com he will take official visits to KU and Kentucky. Ingram has told JayhawkSlant.com the visit will be for Late Night. He will visit UCLA today and Duke Thursday through Saturday.
"Ingram's game is similar to that of a Kevin Durant," an NBA scout told zagsblogcom. "He has the long and slender frame and he struggles defensively like Durant did early in his high school days. His shooting stroke is a big time plus for him because he lacks strength and cannot always finish through contact."
He also has offers from Duke, North Carolina, Wake Forest, Florida, Louisville, UCLA, Clemson and North Carolina State.
Point guard lists KU: Dennis Smith, the No 1 point guard in the Class of 2016, has KU on his list of schools. Smith, 6-2 junior from Trinity Christian High in Fayetteville, N.C., has received offers from KU, Duke, North Carolina, Arizona, Wake Forest, Connecticut, Florida, N.C. State and others. He's excelled at the adidas Nations tournament in Los Angeles.
"I want to play for a program that will put the ball in my hands," Smith told Zagsblog.com. "I want to be a featured scoring option and I do not want to come off the bench for anybody."
Mickelson update: KU junior forward Hunter Mickelson scored 12 points, grabbed six rebounds and blocked three shots in the USA East Coast's 103-59 victory over Estonia Tallinna Kalev, on Monday in Estonia. He played 19 minutes. He's playing for the all-star team this week overseas. Syracuse's Tyler Roberson had 13 points and 14 boards for the winners. USA East Coast will meet Austria today in a four-team event.
More like this story on KUsports.com