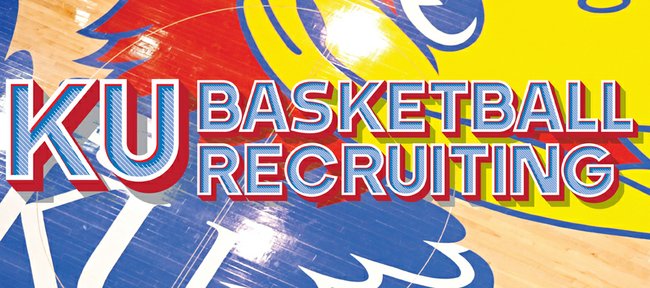 The recruitment of Myles Turner is nearing an end with Kansas University and Texas generally regarded as the leaders for the 6-foot-11 senior center from Trinity High in Euless, Texas.
Rivals.com's No. 9-rated player nationally is expected to announce for one of those schools — or perhaps close-to-home SMU — at a 3 p.m. Wednesday news conference, which will be televised by ESPNU. Other schools still given a chance to snag the McDonald's All-American: Duke, Oklahoma State, Ohio State and Texas A&M.;
"Even with Cleare, Texas still has one scholarship available," explains national recruiting analyst Eric Bossi of Rivals.com.
He was referring to 6-9 Maryland sophomore Shaq Cleare, who last Thursday announced plans to transfer to Texas.
"SMU would be a major shock given that they have had little contact with Turner since February (at least according to somebody that I know 1000% would know first-hand)," Bossi added. "My understanding is that schools won't find out whether they are getting him or not until he announces live. Clubhouse leader is Texas based on the recruiting grapevine but I don't know that Texas is quite as confident as they were a few weeks ago. Everybody involved seems to be pretty in the dark nearing the end."
Turner, who averaged 18.1 points, 12.2 rebounds, 6.8 blocks and 3.5 assists a game his senior season, is known as a still-developing big man who definitely will be allowed to shoot the three in college. It's believed he's a one-and-done college player.
Noted Dave Daniels of Rantsports.com: "Turner seems to be leaning towards the Kansas Jayhawks based on all of the whispers that I am hearing, but it still would not be a surprise to see him land with the Texas Longhorns. ... My prediction? Rick Barnes is going to have a frowny face on Wednesday, and it will not be the last time that the Longhorns head coach misses out on an elite recruit. We have probably all heard by now that one of Turner's idols is Kevin Durant, and it will be interesting to see if he ends up following the DMV native's lead to the Longhorn state. They do say that everything is a little bit bigger in Texas."
Monk has KU on list: Malik Monk, who scored a Nike EYBL record 59 points in the Arkansas Wings' 98-91 double overtime loss to All-Ohio AAU on Sunday in Sacramento, Calif., tells texashoops.rivals.com he's received a scholarship offer from Kansas University.
Monk, a 6-3, 170-pound sophomore shooting guard from Bentonville (Ark.) High, who is ranked No. 12 by Rivals.com in the Class of 2016, said other offers have come from Arkansas, Florida, SMU, Memphis, Baylor, UConn and Indiana.
Of his 59-point outing, which came off 15-of-26 shooting (10-of-16 from three; 19-23 from the free-throw line), he told Texas Hoops: "My coach told me to come in ready to play so I had to do that. But my teammates set me up for the most part for all the points. It was my teammates that set me up."
He indicated he once scored 43 points in a high school game.
Moore likes KU: Doral Moore, a 6-11, 230-pound junior center from Luella High in Locust Grove, Ga., who is ranked No. 16 in the Class of 2015, tells zagsblog.com he's being recruited by KU, Illinois, Ohio State, Texas, Kentucky, Indiana, Louisville and others.
"I've been practicing a lot. During the school week I practice at least every other day and get up about 300 shots, so hopefully it'll pay off," Moore of the Atlanta Express AAU team told Zagsblog at last weekend's Pittsburgh (Pa.) Jamfest. "I can shoot, but I have to get down and dirty sometimes, try to finish strong."
Jones on radar: Derrick Jones, a 6-6 junior wing from Archbishop Carroll in Radnor, Pa., who is ranked No. 25 in the Class of 2015, tells Zagsblog he has offers from KU, Rutgers, Arizona, Syracuse and others.
"Nothing is new," Jones told Zagsblog at the Pitt Jam Fest. "I'm just going to work my options out for college and I might go and visit a couple of schools. But, I'm not sure where I'm going to go yet. It's on my mind to visit a couple schools."
KU not recruiting King: King McClure, a 6-foot-3, 205-pound junior shooting guard from Triple A Academy in Dallas, will announce his college decision today at his high school.
It's been reported that the finalists for McClure are KU, Baylor, Arkansas, SMU and UCLA.
However, sources tell the Journal-World the Jayhawks have not offered McClure and have not been recruiting him for some time now.
Recruiting analysts believe Rivals.com's No. 37-rated player in the Class of 2015 is a lock for Baylor.
More like this story on KUsports.com