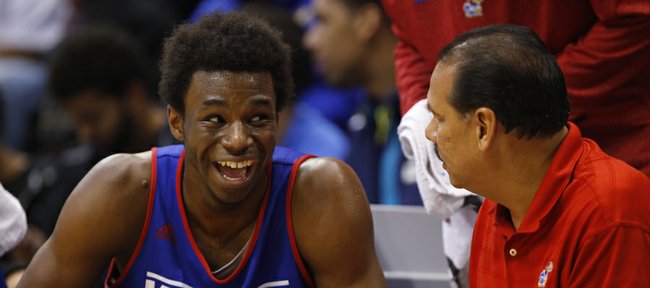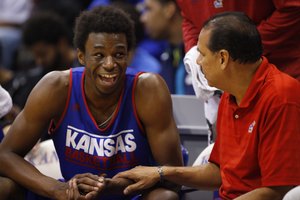 Kansas University's Kurtis Townsend has been ranked the No. 1 assistant college basketball coach in the country, according to Basketball Times.
KU's Norm Roberts checks in at No. 6 and Jerrance Howard No. 36 of the 60 coaches mentioned in the April 2014 edition of the magazine.
"That (ranking) just means I'm at a great school that has had a lot of success," said Townsend, who has completed 10 seasons at KU. "I thank coach (Bill) Self and also thank coach Roberts and coach Howard. Thanks to everybody else I've worked with from coach Dooley (Joe, Florida Gulf Coast head coach), Jankovich (Tim, coach in waiting at SMU) to Danny (Manning, Wake Forest coach).
"Everybody has made me look good."
Townsend has the second-longest run of any assistant coach in Kansas history. Sam Miranda worked 11 years on coach Ted Owens' staff.
"That just means I can't get a (head-coaching) job, I guess," Townsend said with a laugh. "I'm the only one who could be there that long and not get a job. The other reason is there's not a lot of jobs I could take that are better jobs than assistant coach at Kansas."
Townsend, a 1982 graduate of Western Kentucky, in August was named the No. 1 recruiter in the country by ESPN.com. He was Self's lead recruiter of No. 1 prospects Andrew Wiggins and Josh Selby, plus Sherron Collins, Darrell Arthur, Brandon Rush, Julian Wright, Jeff Withey and others.
"It's all about coach Self and the school I work for," Townsend said.
Basketball Times ranked Self as the ninth-best coach in the country. Mike Krzyzewski (Duke) was No. 1, followed by Rick Pitino (Louisville), Larry Brown (SMU), Tom Izzo (Michigan State), Roy Williams (North Carolina), Billy Donovan (Florida), John Calipari (Kentucky) and Jim Boeheim (Syracuse).
KU grads Tad Boyle of Colorado and Rex Walters of San Francisco were ranked Nos. 9 and 23 on the list of "top coaches in mid-career." KU grads Manning (Wake Forest) and Jerod Haase (UAB) were ranked Nos. 25 and 30 on the list of "top up-and-coming coaches." Former KU assistant Dooley (Florida Gulf Coast) was 26th on that list.
Little has big year: Former KU guard Mario Little on Friday became the single-season scoring leader in Tulsa 66ers NBA Development League history. Little scored 31 points against Canton, Ohio, and had 929 entering Saturday's regular-season finale. Mustafa Shakur scored 905 points in 2009-10.
The 6-foot-6 Little scored just 59 points in 15 games his first season with Tulsa. Through 48 games this season, he's averaged 18.7 points, 4.1 rebounds and 2.7 assists in 36.0 minutes a game. He's had 31 outings of 20 points or more, four games where he's been over 30 points.
"My mentality when I first came here last season was, 'This is my time,'" Little, 6-foot-6 from Chicago, said on the team's NBADL Website. "I was getting a chance to play in the D-League and I was planning on just putting up numbers. That didn't happen and I started taking it the wrong way.
"This year, I feel like I bought into the system early and really believed in the coaching staff and the (Oklahoma City) Thunder organization (which is affiliated with team). I started doing everything the way I was supposed to, and I feel like I've begun to see the benefits of doing everything the right way — changing my mentality on and off the court, changing my attitude, not being so feisty, enjoying basketball. The OKC and Tulsa system has helped me really stay confident. It's a credit to the coaching staff and keeping me working hard even when going through a slump."
Twitter lover: KU freshman center Joel Embiid still hasn't decided yet whether to return to KU for a second season or turn pro. He has been offering a lot of information on Twitter regarding his life, however.
Some recent Tweets:
"My phone was stolen...... if someone has it, please return it. Thank you."
"Learned how to drive a car tonight. Much easier than I thought.... It was fun too."
"Time to go to my favorite place to eat — Jefferson's."
"I love KU!!! So many good people."
Boston guard on market: Boston University sophomore point guard Maurice Watson Jr., has decided to transfer to a yet-to-be-determined school. The 5-10 native of Philadelphia led the team in scoring (13.3), assists (7.1) and minutes (31.2) as a sophomore. He had 17 assists against Army. His 248 assists this past season set a Patriot League single-season record.
Recruiting analyst Alex Kline says KU, Vanderbilt, Temple, Wichita State, Villanova, Houston and Butler are possible destinations. Others have mentioned Stanford and Marquette as well.