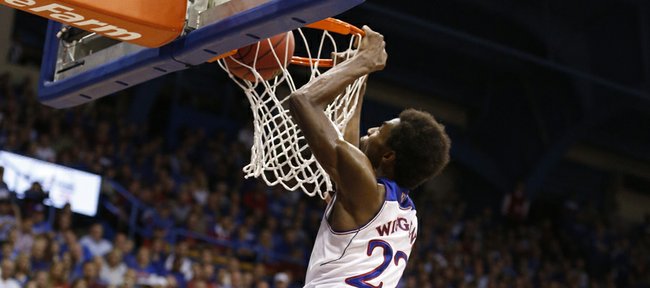 Photo Gallery
KU basketball v. Pittsburg State (exhibition)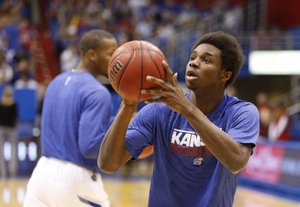 Images from Tuesday night's exhibition basketball game against Pittsburg State
Podcast episode
Kansas coach Bill Self talks to reporters following the Jayhawks' 97-57 exhibition victory over Pitt State on Oct. 29, 2013.
Podcast episode
Kansas' Perry Ellis, Andrew White III and Naadir Tharpe talk to reporters following the Jayhawks' 97-57 exhibition victory over Pitt State on Oct. 29, 2013.
Box score
The first slam dunk of Andrew Wiggins' Kansas University basketball career — the flushing of a deep lob from Jamari Traylor, who was stationed well beyond the three-point stripe — had 16,300 Jayhawk fans thankful on Tuesday night that the much-anticipated 2013-14 basketball season is finally under way.
Wiggins, KU's 6-foot-8 freshman one-and-done sensation from Vaughan, Ontario, Canada — who scored his first hoop in Allen Fieldhouse off a baseline drive with 9:36 left in the first half of an 97-57 annihilation of Pittsburg State — rattled the rims at the 6:51 mark.
"I see the highest of the high with him," KU junior point guard Naadir Tharpe said of Wiggins' potential, not the jumping ability he exhibited on that slam.
"From practice, what he's shown a couple times. Just from this game, you saw a couple of those spurts of what he can do," Tharpe added after Wiggins hit for 16 points off 5-of-13 shooting with six rebounds and two blocks in 25 minutes. "I feel if we keep pushing him as a team and I try to push him as well and coach and everybody comes together as one ... he and everybody else can be what we need to be."
The Wiggins jam came off a set play, made possible by the nice passing touch of Traylor, who had six points, five rebounds and two assists.
"It's something we work on in practice. It's a pass guards and bigs have to be able to make," said floor general Tharpe, who had nine assists against zero turnovers with seven points.
"Big to big passes; big to guard passes. A big has to make that pass. He (Wiggins) did his thing."
KU coach Bill Self said Wiggins handled a case of the jitters very well.
"He told me after the game, 'Coach I was so nervous,''' Self related. "He didn't play well early. He did better late. I don't think his aggressiveness was what it should be in a lot of ways.
"He made a play in the second half where he put it down on the left wing, one bounce and got all the way to the rim with his left hand," Self added approvingly. "That's a big-time play. He has to get comfortable. He's thinking too much which takes away from his explosiveness. Everybody isn't as athletic when they think."
The bottom line ... "You look up and he has 16 points and didn't play that much and didn't make any shots. That's pretty positive to me," Self stated.
Wiggins' take on the proceedings isn't known.
He was made available to Canadian TV crews but not any local or national media after the game.
His 16 points were matched by sophomore Perry Ellis, who had eight boards in 23 minutes. Freshman Brannen Greene had 10 points and Joel Embiid nine, while Frank Mason and Wayne Selden had five. Conner Frankamp went 0-3 shooting and didn't score with two assists.
Soph Andrew White III scored 12 points with four boards, while senior Tarik Black, who played just 13 minutes because of foul problems, had 11 boards and seven points.
KU was burned by guard Devon Branch, who had 27 points off 9-22 shooting.
KU hit 21 of 31 free throws to Pitt State's 21 of 30.
"We're not very good yet," Self said. "We don't guard the ball worth a flip. We switched ball screens and our big guys didn't guard. Devon Branch got anywhere he wanted with the ball and I thought he was probably the best player in the game without question. We have a lot to learn and we were nervous. When you are playing that many guys (12 before mop-up time) and there's that many stoppages, it is hard to get rhythm."
KU will next meet Fort Hays State at 7 p.m. Tuesday in Allen.
More like this story on KUsports.com