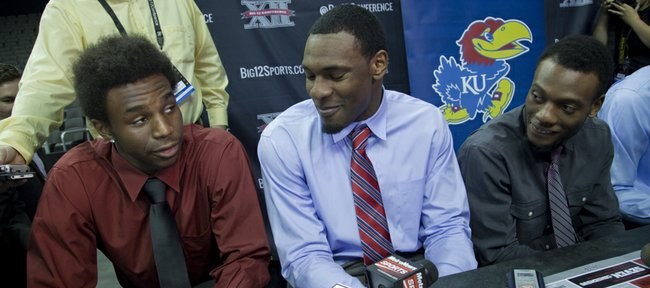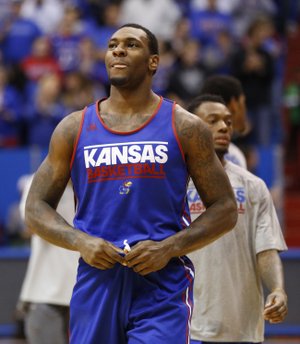 Tarik Black, who turns 22 on Nov. 22, is still a child at heart.
"I am definitely a huge cartoon fanatic," said Black, Kansas University's 6-foot-9, 260-pound senior transfer out of the University of Memphis who has never outgrown his love of animated TV shows.
"From Japanese and Asian anime all the way to 'Tom and Jerry,' good All-American cartoons, modern-day cartoons," Black added. "It doesn't matter. I love cartoons. I buy full seasons of cartoons, DVDs, just to throw them in and watch them. I catch them on TV, however they may come. I definitely enjoy cartoons a lot."
Black in a recent interview was willing to plug some of his favorite cartoons.
"Tom and Jerry is wonderful," Black said. "I like 'Boondocks.' I like 'Ben 10,' 'Naruto.' I like 'One Piece.' 'Scooby-Doo' has always been really cool.
"Did I say 'Tom and Jerry?'" he continued, smiling. "I like 'The Simpsons,' 'Ed and Eddie,' 'Dexter's Laboratory.' I have a real repertoire. I could go on for days."
Though Black could watch his cartoons for hours on end, he would not be considered a couch potato.
Admittedly a bit flabby at the end of his final season at Memphis, Black became a lean, mean machine last June, shortly after entering KU's weight program run by Andrea Hudy.
"To be honest, I haven't stepped on a scale since I've gotten to KU. Actually I did step on a scale, but Hudy blocked it. She looked at the weight. I told her I didn't want to see my weight," Black said.
"I don't really care about it anymore. I just want to feel good and feel comfortable with myself on the court. That's more important."
Pressed to describe his body this year versus last, he said: "I toned up. My jumping ability is a little better. I'm a little quicker on my feet. At small things, I've gotten better."
He has impressed at early-season workouts by giving up his well toned body. He dives on the floor for loose balls, has been physical in the post and set a good example for KU's large freshman class.
"He should be a great sealer," KU coach Bill Self said. "We've not recruited anybody or had anybody who should be better at sealing and scoring with angles than what he can be. We actually try to play to that.
"He will have a huge impact on our program in (his) one year," Self added. "He's also as good a leader as we have. He hits Joel (Embiid, freshman center) every day. When Joel hits back, he says, 'Good job.' He's helped Joel a lot in an unselfish way."
Noted Embiid: "Playing against him every day makes me better. I need to play against him every day to get better."
Black, who knows how to express himself eloquently, quite frankly knew he'd have no problems adjusting to KU when he chose the Jayhawks as his transfer destination for a final year of college ball.
Examine closely the answer of the man — who is armed with an undergraduate degree in organizational leadership — when asked to identify one particular reason he chose KU over Duke, Oregon, Ohio State and Georgetown.
"I don't know. I've always been kind of a subtle guy, not too extravagant, not too flamboyant, at the same time I always liked being a high-caliber person," Black said. "That's how Kansas is. It's not on everybody's radar. You have to respect Kansas. Kansas will always be one of the top teams in the country, no matter what. Especially with coach Self at the helm, because no matter what, they'll be at the top. I like that. Coming to a program like this, there's the humbleness, but also the expectancy of greatness. Put that together, and it's perfect for me."
Black, who averaged 8.1 points and 4.8 rebounds a game his junior year at Memphis, said he's so intent on helping KU claim a 10th straight Big 12 crown and national title that he's not dwelling on his dream of one day playing in the NBA.
"The irony is this is probably relieving pressure," he said of being at KU. "I'm not thinking like that. This is not a final opportunity to make the NBA, it's more so a breath of fresh air, being out here with my teammates. We laugh so much together. We have fun together. This thing is bigger than basketball to us.
"We're a family. We say that for a reason. We really are a family, enjoying the family and all the accolades. We'll put ourselves in coach Self's hands and make it happen."
Today's fundraiser: Bill Self and his players will host a Fall Festival and Equipment Drive from 2 to 4 p.m. today at Abe and Jake's Landing, 8 East Sixth Street, in downtown Lawrence. Admission is free and open to the public. Fans who attend are asked to donate new and gently used sporting goods and equipment to go to the Boys and Girls Club. The KU players will participate in games with attendees including Pop-A-Shot and "Dance Dance Revolution." There also will be a photo booth. The types of equipment to donate can be found at http://bit.ly/15pzeBu
First exhibition: The Jayhawks will open the exhibition season against Pittsburg State at 7 p.m. Tuesday in Allen Fieldhouse.
"We're excited to play. We need to play against somebody else. We're tired of trying to beat each other up right now," Self said.