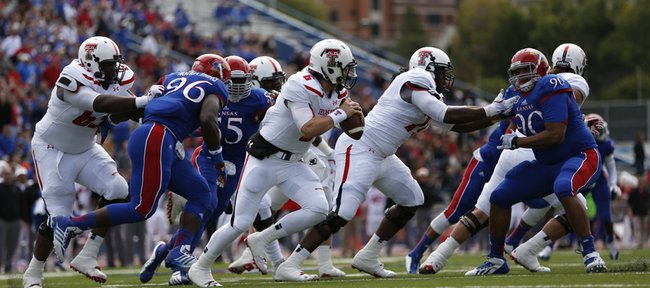 Photo Gallery
KU football v. Texas Tech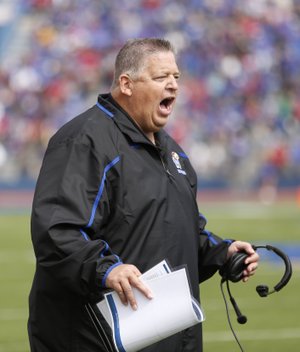 Images from Saturday's football game against Texas Tech at Memorial Stadium
Podcast episode
Kansas football coach Charlie Weis talks after his team's 54-16 loss to Texas Tech on Oct. 5, 2013.
In what classifies as the head-scratching play of the day, Kansas University's football team faked a punt on a fourth-and-13 call from its own 16 with the score tied 10-10 in the second quarter of Saturday's Big 12 Conference opener against Texas Tech in Memorial Stadium.
The Jayhawks' Trevor Pardula stumbled for no gain against an alert Tech defense, drawing groans from the stands as the Red Raiders needed just two plays to break the deadlock and open the floodgates in a 54-16 victory.
"I wasn't surprised," Texas Tech coach Kliff Kingsbury said. "This is a big game. They knew, I think, (that) they would have to make some plays and do some things out of the ordinary. I thought our guys did a good job.
"They (KU coaches) must have seen something on film that looked like it would have been there. I thought our guys did a good job staying at home and making a play."
Tech freshman quarterback Baker Mayfield, who broke the tie by scoring on a 19-yard run with 5:13 left in the half, completed 33 of 51 passes for 368 yards, no touchdowns and one interception before suffering a right knee injury late in the third quarter.
His prospects of playing soon didn't look promising as he left for the locker room on crutches in the fourth quarter.
"If he can't go ... next man up. I don't know who that'll be yet," said Kingsbury, who did not report the extent of the injury. "I thought Davis (Webb, 3-of-6 passing for 36 yards and two TDs) did some good things. Brewer (Michael) got a couple snaps. We just ran it with him (in the game). We'll see. We may have another situation we have to figure out. I don't have answers right now until we know exactly what is wrong with Baker."
Tech, which spotted KU a 10-0 lead, ultimately outgained the Jayhawks, 518 yards to 273. Tech held KU to 53 yards rushing off 37 carries.
A year ago, KU rushed for 390 yards in a loss at Tech.
"It was a point of emphasis all week: 'Hey, that's what they (Jayhawks) are seeing on film. What are you going to do (about it)?' They (Raiders defense) stepped up to the challenge," Kingsbury said.
"That was one of the things we were harping on coming in," Texas Tech linebacker Will Smith said. "We said, 'This is not the same defense as last year so let that be known pretty early.' We felt we did a good job."
KU came out throwing the football.
"After we stopped the run pretty quick, that was the best thing for them to try to do," Smith said. "They got after us a little bit. We made a few changes and corrected ourselves."
As far as spotting KU the 10-0 lead before scoring 54 unanswered points: "Sometimes it takes awhile to get started because you are just waking up (for 11 a.m. game)," said receiver Eric Ward, who had seven catches for 122 yards and a TD. "Getting started is the hardest part. When we get in our groove and get things going, we're on a roll."
"They were pretty excited," Smith said of the Jayhawks (2-2 overall, 0-1 Big 12). "It was their homecoming, an early-morning game. Once everything settled down and we settled down and communicated, things went smoothly."
Tech (5-0, 2-0) will play host to Iowa State on Saturday.