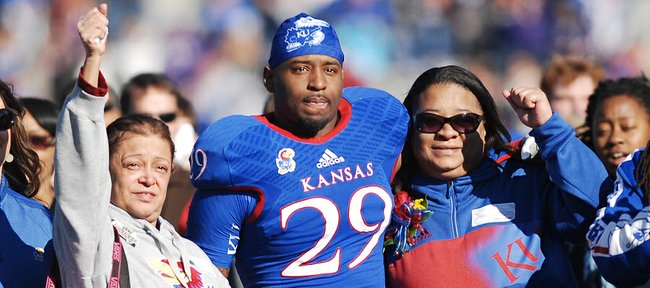 Photo Gallery
KU football vs. Kansas State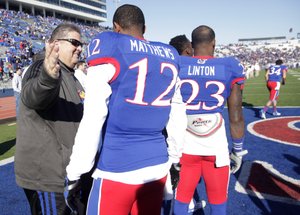 Kansas University lost to Kansas State 31-10 in the final game of the season, Saturday at Memorial Stadium.
Podcast episode
Charlie Weis talks after 31-10 loss to Kansas State
Kansas State 31, Kansas 10
The worst four-year stretch in the history of Kansas University football, based on losses, came to an end Saturday in Memorial Stadium, which by the end of another long day had a distinctly purple hue to it.
It ended with Kansas State scoring its fifth consecutive victory in the in-state rivalry, 31-10.
The latest loss, yet again marred by an abundance of dropped passes, put the four-year record at 9-39, and also ended the careers of a senior class that, but for one man, couldn't be much more anonymous than if all the players enrolled in the federal witness protection program.
Just one player will be remembered for a long time by the average football fan, although he did nothing memorable in his career finale.
James Sims carried the ball 22 times for 82 yards and lost two fumbles Saturday, two weeks after he rushed for 211 yards against West Virginia in KU's first and only Big 12 victory since his freshman season.
If not for missing four games — the first of his career because then-coach Turner Gill decided not to put him in, the first three of his junior season while serving a suspension for drinking and driving — Sims could have left as the school's leading career rusher. Instead, he ranks third with 3,592 yards, behind June Henley (3,841) and Tony Sands (3,788).
His 34 rushing touchdowns rank second to Henley (41), his 15 100-yard rushing games second to Sands (17).
After the game, Sims approached second-year KU head coach Charlie Weis, who read the look on the running back's face, knew what was coming and threw up a stop sign.
"I said, 'Don't even start. I don't want to listen to you start apologizing. We're not going there. You've got a lot of football to play yet, so you can feel sorry for yourself for a short amount of time, OK, then let's pick it back up and let's get ready to go.' I'm a big fan of James Sims," Weis said. "I don't think you've seen James Sims play football for the last time."
Fifth-year senior center Gavin Howard, who ranks blocking for Sims from all five positions on the offensive line among his career highlights, also predicts an NFL career for Sims.
"I don't know where he's projected to get drafted or if he's even projected at all, but there's no doubt in my mind he's going to get on a team and he's going to do what Chris Harris did and end up making a team and everyone will be like, 'Why the heck didn't he get drafted?' if he doesn't get drafted," Howard said. "Or: 'Why didn't he get drafted higher?' He's a workhorse and comes to work every day. You can count on him every single day. He's really been a bright spot in the not-so-bright past (four) years."
Sims was not one of the two Kansas players (Howard and safety Dexter Linton) made available after the game, but was the center of much of the post-game chatter.
"It's almost sad timing for James," Weis said. "Without knowing all the candidates in Kansas history, he's probably one of the best who has ever come through. Because the team hasn't won very many games, he'll be under-appreciated. I'm a big fan of James Sims. I feel bad for him."
A case could be made for Sims ranking in the top half-dozen rushers in KU history, behind: 1) Gale Sayers, 2) John Riggins, 3) Laverne Smith, 4) Henley, 5) Sands. Jon Cornish, Charlie Hoag and Homer Floyd belong in the conversation as well. Wherever Sims deserves to be ranked, he at least belongs in the conversation of all-time great KU running backs. That means people will continue to talk about him and not much else about the past four seasons of Kansas football.
More like this story on KUsports.com