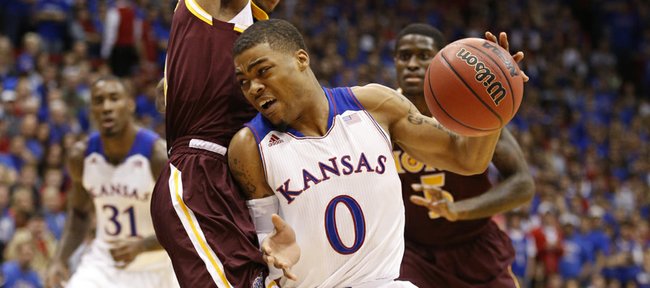 A failing grade in a government class his senior year at Petersburg (Va.) High School cost Frank Mason a spot on Towson University's basketball team — the one that meets Kansas University in a 7 p.m. tip today in Allen Fieldhouse.
"It was a bad thing at the time. It's a good thing now," reflected Mason, who, after attending Massanutten Military Academy in Woodstock, Va., last year, wound up a member of KU's outstanding recruiting Class of 2013.
He had initially signed a letter of intent with Towson in November of 2011 but did not qualify academically.
"I always knew I could play at any program and with anybody," noted the 5-foot-11 combo guard. He averaged 17 points and eight assists a game for (30-4) Massanutten after going for 27.1 ppg his senior year at Petersburg, where his teams had a combined four-year mark of 78-4.
"Towson ... I felt like I was close to home. The coaches pulled me in, told me what I wanted to hear. I thought I was going to go to Towson for four years and it was going to be my program."
Instead, Mason emerged on the AAU circuit in July of 2012 and ultimately gobbled up a scholarship offer from KU's coaches, who saw him dominate a tournament in Las Vegas.
"After I went to military school, I never considered Towson again," Mason said of the Colonial Athletic Association school located in Maryland, just 187 miles from his hometown.
He chose the Jayhawks over Alabama, Maryland, Louisville, Rutgers, South Carolina and Virginia Tech.
"I am glad it ended up like that," he said of failing that government class by just "three points."
"I guess God worked it out that way. I guess it's meant for me to be at KU."
Mason, who entered college as Rivals.com's No. 76 player nationally, has averaged 9.0 points off 33.3 percent shooting (15 of 18 from the line) with eight assists, one turnover and three steals. He's logged a healthy 18 minutes per game early in his freshman season.
"I try to be a pit bull on the ball," Mason said. "I try to be a good defensive player, a guy always pressuring the ball."
KU coach Bill Self, who has said all along Mason's much better than his ranking, nonetheless was pleasantly surprised by the 185-pounder's play in a 94-83 win over Duke on Nov. 12 in Chicago.
Mason scored 15 points on a night he calmly cashed 11 of 12 free throws.
"Before the game I'm thinking, 'Gosh, how is he going to react? Is this stage going to be too big for him?'" Self said. "It's like he was on the playground. He didn't know anybody else was out there. He may have reacted the best of all our freshmen initially, and he's been in the least game-pressure situations of all. That was fun to watch.
"He has a lot to learn," Self quickly added of a player "we didn't know anything about until that summer (2012) and fell in love with. He has surpassed what I thought he'd be, not from a talent standpoint, but poise standpoint. He has never played point guard. He has point guard size, but he's always been a guy to go get his own shot. He's done really well."
So well that Self has used Mason and 5-11 junior Naadir Tharpe in games at the same time.

That might continue tonight versus Towson.
"Frank makes up for (lack of) height with strength," Self said. "Naadir is not very big. They need to be pit bulls if we play them together. I know they like playing together. There are some things about it that I like, but Naadir doesn't need to wait for Frank to change the pace. Naadir should be one to change the pace. I thought we played too slow (in 86-66 win over Iona Tuesday) until Frank got in the game. That's something we have to talk about and correct, but they are pretty good when they play together."
Noted Mason: "Coach just figured out he wanted to start playing me and Naadir at the same time so it'd be a faster tempo. It's a lot of fun."
Tharpe actually tossed a perfect lob to Mason for an alley-oop slam against Iona. Remember, that's 5-11 throwing to 5-11 for the flush.
"I was excited (about the dunk) but I had to get back on defense," Mason said. "It's something I knew I could do (but) I was just wanting to get another stop."
That kind of attitude has impressed KU sophomore Andrew White III, a native of Richmond, Va., who has known Mason for about 10 years.
"What everybody is starting to see is how he's been since he was a kid. He's always been tough-minded, always a workhorse," White said. "It's really paying dividends for him so early. I've never seen him back down, so I'm not surprised at what he's done so far. He deserves it."
Early indications suggest Mason will have quite a four-year career, which could come as a shock to the recruiting analysts.
"Somebody can commit to a high-major and all of a sudden people think they are no longer a top 100 guy, they are a top 50 guy. Somebody can commit to a low-major and people think they are no longer a top 50 guy but a top 100 guy just based on reputation and that kind of stuff," Self said. "There's not that much difference between guys ranked 15 and 50. It's an inexact science. Guys mature naturally at different stages. I'm glad we got him. I think he'll go down as one of the better incoming freshmen guards."
And Mason is happy to be here despite the fact he says he's fond of Towson's players and coaches.
"I had the mindset I could play with anybody. I knew I'd be a great fit for this program," Mason said. "It's where I chose to come to."
With the help of a high school government class no doubt.
Self on frosh Wayne Selden, who has averaged 10 points and 3.0 rebounds while averaging 29.7 minutes a game: "Wayne tries hard, is very unselfish with his thoughts. He's feeling better physically. He's gone through a period of time he's felt great, then got nicked up a little bit, but won't sit out (playing through minor injury). He has his legs under him now and is feeling much better physically."
Thievery: KU has 21 steals to its opponents' 12. "We've been trying to get that going for two months now," Self said. "It's almost like we play defensive when we are on defense. Basketball is a game of comfort zones. We need to operate in ours and get our opponent out of theirs."
This, that: Self said he'd use the same starting lineup of Tharpe, Selden, Andrew Wiggins, Perry Ellis and Tarik Black tonight. Black, who has had foul problems in all three games, is being pushed by Joel Embiid, who went for 16 points and 13 rebounds versus Iona. ... Embiid's dad, Thomas, will attend his second game in the fieldhouse tonight before returning to Cameroon. For a link to Thomas' reaction to Joel scoring versus Iona, go online to http://imgur.com/sYGyDeN ... Perry Ellis has made 21 of 29 shots for 72.4 percent. ... Towson has won at home against Navy (72-45), Morgan State (95-75) and Temple (75-69) and lost at Villanova (78-44). The Tigers are led by Pat Skerry, who is 22-45 in three years at the Colonial Athletic Association school. Jerrelle Benimon, a 6-8 senior forward from Warrenton, Va., leads Towson in scoring (17.5 ppg) and rebounding (11.8). He also has 13 assists and seven blocks.
— Tom Keegan contributed to this report