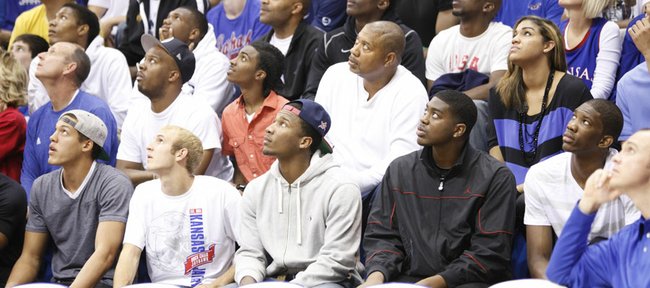 When an athlete says, "Can I call you back in a half-hour?" during a telephone interview, that's code for, "You're starting to bore me with these questions, and I have better things to do with my time. Scram."
When Kansas University-bound guard Wayne Selden, the second-highest-ranked recruit in the nation's second-ranked college basketball recruiting class, ended our conversation recently, I hadn't yet had a chance to ask him what he thought of Conner Frankamp's game. Surely, he would have had an answer because all the top recruits become familiar with each other from the time they spend together at exposure camps, AAU tournaments, all-star games, etc.
Word out of the McDonald's All-American week in Chicago was that Selden and the nation's No. 1 recruit, Kansas-bound Andrew Wiggins, were spending a lot of time together.
"Yes, we were able to connect on and off the court," Selden said by phone from The Tilton School, a prep school in New Hampshire. "It was good to be able to connect with him, but I had no idea at the time he was coming to Kansas."
In Ben McLemore and Travis Releford, Kansas had a pair of wings who were great finishers on the fast break. Selden and Wiggins have similar reputations as finishers.
How are the games of Selden and Wiggins alike, and how are they different?
"I don't know," Selden said. "We're not that much alike, really, so we should be able to blend together. I'm kind of athletic. He's really athletic."
Selden grew up in Boston as a Celtics fan.
"I would probably go with Paul Pierce," Selden said, asked to name his favorite player. "He's a traditional Celtic, been there forever. I haven't met him recently, but I had pictures taken with him when I was 6 or 7 at a celebrity all-star game."
Ranked the nation's No. 12 prospect by Rivals, Selden said he has known future teammate Brannen Greene from Georgia for a few years.
"He's a shooter, a real good shooter," Selden said. "He's able to score in other ways, too, so that's good."
Selden made his visit to KU during Late Night, as did Joel Embiid, the 7-footer from Cameroon who attends high school in Florida.
"As soon as I committed, I tried to get him to come here," Selden said. "I just tried to get him to pull the trigger. He eventually did. As soon as he gets some weight training, I think he'll be able to step into his role."
Of Frank Mason, a pure point guard from Virginia, Selden said, "real quick, strong, athletic guard."
Selden said he heard about Wiggins' commitment when word spread through his prep school.
"I had no idea where he was going," he said. "It was all up in the air."
Selden knows all the Kentucky recruits but said he hasn't thought about how Kansas stacks up to the Wildcats.
"I'm not really worried about other teams right now," Selden said. "We need to get our stuff together, jell as a team, get prepared."
More like this story on KUsports.com