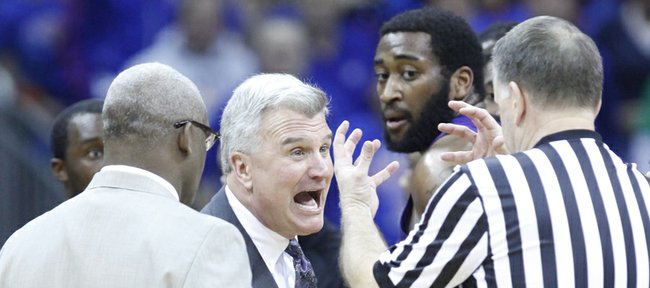 Photo Gallery
Kansas basketball v. Kansas State (Big 12 Tournament)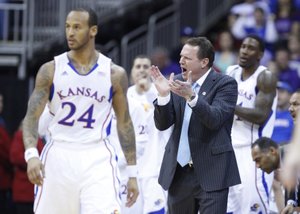 Images from Saturday's Big 12 Tournament championship game against Kansas State at the Sprint Center.
Podcast episode
Kansas coach Bill Self talks after his team's 70-54 win over Kansas State in the Big 12 tournament championship on March 16, 2013.
Podcast episode
Kansas seniors Jeff Withey, Elijah Johnson, Travis Releford, Kevin Young talk to reporters after the Jayhawks' 70-54 victory over Kansas State in the Big 12 tournament championship game on March 16, 2013.
Kansas City, Mo. — Kansas State basketball coach Bruce Weber recently joked at a Big 12 regular-season co-champion net-cutting party that he'd hoped to celebrate the league title a week earlier on the Wildcats' Senior Day, but poor officiating in the Kansas-Iowa State game got in the way.
Did Weber's comment give the Jayhawks any extra motivation in Saturday's 70-54 Big 12 tournament title win over the Wildcats, especially considering KU went 2-0 versus KSU during the regular season?
"Our players definitely knew about it," Self said. "The thing about it ... I'll be honest, I don't pay attention to what people say in front of their fans at a pep rally or whatever to get them juiced up, because I'm sure I've said some things that people could probably look at and say, 'Wow was that intended for us?'
"But one thing about basketball, the calls add up pretty equal over the course of an entire season. And I was glad personally we got a chance to play K-State because even though we tied — but we left little doubt leaving here beating them three times that we were pretty good. We stubbed our toe a couple times we shouldn't have. But they had a great season. I don't know if it was motivation for our guys, but they certainly knew about it."
Travis Releford said: "We don't control the refs. We don't make calls. We just go play. If you want to go by that whole game (KU win over Iowa State in Ames), there could have been bad calls the other way too (aside from a no call on a possible Elijah Johnson charging call late and Kevin Young being credited with a foul that may have been committed by Jeff Withey)."
Top seed/KC locale? KU coach Self said the Jayhawks could be awarded a No. 1 seed in the NCAA Tournament on Sunday. KU enters the 5 p.m. CBS-TV Selection Show with a 29-5 record and Big 12 regular-season and postseason tourney titles.
Self said he thought the Jayhawks are one of five or six teams in discussion for a top seed.
"It would be nice for our kids," he said. "You work so hard and everything is the road to the Final Four and No. 1 seeds get notoriety, especially with recruiting, so it would be awesome to be a 1 seed .. I think our resume is pretty good."
Self said he did think KU would be playing in the first round Friday in KC's Sprint Center. If KU would win Friday, it'd earn a second game in Sprint Center Sunday. Generally the NCAA tries to keep top four seeds in sites closest to home.
"That would be fun," said Travis Releford. "We have a lot of friends and family who could come to the games. We like playing here, but we'll play wherever they send us."
He's OK: KU senior Kevin Young scored nine points and grabbed nine rebounds with three assists in 27 minutes. He was playing with a brace on his injured lower right leg.
"I felt great today," Young said. "It didn't bother me at all. I got a lot of treatment on it. So just going to continue to get treatment. It probably won't bother me that much, anymore."
"He said he was 100 percent and didn't bother him at all," Self said.
Celebration: KU freshman Ben McLemore performed air guitar while holding a Big 12 championship sign during the victory celebration ... Self hugged his wife, Cindy, and daughter, Lauren, who joined him on the floor for the postgame celebration. ... Christian Garrett cut the first strand of net and Travis Releford the last in the players' net-cutting ceremony. ... The fans chanted "MVP" as tourney MVP Jeff Withey cut his strand of net. ... All-tourney team member Perry Ellis said he'd likely give his strand to his mom to put on display in the family home in Wichita.
This, that: KU is now 9-1 in Big 12 tournament finals. KU is 13-5 overall in conference tourney title games. ... KU has won 11 straight over KSU in conference tourney games. KU is 8-0 versus KSU in the Big 12 tourney. KU is 3-1 vs. KSU in title games in conference tourneys. KU is 39-3 overall versus KSU in the Big 12 era.
Reception: A woman in a wedding dress and man in tuxedo sat several rows behind KU's bench after getting married on Saturday. Faith Jacobsen and Eric DeVault of Olathe said a relative gave them tickets to the tourney as a wedding present. "This is the reception," Faith said with a smile. The two were shown on the "Kiss Cam" to the delight of the crowd.
Amazing plays: Elijah Johnson dribbled through the legs of Will Spradling before hitting a floater ... Jamari Traylor went high to block the shot of Rodney McGruder in the first half. ... Naadir Tharpe had a bullet bounce pass to Releford for a dunk.
Stats, facts: KU's 55.6-percent shooting in three Big 12 tourney games broke the old record of 55.3 percent set by Missouri last year. KU hit 52 of 81 shots in the second half for 64.2 percent. KU made 15 of 22 threes in the second half of the games. ... KU coach Self receives $50,000 in incentive bonus compensation from KU's athletic department for winning the 2012-13 regular-season conference title and $25,000 for his squad winning the postseason tourney. ... KU has won 13 conference tourney titles; nine during the Big 12 era. ... KU has won the Big 12 regular-season and tournament championships in three of the last four seasons. ... Self is 298-58 at KU and 505-163 overall. He owns a 30-9 all-time mark in conference tournament play and 21-4 at Kansas in the Big 12 Championship. ... KU is now 2,099-811 all-time. ... Perry Ellis became the first freshman on the all-tourney team since Texas' Tristan Thompson in 2011. He is the first KU freshman since Mario Chalmers and Julian Wright in 2006. ... Ellis finished the tournament with a team-best 43 points and also shot 18-for-23 (78.2 percent), which is a new KU tournament record, topping Wayne Simien's 65.6-percent effort in 2005. ... Ellis' three-point field goal at the 6:14 mark of the second half marked the second made trey of his career. He is now 2-for-3. ... Sophomore Naadir Tharpe posted a career-best 12 points, thanks to a career-high four threes. He was 4-for-6 from beyond the arc. ... Ben McLemore missed his first four shots and scored his first points with a three-pointer from the right corner at the 10:11 mark in the second half. McLemore finished with a season-low five points, after scoring a combined 41 points against K-State in the two regular-season meetings.