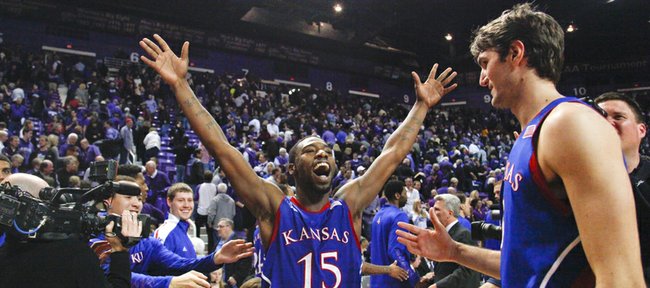 Photo Gallery
KU basketball v. Kansas State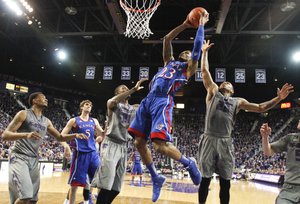 Images from Tuesday night's game against Kansas State in Manhattan.
Podcast episode
Kansas coach Bill Self talks after the Jayhawks' 59-55 victory over Kansas State on Jan. 22, 2013.
Podcast episode
Kansas seniors Travis Releford and Jeff Withey talk to reporters following the Jayhawks' 59-55 victory over Kansas State on Jan. 22, 2013.
Podcast episode
Kansas State coach Bruce Weber and guard Rodney McGruder talk after the Wildcats' 59-55 loss to Kansas on Jan. 22, 2013.
Manhattan — Elijah Johnson paused in the south tunnel of Bramlage Coliseum, and, with a big smile on his face, blew kisses to thousands of purple-clad fans in the Kansas State student section.
"That was a goodbye kiss that felt good," Johnson, Kansas University's senior point guard, said after scoring eight points and grabbing four rebounds while dishing four assists against five turnovers with two steals in the No. 3-ranked Jayhawks' 59-55 victory over No. 11-rated KSU on Tuesday night.
"It felt great to know I came in here and won three of four (in his career). This is a game I always wanted to play in since I was a freshman and to actually go out and produce for our team defensively and offensively ... it's close to the end. I enjoyed the whole process. As crazy and weird as this may sound, I'm going to miss K-State. It's probably the funnest environment to play in," Johnson added.
Johnson was able to go out a winner in his final trip to Bramlage thanks in large part to senior Travis Releford, who scored 12 points off 5-of-6 shooting, but perhaps more importantly held KSU's Rodney McGruder to 13 points off 4-of-12 shooting.
"I thought Travis played unbelievable. It was one of the better games he's played for us," KU coach Bill Self said after the Jayhawks improved to 17-1 overall and 5-0 in the Big 12. KSU dropped to 15-3 and 4-1.
"He was exhausted the second half. He asked to come out. I said no," Self added with a smile.
This was a night where Self didn't stop there.
Releford truly deserved a pat on the back from his coach for his work on the Big 12's third-leading scorer, who entered with a 15.5 ppg average.
"He is smart. He is strong. He can slide. He is athletic. He's tough on top. He did a great job guarding a team that set a ton of screens tonight," Self said of Releford.
McGruder missed six of nine threes on a night Shane Southwell hit five of 11. As a team, KSU canned nine of 30 threes to KU's four of 13.
"I think it was amazing," senior Kevin Young said of Releford's defense. "His main focus was not letting McGruder score."
"Travis always helps save the day," Johnson stated. "Rodney was supposed to score 22 tonight. Travis did a great job on him, got to him. You've got to give at least half the credit (for the win) to Travis."
Releford — he also two big threes in three tries — gave himself a passing grade for his work on McGruder.
"The first half, I did real well making him uncomfortable and not let him get easy looks at the rim," Releford said. McGruder scored two points the first half off 1-of-4 shooting (Releford had eight points) as KU led, 31-27, at the break.
"The second half, my teammates continued to help me by letting me get through down screens. I just continued to do whatever the team needed me to do, because we knew he would be the guy they were going to go to on offense. We tried to put a lot of pressure on their guards."
Southwell scored a career-high 19 points off 7-of-16 shooting (5-11 from three).
"I think he would get my vote for most improved player in the league," Self said, "because if you remember last year we played a triangle-and-two and the guy we did not guard was Shane, and he did not even look at the basket. He was probably their best offensive threat tonight."
KU's Withey (11 points, 10 rebounds) scored four points, Releford two and McLemore (11 points) two in an 8-0 run that gave KU a 39-30 lead with 16:16 left in the second half. McLemore scored five straight points to up a 48-43 lead to 53-43 at 6:51.
The Wildcats were able to slice the gap to 56-53 with 38 seconds left. That's when Naadir Tharpe swished two free throws at :22.6 to keep KU in command by five. McGruder hit two free throws at 5.5 seconds to cut the gap to 58-55. Johnson made a free throw at 3.6 seconds, then missed the second as the clock ran out on KU's victory.
"Both teams are very good offensively," Self said. "It just came down to making some plays and having some key moments. We made it hard on ourselves not converting at the free throw line (13 of 21 to KSU's six of seven)."
Self and the Jayhawks were pleased with a defensive effort that held KSU to 35.1-percent shooting to KU's 45.7 mark.
"Our game is to not let a team get into the paint, and I think we did a good job of that," said Withey. "That is what forced them to shoot a lot of threes. Whenever you can get a win on the road, it is good. It's still early," Withey added of the race. "They are still going to win games. They are going to come to Allen Fieldhouse, so they have a chance to win there. It matters to the people of Kansas, but as for the league, it's so early that it does not matter that much," Withey added.
KU will next play host to Oklahoma at 3 p.m. Saturday in Allen.