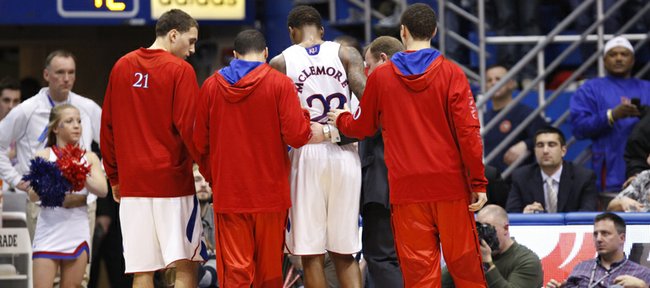 Ben McLemore woke up feeling "sore" on Tuesday morning because of his sprained right ankle, yet has suffered no structural damage and is listed "day-to-day," Kansas University basketball coach Bill Self told the Journal-World on Tuesday afternoon.
"He has been in for treatment a couple times. It's sore, but he's doing well," Self said of freshman guard McLemore, who suffered a Grade 1 sprain in Monday's 61-44 victory over Baylor in Allen Fieldhouse.
"He should be a 'day-to-day' guy (regarding practice). It's tender. I don't know if he'll be able to practice (today) or not. Hopefully we'll have him full speed by this weekend," Self added, indicating McLemore should be able to play against Texas (1 p.m., Saturday, in Austin) barring any re-injury.
Self, who awarded his Jayhawks (15-1 overall, 3-0 Big 12) a day off Tuesday, graded film before hitting the road recruiting late Tuesday afternoon.
"I thought we guarded them well," Self said of holding the Bears (11-5, 3-1) to 23.2 percent shooting, including 4-of-14 shooting from three. "I thought offensively we were not real fluid. I think they had a lot to do with that, their length. We looked OK. We didn't play great, but we didn't allow them to play well, which was encouraging to me. That's been something I've been harping on a long time.
"You are not always going to play great. You are not always going to make shots (KU hit 37.7 percent of its shots; 3-of-14 from three), but you can make sure the other team doesn't play great. That was the case last night. We did a good job of guarding them."
Baylor's 44 points were the fewest a KU team has allowed in a conference game since holding Nebraska to 39 points on Feb. 17, 2007, in Allen.
"The number of points is a little misleading," Self said. "They are better than that. They missed free throws (BU hit 14 of 23 for 60.9 percent). It's great to hold anybody to a real low shooting percentage, win the battle of the boards (45-40) even though it wasn't dominant. But we did enough good things to have control of the game.
"You know what?" Self added, "if you told them (Bears) they could hold Kansas to 61 (points) at home, they're thinking they are going to win the game. We've got to get better in some areas."
Self in Hall of Fame: KU coach Self will be inducted in the Oklahoma Sports Hall of Fame on Aug. 5, Oklahoma Lieutenant Governor Todd Lamb announced Tuesday. The ceremony will take place in Oklahoma City's National Cowboy and Western Heritage Museum.
"I don't think I've ever been inducted into anything like that. It's a great honor," said Self, who is 284-54 in 10 seasons at KU and 491-159 overall in 20 seasons. "I'm really proud of my state and respect all the people in different sports and different areas that have contributed to the rich sports history of Oklahoma."
The class of 2013 consists of Self, Wayne Baughman (Oklahoma wrestling), Clay Bennett (OKC Thunder owner), Nadia Comaneci (Olympic gold medal gymnast), LeRoy Gutowski (Oklahoma City University/NFL standout), Jimmy Harris (OU football) and John Henry Ward (Oklahoma State two-sport All-American).
A native of Edmond, Okla., Self was tapped Oklahoma High School Basketball Player of the Year in 1981 while at Edmond Memorial High School. Born in Okmulgee, Okla., Self played at Oklahoma State from 1982-85. While at OSU, he was a four-year letterwinner and was an All-Big Eight freshman selection.
Flagrant foul: KU's Travis Releford was called for a Flagrant 1 foul for elbowing BU's Deuce Bello late in the first half. Bello missed a pair of free throws. BU was awarded the ball and failed to score on the ensuing possession.
KU assistant Kurtis Townsend explained the 'Flagrant 1' vs. 'Flagrant 2' foul rule on Tuesday's Hawk Talk radio show.
"It happened in a game at Michigan a couple years ago ... a guy came over the top and hit a guy right in the jaw (with elbow) and about knocked him out. In response to that, they made a rule any contact with the elbow above the shoulders, whether deliberate or not, is a flagrant foul," Townsend said. "They get two shots and the ball back and your guy gets a foul assessed.
"A Flagrant 2 is where you try to hit a guy intentionally. You hit a guy on purpose, you'll be tossed from the game. Travis' was unintentional. We were trying to argue he got him with the backside of his arm and not the elbow. We watched it today (on tape). I think the refs made the right call. Travis didn't try to do it intentionally. We teach guys instead of ripping it (ball) across the top, they have to do it below their waist and be strong with it and it takes away that call," Townsend added.
T-Rob OK after crash: Former KU forward Thomas Robinson of the Sacramento Kings was not injured in a one-car accident after Monday's game against the Cleveland Cavaliers. Robinson told cowbellkingdom.com he turned his Porsche Panamera too wide and too late at the intersection of Del Paso Boulevard and Broadgate Drive.
"It's not that bad. The car's not totaled," Robinson told the website. "I messed the bottom part of my bumper up. I probably busted something inside the engine probably, but I'm not sure. I'm breathing right now," he added. "I don't care too much about the car."