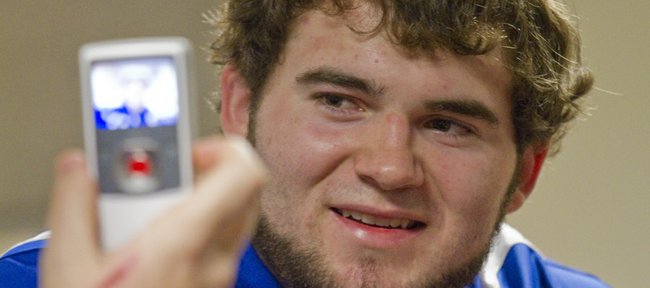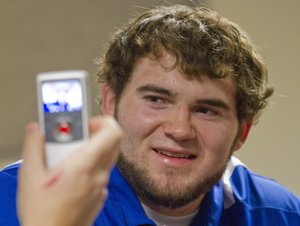 Much has been made about the new additions to Charlie Weis' second Kansas University football team this offseason, and Saturday several of the 25 newcomers officially were introduced to the media.
Although the eight midyear transfers — junior-college players who left their previous schools early and are enrolled at KU this spring — all have had different experiences and adjusted to life in Lawrence in their own ways, there are a few areas in which the transition has been the same.
Most often, that has been in the weight room, where KU strength and conditioning director Scott Holsopple has wasted no time showing the transfers what they've gotten themselves into.
"It was a big transition," said offensive lineman Mike Smithburg, who came to KU from Iowa Western, where he won a national championship in 2012. "Juco … my school … we worked pretty hard, but this is something else. This is just different. You gotta teach yourself quickly how to dig deeper and go harder, but it already feels good."
For most, training with Holsopple has taken some getting used to. But there's one player new to Kansas who has been through it before. Chris Martin, a 6-foot-4, 260-pound defensive end from City College of San Francisco, spent the 2010 season red-shirting at Florida, with Holsopple and Weis, before bouncing around and eventually winding up in Lawrence.
Holsopple was a big reason the former five-star prospect chose to continue his career at KU, and on the first day of workouts after arriving on campus, Martin remembered why.
"He was one of my biggest influences over at Florida," Martin explained. "He put things in perspective for me a lot of times when I wouldn't listen to anyone else. You can tell when someone's genuine about the way that they're talking to you. And the way he does and the way he pushes us is different than anyone else."
So what was the reunion like? Did the two have any funny or heart-felt moments?
"Our moment was him punching me in the chest and saying I'm too skinny," Martin said with a laugh. "After that, I was like, 'OK, it's still Sop, let's get to work.'"
Putting in work to change the culture of KU football and, at the same time, the public perception of themselves as players, is the focal point for most of KU's new crew. Because of that, there has been little time to check out campus, pinpoint Lawrence's hot spots or mingle with other members of the KU community.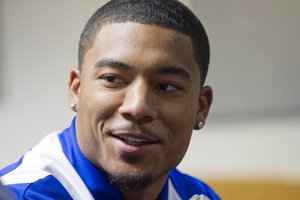 "I don't really spend much time outside of school and football," said Arizona Western grad Cassius Sendish, a 6-2, 185-pound cornerback. "I'm here on a mission. I'm not really here to have the normal college-student fun. This is something I've been waiting for my whole life, and I really want to take advantage of this opportunity."
Added Smithburg: "Right now, we're so busy and it's so demanding because we're not used to it, so you don't ever want to leave the room."
With spring practice set to begin March 5 and the remaining members of the juco-heavy Class of 2013 joining the team sometime in June, the newcomers who are here now — Smithburg, Martin, Sendish, OL Ngalu Fusimalohi (6-3, 300), DL Tedarian Johnson (6-3, 260), DB Dexter McDonald (6-1, 205), DL Ty McKinney (6-3, 310) and P Trevor Pardula (6-5, 210) — know they are in position to get an edge on the competition for playing time.
"It's huge," Smithburg said. "Just getting used to everything and not feeling like you're just getting thrown right into it, I feel like, is a huge advantage."
They also get a head start in camaraderie.
"I can definitely feel myself joining the team," Sendish said. "It's definitely very welcoming."
Added Martin: "We integrated real well, and the way we meshed in, it was perfect. The guys that have already been here, they respect us because of the way we came in. Every single one of us has shown that we want to put in the work. We don't want to come in here and step on anybody's toes. We want to join y'all and get this ship right."