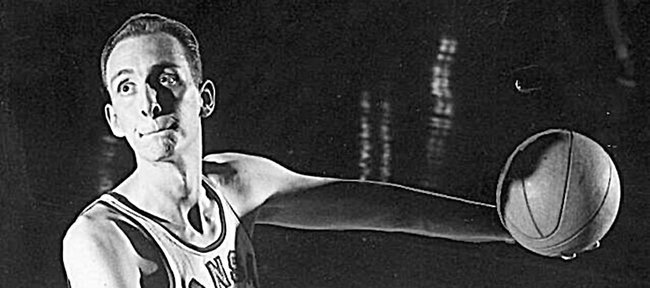 Former Kansas University men's basketball great B.H. Born, a member of the 1952 NCAA title team whose jersey hangs in the Allen Fieldhouse rafters, died Sunday in Peoria, Ill., Born's son David said Monday. Born was 80.
"We heard this morning about the passing of B.H. Born," KU coach Bill Self said Monday. "He's one of the very few people that have been the most outstanding player of the Final Four on the team that did not win a national championship. He was certainly a gentleman and a great ambassador for KU through the years. Our sympathies certainly go out to his family as they go through this difficult time. I'm sure our KU family is saddened today but also very proud of the legacy that he left as a faithful Jayhawk."
A 6-foot-9 center from Medicine Lodge, Born played for Kansas coach Phog Allen from 1952-54, when KU won three conference titles and amassed a 63-14 combined record. His sophomore year, Kansas won the 1952 NCAA championship, posting a 28-3 overall record and 11-1 Big Seven Conference title mark.
In 1953, Born became the center of attention for the Jayhawks and established himself as one of the country's best centers. He was named All-American and first-team All-Big Seven. That same year, Born was selected as the most outstanding player in the NCAA Tournament, becoming the first player to win the award from a non-championship team. KU fell to Indiana, 69-68, in the 1953 NCAA title game, and Born had 26 points, 15 rebounds and 13 blocked shots in the Jayhawks' effort. Though unofficial, it is believed to be KU's first ever triple-double.
"He was outstanding on that '53 team. He carried them," noted former KU player and assistant coach Jerry Waugh. "He was really good at blocking shots when people drove toward him. He was a small-town guy who was a very good person."
In Born's senior season, he was named to the All-Big Seven First Team. He led Kansas in scoring his junior and senior seasons with an average of 18.9 ppg in 1953 and 19.0 ppg in 1954. He went on to represent the USA in winning the gold medal at the 1954 World Championships.
Following his KU career, the Fort Wayne Pistons selected Born with the 22nd overall pick in the third round of the 1954 NBA Draft, but he did not join the team. In the mid-1950s he played for an Amateur Athletic Union (AAU) team in Peoria, Ill.
Born's KU jersey No. 23 was retired on Feb. 15, 1992, in a ceremony honoring the 1952 NCAA title team. A member of the KU Athletics Hall of Fame, the Kansas Sports Hall of Fame and the Greater Peoria Sports Hall of Fame, Born would frequently come back and visit KU. He had planned to return for the 115th Year of KU Basketball celebration later this month.
"He was an incredible guy who came here at 6-9, 190, and worked his butt off to become great. I never covered a KU athlete I admired more than I did B.H.," said former Journal-World executive editor Bill Mayer, who covered Born during his KU career. "He became great as a KU junior and senior and had a tremendous record with the Peoria Caterpiller-Diesels. Home town was Medicine Lodge, Kan. He became one of the finest representatives KU has ever had. I'm so glad his jersey hangs in the fieldhouse."
Born was the first person to notify Allen and assistant Dick Harp of the prowess of former Jayhawk great Wilt Chamberlain.
The Journal-World's Mayer reports that in the early 1950s, many college court standouts spent summers working for resort hotels in New York's Borscht Belt in the Catskills. The players would have day jobs, then play games against teams from other hotels to the delight of their guests. As a high schooler, Chamberlain played for the Kutsher's resort. Born played for another hotel.
"He turned me inside out," Born told Mayer of his first game against Wilt. "I'd never seen college guys do some of the things he did, dunking, blocking, running along with the speediest little guys ... it was almost terrifying. Several times I just wanted to save my life. I think he got something like 29 off me, and I was supposed to be able to play defense."
More like this story on KUsports.com