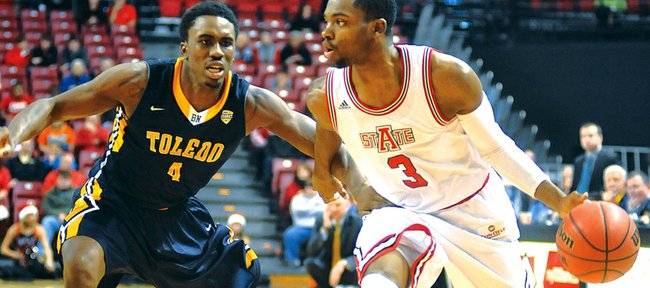 Players and coaches on nine college basketball teams gave their fans the best possible present on Christmas Day: an undefeated record to digest with the turkey and ham.
Teams that remain undefeated as the calendar approaches the New Year: Arizona (13-0), Ohio State (12-0), Wichita State (12-0), Wisconsin (12-0), Iowa State (11-0), Oregon (11-0), Syracuse (11-0), Villanova (11-0), and Toledo (11-0).
Toledo, which plays Coppin State at home on Saturday, figures to bring a perfect 12-0 record to Allen Fieldhouse for Monday's 7 p.m. game against 8-3 Kansas University.
"We have the mindset we're not losing any games," junior guard Julius Brown told the Toledo Blade after the Rockets' 71-67 win over Cleveland State on Dec. 22.
Toledo is off to the school's best start since 1966-67 when the Rockets opened with a school record 14 consecutive wins en route to a 23-2 season. A win Saturday would tie Toledo's second-best start, 12-0 in 1940-41.
The Rockets have won at home against Northwestern Ohio (102-55), Florida A&M; (79-69), Detroit (91-75), Sam Houston State (77-61) and Cleveland State (71-67). The Rockets have won at Boston College (95-92), Robert Morris (80-77) and Arkansas State (78-65) and beaten Stony Brook (103-99), Detroit (80-78) and Florida Atlantic (94-74) in Detroit.
Toledo's strength of schedule is 249th nationally according to cbssports.com and realtimerpi.com. KU, meanwhile, is rated No. 1 in strength of schedule by both websites. CBS has KU No. 3 overall in RPI and Toledo No. 42.
The Rockets' five starters all are double-digit scorers.
Rian Pearson, a 6-4 senior guard, leads the way at 16.1 ppg, followed by 6-4 junior guard junior Justin Drummond (14.9 ppg), 5-10 Brown (12.8 ppg), 6-6 junior forward J.D. Weatherspoon (11.3) and 6-9 sophomore center Nathan Boothe (10.7).
Toledo this week was ranked third in CollegeInsider.com's Mid-Major Poll. Wichita State and Harvard checked in at Nos. 1 and 2. Toledo totaled 27 points in this week's Associated Press poll — 42 points behind No. 25 Missouri. Oklahoma (65), Illinois (53), Texas (47) and George Washington (43) were ahead of Toledo.
The Rockets received 13 points in the ESPN/USA Today poll, 32 behind No. 25 Missouri with UCLA (44), Pittsburgh (26), Creighton (25), Saint Mary's (23) and George Washington (20) also ranked ahead of them.
Toledo is led by third-year coach Tod Kowalczyk, who went 4-28 in his first year and 19-17 in his second after eight years at UW-Green Bay.
"Toledo is still undefeated and San Diego State 9-1," KU coach Bill Self said of the Rockets and No. 20-ranked Aztecs who visit KU Jan. 5. "We have a chance to get some momentum by beating good teams if we play well before the start of conference play (Jan 8 at Oklahoma)."
A win tonight against tiny St. Katherine College would extend San Diego State's win streak to 10 games, marking the fifth double-digit win streak in school history. Three of the four previous streaks have come this decade — 20 games (2010-11), 11 (2012-13) and 11 (2011-12). S.D. State won 13 straight games in 1955-56.
The school's media relations department points out, "The Aztecs have won 47 straight games against unranked nonconference opponents, 44 in a row at home vs. unranked non-league foes, 36 straight vs. schools from California, 27 in a row in the month of December vs. unranked squads, 20 straight home games against unranked opponents regardless of the month, and 11 consecutive December home games."
Wooden contenders: ESPN's Eamonn Brennan has listed his top 10 candidates for the Wooden Award at this stage of the season. Duke's Jabari Parker tops the list, followed by Arizona's Aaron Gordon, Louisville's Russ Smith, Oklahoma State's Marcus Smart, Creighton's Doug McDermott, UConn's Shabazz Napier, Florida's Casey Prather, Michigan State's Adreian Payne, Syracuse's C.J. Fair and Oregon's Joseph Young. KU's Andrew Wiggins was listed honorable mention behind Kentucky's Julius Randle, UCLA's Jordan Adams and Michigan State's Keith Appling.
Yes, it's funny: KU freshman Joel Embiid turned movie reviewer on Twitter on Christmas Day. "Anchorman 2 is so funny...... Must watch for everyone," wrote the Cameroon native.
Condolences: Southern Illinois University on Wednesday offered condolences on its website to basketball coach Barry Hinson.
Hinson's son-in-law, Niles Thomason, died on Christmas morning. Thomason and Hinson's daughter, Tiffany, had been married since 2004 and live in Colorado. They have one son, Carter. Hinson is former Kansas University director of basketball operations.
"Words cannot express the grief and sadness we are feeling upon hearing the news of coach Hinson's loss of a family member," SIU athletic director Mario Moccia said in a statement. "As a university, we stand by Barry's and (wife) Angie's side to offer them our heartfelt support. We ask Saluki Nation to keep the Hinsons in their thoughts and prayers."
SIU has a game Sunday at Miami of Ohio.
Welcome back: All the KU players made it back in time for practice on Thursday, KU coach Bill Self said Thursday night. He indicated Andrew White III (hip bruise) and Perry Ellis (concussion symptoms in Georgetown game) have been medically cleared to practice in preparation for Monday's game vs. Toledo.
More like this story on KUsports.com