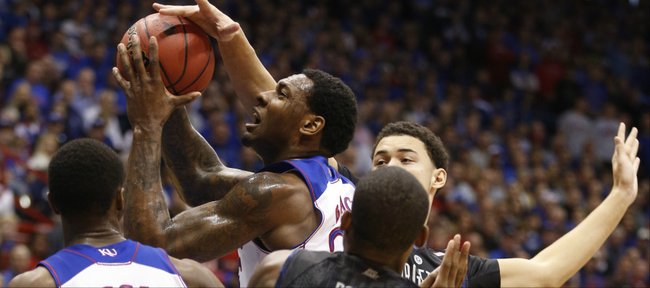 Photo Gallery
KU basketball v. Georgetown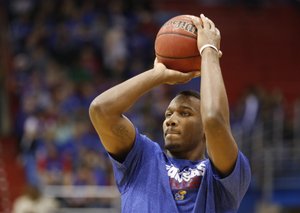 Images from Saturday's game between the Jayhawks and Hoyas at Allen Fieldhouse.
Podcast episode
Bill Self postgame vs. Georgetown, Dec. 21, 2013
Podcast episode
Tarik Black, Joel Embiid, Naadir Tharpe postgame vs. Georgetown, Dec. 21, 2013
The Big East as we once knew it may be dead, but its signature brand of basketball is alive and well.
Just don't tell that to Georgetown coach John Thompson III, who was less than impressed with his team's toughness during Saturday's 86-64 loss to Kansas University at Allen Fieldhouse.
"You thought we were physical today," inquired Thompson III when asked about the bruising nature of Saturday's game. "I thought we were the farthest thing from that."
He wasn't kidding. Despite comments from the Kansas players who said Georgetown was the most physical team they had faced thus far, Thompson III said the Hoyas (7-3) did not play up to their standard for physicality, particularly in the paint, where the Jayhawks out-rebounded the visitors 39-29 and stood tall every time they were pushed.
"I don't think we were physical tonight at all," Thompson III continued. "We slapped and fouled but we weren't physical.... We have to be an aggressive team in general and, if you look at the game, we didn't make enough physical plays. And when I say that I mean a good box out, we have to be the one to come up with the 50-50 balls."
This was not a case of a coach seeing something that nobody else in his locker room saw. Georgetown's Nate Lubick, who finished with four points and five rebounds in 16 minutes before fouling out, whole-heartedly agreed with Thompson's assessment of the Hoyas' effort.
"Obviously we didn't do what we needed to do to win the game," Lubick said. "...We didn't come ready to rebound, ready to fight and that's why they won the game."
Three Georgetown players fouled out. Two others finished the game with four fouls. And the Jayhawks finished half a dozen plays at the rim with whistles blowing and Hoyas hanging on them. To make matters worse for Georgetown, KU made 31 of 46 free throws, with the KU big men combining to hit 20 of 26 free throw attempts.
"They did a good job of getting us in foul trouble," Thompson III said. "Their front-court was very good today."
Asked if was impressed by the way Kansas (8-3) stepped up and matched the Hoyas' toughness, Lubick simply tipped his cap.
"Yeah. They were physical," he said.
One of the most physical forces for the Jayhawks on Saturday was freshman center Joel Embiid, who finished with 17 points and eight rebounds in 21 minutes and shot 9-of-12 from the free throw line.
Considering Thompson III grew up watching his father (legendary Hoyas coach John Thompson) coach Georgetown greats Patrick Ewing, Dikembe Mutombo, Alonzo Mourning and others, his comments about Embiid after the game carried significant weight.
"He's pretty good," Thompson III said with amusement. "Not only is he pretty good, he must be pretty smart because he's getting better and better and better with each game. He has a chance to be a special player there's no two ways about that. He might be at that point already."
More like this story on KUsports.com