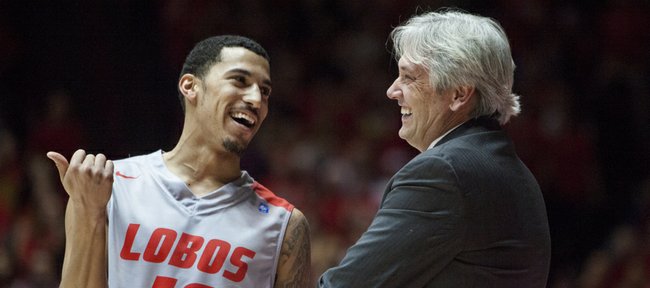 Kansas City, Mo. — It should be interesting to see how perennial basketball powerhouse Kansas University reacts tonight as it tries to shake a slump that has accounted for three losses in four games.
"You will see (one of) two game plans," first-year New Mexico coach Craig "Noodles" Neal said of the Jayhawks, who take a 6-3 record into today's contest against his 7-1 Lobos, set for a 6 p.m. tipoff in Sprint Center.
"You will see a team that will be really, really solid and get back to trying to be cohesive, or find a team really, really (ticked) off and they will come out and try to knock us out in the first round. We've got to be ready for both and be ready to withstand that. I mean, you are playing in a venue of 19,000 people, and it's 30 miles from (KU's) campus," Neal added. "It will be like a road game for us."
KU, which hasn't had a home game since Nov. 22, will be in its home-away-from-home, Sprint Center, where the Jayhawks are 22-4 all-time.
The opponent, UNM, has beaten Alabama A&M;, Charleston Southern, UAB, Davidson, San Diego, New Mexico State and Cincinnati and lost to UMass.
The Lobos, who advanced to the NCAA Tournament three of the last four years under former coach Steve Alford, enter unranked, while the Jayhawks are No. 13 nationally.
"I think they are a team that hasn't hit their stride," said Neal, 49, who played basketball at Georgia Tech, and in the NBA, USBL, CBA and WBL, and has coached in both college and the NBA.
"They are trying to find a glue or chemistry, and it's not easy. My biggest concern is I know coach (Bill) Self really well. He is one of the top coaches in the country. My biggest concern is he'll have 'em ready."
Neal's squad, which has explosive scorers in 6-9 senior forward Cameron Bairstow (19.8 ppg), 6-4 senior guard Kendall Williams (19.1 ppg) and 7-0 junior center Alex Kirk (18.6 ppg, 10.4 rpg), figures to test KU with a zone defense (2-3) as well as man-to-man. The Jayhawks have struggled against zones lately.
"I'm not going to pull a 1-3-1 zone, like Florida, did out of my hat," Neal said of the defense the Gators used in Tuesday's 67-61 win over KU in Gainesville, Fla. "We're going to play Lobo basketball, the way we play. Hopefully we go in and guard them and don't have to play a lot of zone, but I'm sure we'll change some things up on them."
Self has great respect for the Mountain West Conference school.
"New Mexico ... you can make a case they may be as good as anybody we've played," Self said. "We are not going to play another team where three guys average 19 a game. They've got a 7-footer. They've got a 6-9 guy who may be as good a player as we'll go against. He made the Australian national team," Self said of Bairstow.
Self hopes the Jayhawks have a strong effort against a talented team.
"We're not playing well, obviously. We're a lot better than what we're playing," Self said. "We've got to get a little confidence back and get back into attacking."
Naadir to start: Self told the Journal-World that junior point guard Naadir Tharpe would return to the starting lineup after coming off the bench the past two games. Freshman Frank Mason will return to his role as a key reserve. Other starters will be sophomore Perry Ellis, plus freshmen Wayne Selden, Andrew Wiggins and Joel Embiid.
Self said "a lot of things" when asked what he was looking for in his point guard.
"Making sure we get a shot every possession would be a nice start. Being able to get guys easy baskets," Self said. "I would hope in my thinking a point guard would be the extension of the coaching staff or the head coach, no matter what happens. If it breaks down, you still run stuff and execute stuff because they are telling everybody what to do. We're not quite there yet.
"Frank is trying his butt off. He's just young and never played point before, so it's all new to him. We don't have that extension of the staff yet on the court."
Self said Thursday that Tharpe was the strongest candidate to emerge as a team leader.
"For us to have a really good year this year, Naadir has to step up. There's no other way around it. I believe he will. He's in a little bit of a funk right right now, but he's gonna get out of it," Self said.
Merv mum: The Journal-World issued a request to interview New Mexico sophomore Merv Lindsay this past week through New Mexico's communications office. The request was denied.
Lindsay, a 6-7 wing from Moreno Valley, Calif., has played 16 minutes total in four of New Mexico's eight games. He has made his one shot attempt on the season. He's 0-for-2 from the line with two rebounds.
"He's a great guy. He was a great teammate," Self said of Lindsay, who played at KU in 2011-12, then transferred after the season.