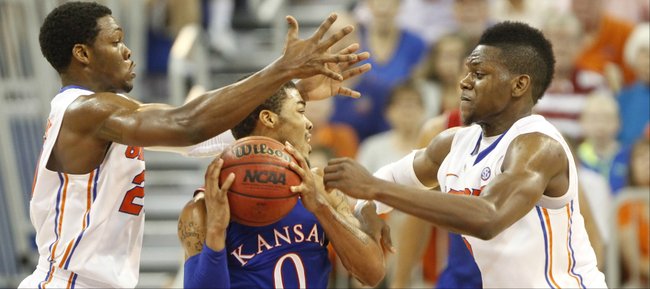 Photo Gallery
Kansas basketball v. Florida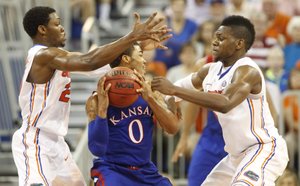 Images from Tuesday night's game between the Jayhawks and Gators in Gainesville, Florida.
Podcast episode
Bill Self after loss at Florida
Florida 67, Kansas 61
GAINESVILLE, FLA. — Going with four freshman starters for what is believed to be the first time in Kansas University basketball history looked like a fine game plan against Florida on Tuesday night in O'Connell Center.
"It wasn't who we started that was the problem. We were up 10-3," KU coach Bill Self exclaimed after the Jayhawks' group of rookies Joel Embiid, Frank Mason, Wayne Selden and Andrew Wiggins plus sophomore Perry Ellis opened strong, then were victimized by a 21-0 run during a 67-61 loss to the Gators.
"I think we should have had an electrical shortage and canceled the game after that," Self added of the early seven-point lead that quickly turned into a 24-10 deficit.
"We actually made a couple shots and played pretty well the first five minutes. We were awful after that," Self stated. "When it started going bad (deficit stretching to 34-16 and 36-21 at half), we didn't do anything to stop it. I don't think it was lack of effort. I think anything that can go wrong went wrong."
The (6-3) Jayhawks committed 16 turnovers the first half in trailing (7-2) Florida by 15 at the break.
"We set a record. I think that's an NCAA record maybe," Self said of the 16 turnovers in 20 minutes. KU finished with 24 miscues. "Three assists (to) 16 turnovers ... that's bad. We thought we played poorly against TCU in the first half last year (in loss to Big 12's last place team). That was worse tonight no question. The quality of competition was different.
"To get outscored 18-0 on points off turnovers? If we could have just got a 35-second call every time and they had to take the ball out of bounds we would have had a chance maybe to be in the game. That's been our Achille's heel all year. We are not a real skilled team yet. We pass the ball miserably. We don't pass the ball well at all."
KU freshman point Frank Mason had five turnovers to no assists; junior point Naadir Tharpe five assists against three turnovers. Frosh combo guard Wayne Selden, who played one minute the final half, had four turnovers to one assist.
"He had a tough night," Self said of Selden. "He, Perry (Ellis, four points, three turnovers, four rebounds) and obviously Frank. That was a pretty tough night for those guys. I think they can learn and respond and handle situations better moving forward."
Of the lead guard play, Self said: "the thing is, if your offense sucks in football, usually you look at the quarterbacks. I'm not saying ... it doesn't fall on the point guards totally. They can do better, but we all can do better. Certainly I don't think our guard play has been consistent so far."
Frosh wing Andrew Wiggins scored 18 of his career-high 26 points in the second half as KU made it a game. The Jayhawks were down 58-52 at 1:20 following a Wiggins three. After a KU steal, it was ruled Wiggins, who went up for a shot, threw the ball out of bounds, Florida taking possession and canning two free throws at 1:06 to go up by eight again.
Brannen Greene, who had five points in 14 minutes, batted the ball out of bounds with KU down 61-55 with :45.3 left.
"That was on me. I mishandled the ball. It went out of bounds, stupid mistake," Greene said.
Again Florida hit a pair of free throws after that miscue to go up eight at :37.1 Two Jamari Traylor free throws sliced the gap to 65-61 at :10.9 seconds, but a pair of Kasey Hill free throws answered at :8.5.
"Even though we lost, it showed we're not going to back down," Wiggins said. "We're playing until the end."
The Jayhawks, who have dropped three of four games, will next meet New Mexico at 6 p.m., Saturday, in Sprint Center in Kansas City, Mo. Chances are Self will go with the four freshmen again.
"I am not down on my freshmen," Self said. "We can play better. Our more experienced guys are sophomores. That's not really experienced. They don't have anybody they can fall back on. We've got to get everybody playing better. I can't blame it all on youth. We could have come here and played great and got beat by six. Florida is good, talented. A lot of it may be youth. I think we can still play better."
More like this story on KUsports.com