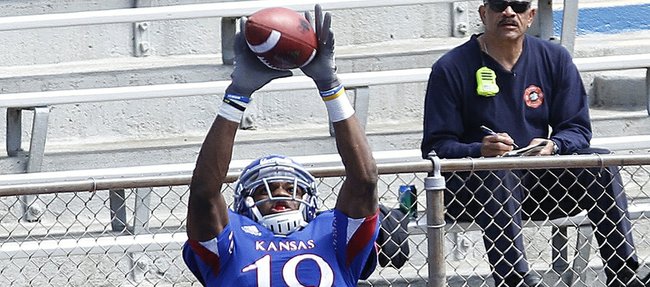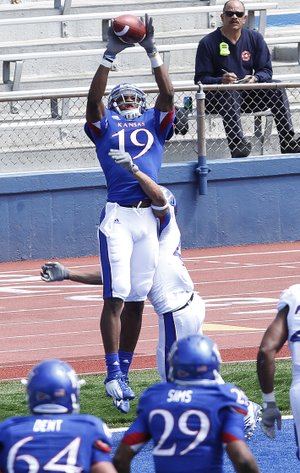 It took until the fourth score of Saturday's spring football game, but Kansas University finally celebrated a touchdown from a wide receiver again.
Sure, the touchdown — there were two, actually — came during an intrasquad scrimmage and did not actually count toward the players' career statistics, but for a team that went the entire 2012 season without converting a TD pass to a wideout, Saturday's six-point snags registered as pretty big moments.
"Mentally, I think it's a great thing for these guys to get that out of the way," said junior quarterback Jake Heaps, who hit junior Justin McCay with a five-yard TD pass early in the fourth quarter, one of four TD passes on the day for Heaps. "But now we really gotta do it in a game."
Saturday's other wide receiver touchdown connection came late in the first half, when White team quarterback Michael Cummings hit Josh Ford in the back of the end zone for a 25-yard score that cut the Blue lead to 21-7 at halftime.
It's no secret that the KU passing game struggled mightily during 2012. Starting quarterback Dayne Crist, who started seven games, never got going, and Cummings, who was promoted to starter midway through the season and handled the job for five weeks, never looked truly comfortable as a passer.
Those hardships, along with KU's ability to run the ball successfully, kept the offensive game plans conservative and limited the opportunities for wide receivers to get in on the scoring.
KU's returning receivers often were asked about the strange statistic during spring drills. Few of them had an answer.
"It's a head-scratcher," said senior Christian Matthews, who spent most of 2012 as KU's Wildcat quarterback and snagged two catches for 25 yards in Saturday's spring game. "But when it's all said and done, you gotta move on to the next season. Seasons are never the same."
McCay, who sat out in 2012 after transferring from Oklahoma, also was perplexed by all the zeros in the TD column.
"I wasn't out there," he said. "But I watched them practice. Everybody worked hard, there's no doubt about that. We just ... things happen. Things happen. It's a new year, though, and it's gonna be broken first game. Hopefully first quarter."
Skepticism understood
Although somewhere between 5,000 and 7,000 KU fans showed up at Memorial Stadium on Saturday to see the new-look Jayhawks for themselves, thousands more took to Twitter and message boards to discuss what unfolded.
Many talked about how this spring had a similar feel to last spring and openly questioned why they, as fans, should expect the 2013 season to be any different than last year's disappointing 1-11 run. Heaps offered one answer.
"Guarded or skeptical's a great way to put it, and it's understandable," he said. "But this is Year Two in our program, and we feel like we're a completely different team, and we're very excited about moving forward with the pieces we have. I think we're gonna surprise a lot of people. If people are guarded and skeptical, that's great. We've taken an us-versus-the-world mentality, and that's how we're gonna continue to be."
Complementary parts
While Heaps (20-of-28 for 257 yards and four TDs) and the KU passing game stole the show during Saturday's spring game, the junior QB did his best to put the focus back on KU's biggest strength after the game.
"A lot of teams are gonna be worried about our backs, and they should," he said. "Because we have four really good backs here, and when you complement that with an efficient passing game, it's really tough to stop.
"The beauty about this offense is, we can line up in any formation and do anything we want at any tempo we want. We can take it at whatever pace we want, and it's all based off the way the game's going."
Up next
The spring game marked the end of KU's 15-practice spring session. Starting today, the Jayhawks will return to individual workouts and begin preparation for the beginning of fall camp in August.
For the coaching staff, it's time to head back out on the road for everyone but Charlie Weis.
"I can't go see anyone myself," said Weis, citing NCAA rules for head coaches. "But we will use every single visit we possess. One of the reasons why I changed the schedule and moved the (spring) game earlier is because the jucos have spring games at the end of April. In the past, we haven't finished until the end of April, and by then we missed out on our chance to hit a lot of schools. Now that we hit these schools pretty hard, our first week out, we will hit the jucos heavy. Then the first week in May, we will address the other areas we need to cover. We will utilize every day that we are allowed to go out, and every visit we are allowed to take. We will be out there in full force."
More like this story on KUsports.com