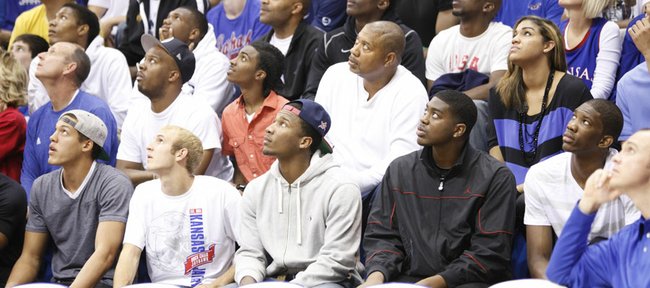 Kansas University's men's basketball recruiting Class of 2013 is currently ranked No. 2 in the country by ESPN.com.
The Jayhawks' class of Conner Frankamp (No. 28 Rivals.com, No. 37 ESPN.com), Brannen Greene (No. 22 Rivals, No. 41 ESPN), Wayne Selden (No. 14 ESPN, No. 23 Rivals) and Frank Mason (No. 131 Rivals, unranked ESPN) trails only Kentucky's class of Andrew Harrison (No. 2 ESPN, No. 4 Rivals), Aaron Harrison (No. 3 Rivals, No. 4 ESPN), James Young (No. 5 ESPN, No. 8 Rivals) and Derek Willis (No. 126 Rivals, unranked ESPN).
Florida is ranked No. 3 overall in the ESPN team rankings, followed by Louisville, Memphis, Michigan, Notre Dame, North Carolina, Arkansas, Marquette, Duke, BYU, North Carolina State, Arizona and Florida State. Rivals.com will put out its team rankings at the conclusion of the November signing period.
Tyler Roberson, a 6-8 small forward from Roselle (N.J.) Catholic, will visit KU this weekend. Rivals.com's No. 29-rated player has a list of KU, Kentucky, SMU, Syracuse, Villanova and Rutgers. The Jayhawks are still in the running for No. 1 Julius Randle, 6-9 from Plano, Texas; No. 5 Aaron Gordon, 6-8 from San Jose, Calif.; and unranked Joel Embiid, 7-foot from Cameroon, currently in Gainesville, Fla.
Fran's musings: ESPN announcer Fran Fraschilla attended KU practice on Tuesday and posted some of his thoughts on Twitter.
Of freshman forward Landen Lucas, he said: "Big bodied work in progress. I was impressed with (frosh forward Jamari) Traylor. reminded me of a young T-Rob (Thomas Robinson)."
Of freshman forward Perry Ellis he wrote: "Still deer in headlights but talented enough to get out of the way of the car."
He also wrote: "Elijah Johnson was excellent leader, Ben McLemore is as good a freshman as I've seen under (KU coach Bill) Self ... Andrew White can't defend yet but has a GREAT shooting stroke, Travis Releford is perfect glue guy for young team, Jeff Withey solid, not great."
KU sophomore guard Naadir Tharpe did not practice Tuesday. Self told the Journal-World he has a sprained ankle and will return to practice today.
Documentary talk: ESPN aired its 30 for 30 ESPN Films production, "There's No Place Like Home" on Tuesday night.
The documentary chronicled the weeks leading to KU and Lawrence High grad David Booth's purchasing of James Naismith's original rules of basketball for $4.3 million at auction.
"I'd be very happy to be a lead sponsor in this project. I'll do more than my fair share to get this thing done. I'm good for a million on it," Booth said when first approached by KU grad Josh Swade about buying the rules and keeping them at KU.
Booth wound up being the only KU graduate who bid on the rules.
At one point late in the auction, Booth turned to wife Suzanne and asked if he should continue as the price continued to rise and the auction was marred by long delays from the other bidder, a Duke supporter. She said, yes, and Booth went on to prevail in the auction. His rules will eventually be housed in a building adjacent to the northeast corner of Allen Fieldhouse.
"This is one of those extraordinary moments in one's life where you can do something that's truly memorable," Booth said near the end of the film.
Other quotes ...
From KU coach Bill Self: "When David and I talked (before auction), what I tried to say was what it would mean to every alum that's ever given a dollar to this place, every student that's ever attended a class here and certainly what it could mean to us as a basketball program."
From former KU coach Roy Williams: "There's no question in my mind I'd like to see them (rules) back at the University of Kansas. Those rules ... to be in that museum in that Hall of Fame at Allen Fieldhouse on Naismith Drive ... that's where I think they should be."
Of the fieldhouse, North Carolina coach Williams said: "It's the greatest venue for a college athletic event I've been in, bar none. The guy that sits on the last row is just as enthusiastic as the student that stands on the first row. It bothers me now because I'd like to say that we're like that (in UNC's Smith Center). Our people are really good. I mean we really do some great things, but there's only one Allen Fieldhouse."
From ESPN's Dick Vitale: "You could make a case for UCLA, Duke, Kentucky, all those programs, but none of those programs had James Naismith there as a coach. Absolutely (KU has the) strongest case of them all to put those rules right there."
More like this story on KUsports.com