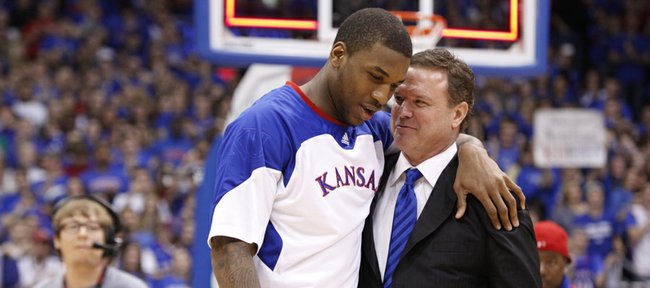 Kansas University junior and national player of the year candidate, Thomas Robinson, was named the Big 12 Conference player of the year by the league's coaches on Sunday afternoon.
Robinson, who finished the season averaging 18 points and 12 rebounds per game, was by far the most dominant player in the league throughout the season.
During Big 12 play alone, he averaged those same numbers (18.2/11.7) and earned Big 12 player of the week honors multiple times.
"Usually when individuals receive awards at the end of the season it has been because their teams have been good and that certainly has the case with us," KU coach Bill Self said. "Thomas has been the best player on our team, without question, from the beginning of the year until now. He is so deserving of conference player of the year. That was a goal I had for him before the season even started."
Robinson also added 56 assists, 34 steals and 33 blocks to his totals this season. His 22 double-doubles this season were by far the most in the Big 12 and moved him into second place on KU's all-time single season list.
"I am very thankful for this award and proud to be selected by the coaches in a league that is as competitive as it is," Robinson said. "We have a lot of great players on our team and Tyshawn (Taylor) would also be deserving of this award. I am thankful for this award and hope it's not the last."
His 369 rebounds this season put him in seventh place all-time on KU's single season rebounding list (one spot ahead of Wilt Chamberlain) and his 669 career rebounds put him in 18th place all-time, one spot ahead of Markieff Morris.
Robinson also was named to the all-Big 12 first team, where he was joined by senior teammate Tyshawn Taylor, who averaged 17 points and 5 assists for the Jayhawks this season, but saw his points-per-game total increase to 18.6 during the Big 12 portion of the schedule.
Robinson and Taylor were joined on the first-team by Texas guard J'Covan Brown, Iowa State forward Royce White and Missouri guard Marcus Demon.
"Tyshawn, in my opinion, was the one of two guys who could have challenged Thomas for conference player of the year, along with (Marcus) Denmon (Missouri)," Self said. "Tyshawn has been as good as guard in the country over the last two months and certainly so deserving of being picked first team."
KU coach Bill Self named Big 12's Co-Coach of the Year
Kansas University coach Bill Self has been named the co-Big 12 coach of the year, along with Iowa State's Fred Hoiberg. Self led the Jayhawks to an unprecedented eighth straight Big 12 title with a 16-2 overall league record.
Self is named top coach for the third time in the last four seasons and fourth time overall.
"Fred (Hoiberg) (Iowa State) and Frank Haith (Missouri) are also deserving of this award," Self said. "It's a proud recognition but I also understand it's not the coaching, it's the players that give you the chance to win. Basketball is about players, and certainly we have our share of good ones and I'm sure Fred would say the same thing."
Self's latest honor came despite losing the Morris twins, Brady Morningstar and Tyrel Reed from last year's team. When the season began, the squad's lone returning starter, Tyshawn Taylor, had played more minutes than all of the other four starters combined.
The Jayhawks finished the regular season 26-5 and their only league losses were to Missouri and Hoiberg's Cyclones, both on the road.
Withey named Big 12 Defensive Player of the Year
Kansas University junior Jeff Withey, a 7-foot center from San Diego, has been named the Big 12's defensive player of the year, the league announced via Twitter on Sunday afternoon.
Withey led the Big 12 in blocked shots with 100, a total that ranked fifth on the conference single-season chart. Sixty-five of those rejections came in league games, setting a Big 12 record for conference play. Withey is the fourth Jayhawk to win the top defensive honor since it began in 2005-06, including three times in the past four seasons.
"I'm really happy for Jeff because I don't believe anybody in our league changes the game by blocking or altering (shots) better than Jeff," Self said.
Withey also averaged 9.2 points and 6.2 rebounds per game in 24 minutes per contest. He also earned Big 12 player of the week honors earlier this season and has become a huge force for the Jayhawks in the middle on both ends of the floor.
All-Big 12 First Team
Royce White, Iowa State
Thomas Robinson, Kansas
Tyshawn Taylor, Kansas
Marcus Denmon, Missouri
J'Covan Brown, Texas
All-Big 12 Second Team
Quincy Acy, Baylor
Pierre Jackson, Baylor
Rodney McGruder, Kansas State
Ricardo Ratliffe, Missouri
Keiton Page, Oklahoma State
All-Big 12 Third Team
Perry Jones III, Baylor
Scott Christopherson, Iowa State
Jeff Withey, Kansas
Kim English, Missouri
Phil Pressey, Missouri