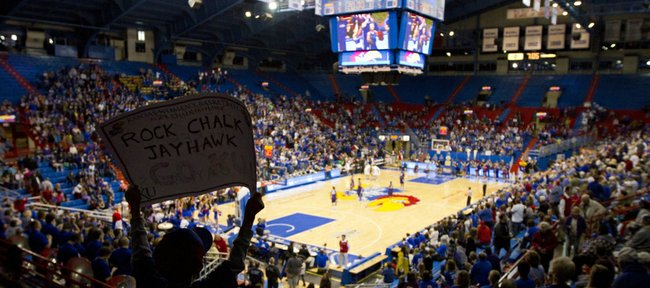 For some inexplicable reason, the words "Home of the Chiefs" instead of "Home of the Brave" emanate from Kansas University's student section at the conclusion of the "Star-Spangled Banner" before KU basketball games in Allen Fieldhouse.
Ninth-year KU coach Bill Self hopes that peculiar rendition of the national anthem will end as soon as the next home game — Monday versus Texas A&M.;
"I kept asking my wife, 'What are they saying?''' said Self, informed by wife, Cindy, that some of the students mimic fans at Arrowhead Stadium — the true Home of the Chiefs — while singing the anthem.
"I said, 'I didn't know they were saying that. I couldn't tell.' I don't think that's good. I don't think it's anything we should be proud about as students to carry that on, because I don't see the place for it when you are honoring your country," Self added.
Nobody knows exactly when it started, but some of the KU students in the end zones have been chanting "Home of the Chiefs" several seasons now. Some of them perform the "tomahawk chop" when singing those words.
Of course, many students do not take part in the altering of the song.
"That's one tradition that in my opinion certainly we could do without," Self said. "I think it'd be more respectful toward the anthem and what that stands for to go ahead and use the actual words to it than putting in their own. I think they should stick to Francis Scott Key's words. I think that would be more appropriate."
Anniversary coming: KU's game against Texas on Saturday (3 p.m., Erwin Center, Austin, Texas) will be played on the one-year anniversary of the death of Thomas Robinson's mother, Lisa.
"This weekend I'm sure will be emotional for him," Self said. "You look at the similarities — one-year anniversary, playing Texas, there's a lot of things."
The Jayhawks learned of Lisa's death in the late-evening hours last Jan. 21, the night before KU's 74-63 loss to the Longhorns — a loss that snapped KU's school-record 69-game homecourt win streak. The players and several of the players' mothers consoled Robinson all night/morning long up until game time.
Robinson won't be asked to re-live the memories publicly this week.
"You guys (media) aren't going to talk to him between now and then (Saturday). I don't think that's fair to him to have to go through that," Self said. "I am so amazed at how well he's done. He has a lot of support around him. He'd probably be the first to say that. Still, he's playing with a smile on his face. He seems like a happy kid, but he's carrying a much bigger burden than anybody else is carrying at his age for the most part."
KU's entire team attended Lisa's funeral service on Jan. 27, 2011, in Washington, D.C.
"I was so proud of our administration (and) the NCAA for allowing us to do some things. She may have not had a funeral (had KU not been able to pay). Things you take for granted, buying a casket, things like that," Self said.
"That was a prime example of a group of guys actually becoming a family. It was cool to watch. I think it's hard to become a family unless you go through a crisis-type situation. That was a crisis-type situation. To see how everybody responded to that ... at the same time, nobody felt sorry for anybody. They wanted to be coached.
"I asked them (players) ... 'Do you want to talk about anything other than Thomas' situation and how we all feel about it, because we can do that or do we want to talk about that and (also) try to get better?' They said, 'Coach, we've got to do both. The world doesn't stop. You have to keep moving.'
"I think they handled that extremely well. That's a tribute to our players and our fans. They made Thomas feel like he had family here. I don't think there's many places in America ... they would try, but I'm not sure many actually could get it done like KU people did."
Self has said one of the reasons Robinson is doing so well is that his sister, Jayla, is thriving in Washington, D.C. She lives with her father, James Paris.
KU senior Tyshawn Taylor said he's seen no change in Robinson with the anniversary approaching.
"He's a soldier. He's handled it well and I think will continue to hold up," Taylor said. "He handled it better than a lot of people I know, definitely better than I would.
"We are there for him," Taylor added. "If he does break down, we will be there. He hasn't mentioned it. He hasn't seemed any different. We're fine."
Root canal: Self apologized for slurring his words a bit at his weekly news conference. He had a root canal Thursday morning right before his media session.
Tough place to play: Louisville coach Rick Pitino says Allen Fieldhouse is the most "overpowering" arena in the country.
"Now, I have not taken a team to Duke. There really is not any place I've entered where it's, 'God, that's just incredible, what an advantage that is,''' Pitino said in an article Thursday on Zagsblog.com. "I don't think the Joyce is any more difficult than any other place, to be honest with you," Pitino added, asked about Notre Dame's Joyce Center. "The only place I've found (is Allen) and that could've been I was playing with four walk-ons and lost by 50 points, so maybe that was the reason I felt that way."
KU pounded Pitino's Kentucky Wildcats, 150-95, on Dec. 9, 1989, in Allen.