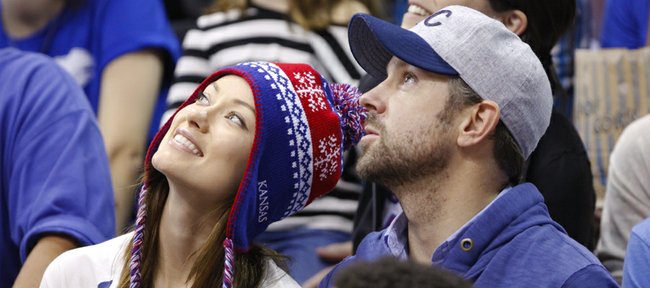 Photo Gallery
Kansas basketball v. American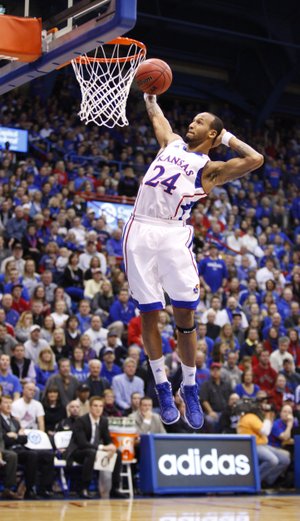 Images from Saturday night's game against American University at Allen Fieldhouse.
Podcast episode
Kansas coach Bill Self talks to reporters following the Jayhawks' 89-57 victory over American on Dec. 29, 2012.
Podcast episode
Kansas players Naadir Tharpe, Travis Releford and Jeff Withey talk to reporters following the Jayhawks' 89-57 victory over American.
Box score
Comedic actor/Kansas University basketball fan Jason Sudeikis asked coach Bill Self for a copy of his book, "Bill Self: At Home in the Phog," before Saturday's KU-American basketball game in Allen Fieldhouse.
"I said, 'Why would you want that book?' Now I know. He's something else," Self said of Shawnee Mission West grad Sudeikis, who pretended he was reading the book when introduced to the fans on the center video board during the second half.
Sudeikis was accompanied to Saturday's 89-57 rout by actress/girlfriend Olivia Wilde, who, along with Sudeikis, also saw KU hammer Howard, 89-34, on Dec. 29, 2011, in the fieldhouse.
"They came back in the locker room after the game. Our guys were pretty excited to see Jason," Self joked. "It's cool, because Jason, (Rob) Riggle and (Paul) Rudd have all been really good to us and been to games and support us. He brought Olivia to a game last year at our place. It's pretty cool to see them hanging around."
Other faces in the crowd included former KU players Aaron Miles, Calvin Thompson, Christian Moody and Stephen Vinson.
Coincidentally, KU's Naadir Tharpe dished 12 assists against no turnovers on the same night Miles, KU's all-time assists leader, was in the stands. Miles is on break from Russia where he plays pro ball.
"It's funny, because he was at practice yesterday. He was working with us," Tharpe said of Miles. "He probably hit me with a little bit of his assists or something. I don't know what it is."
Stat of interest: "Our top six minutes guys had 23 assists and two turnovers. I don't know if I ever had a team get that many assists with that few turnovers before," Self said his five starters plus Tharpe.
Popular video: Self was subject of a "Pop-Up Video" on the big screen during the second half. The fans gave Self and/or the video a standing ovation after it played.
Stats, facts: Freshman Perry Ellis had 11 points and 10 rebounds to become KU's first freshman to record a double-double since Thomas Robinson (15 points, 10 rebounds) against Alcorn State in 2009. ... Travis Releford's five threes were most by a Jayhawk this year. ... Tharpe's eight assists in the first half were the most since Tyshawn Taylor had eight assists in the first half of a win over Ohio State on Dec. 10, 2011. ... Tharpe is 7-of-8 from three-point land in his last three contests. ... Tharpe has not had a turnover in his last four games and is boasting an assist-to-turnover ratio of 22-to-0 in that span. ... Jeff Withey collected four blocks to raise his total to 59 rejections on the year and 224 for his career for fifth all-time on the KU career blocks list. ... Withey has now recorded at least one block in 22 consecutive games. ... Ellis and fellow freshman Evan Manning each hit their first three-pointers as Jayhawks. ... KU is 11-1 or better for the third time in the last four seasons and the fifth time in the 10-year Bill Self era. ... KU has won 10 straight games. ... KU has won 62 consecutive games against non-conference competition in Allen Fieldhouse. ... KU is 2-0 all-time vs. American. ... KU has won 29 consecutive games overall in Allen, the second-longest streak in Div. I (Syracuse, 31). ... Bill Self is 280-54 at KU and 487-159 overall. ... KU has shot 50 percent or better for six straight games. ... With the score tied at 7 at the 15:45 mark in the first half, KU went on a 16-2 run over the next 3:53. ... KU is now outscoring its opponents 210-115 in the opening eight minutes of games. ... KU shot a season-low eight free throws and converted on a season-low six. ... The KU bench scored a season-high 32 points. ... The Jayhawks held the Eagles to 35-percent shooting, marking the fifth straight game they have held an opponent under 40 percent and the 10th contest this year.
More like this story on KUsports.com